QUESTIONS
P.O. Box 631 Station A
Toronto, ON, M1K 5E9
Jia Yi Feng is Centennial's Most Valuable Badminton Player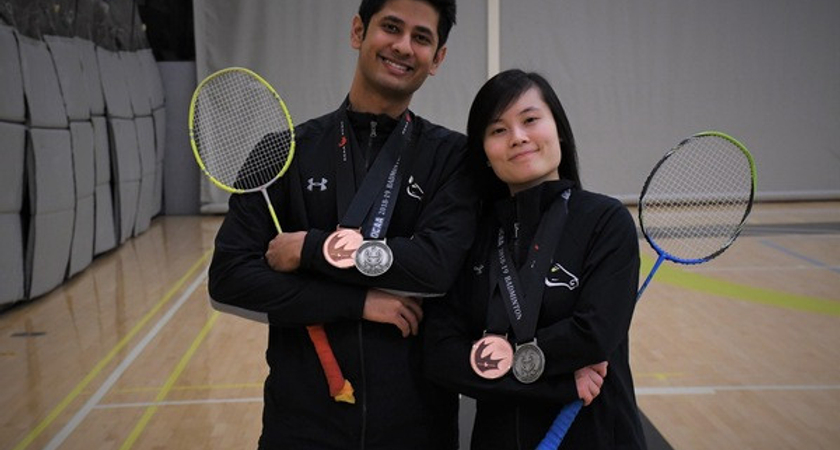 Your college campus should feel like a second home for you, which is why Centennial College supports sports and athletics that all of our students can take part in. As a part of that support, we honour our most remarkable players each year, and Jia Yi Feng is one of them. She plays badminton and is in the second year of our Practical Nursing (Flex) program. Jia Yi's skill at the game made her one of 2019's MVPs. Here's her story.
Getting back into the game
Jia Yi had previously studied Electrical Engineering at Centennial College and had come back to pursue a different career path.
"The Practical Nursing (Flex) program offered the flexibility I needed to be able to attend school and still work part-time," she says. Another thing she'd do when she came back to college? Re-join the badminton team, though it took some convincing.
"The head badminton coach, Joylon Thompson, reached out to me after obtaining my email from one of his players who went to the same High School as me," Jia Yi says. "Jolyon wanted me to join in the 2018 winter season, but I kindly declined, as I was unable to fit badminton into my schedule. He respected my decision, saying I could give the 2019 season a shot, and that we could have a great season together. I was on the badminton team when I previously attended Centennial and made great memories with the team at the time. I agreed to join the team again and hope to accomplish my goal of making it to Nationals."
She'd be happy she rejoined because she'd get to realize that dream.
On the court at Centennial
"We had an exceptional year," Jia Yi says. "Going to Nationals and winning a bronze medal with my partner was probably my proudest moment. It allowed us to put the spotlight on the Badminton this year, and I feel so happy to be a part of it."
"A former coach in high school once told me, what you think is how you feel, is how you perform," Jia Yi says about her philosophy when playing. "That has always stuck with me, and whenever I compete, I always try to keep my head cool and focus on one point at a time. Skills and consistency are key in this game, but having a stronger mental game than your opponent is just as important."
In the end, her trip to the Nationals, and her great performance during the sport would earn her a spot as a 2019 MVP.
"I feel very grateful to be nominated and to be chosen as an MVP," Jia Yi says. "It was a thrilling and unreal experience to go up on stage in front of all the athletes and coaches."
I try my best to keep focus while aiming to stay cool and win the mental game," she says. "I had the privilege to play with my amazing partner Chirag this season. Our great teamwork and clear vision of our goal on the court helped me become MVP this year."
Looking to the future
I'm looking forward to graduating from the program at the end of December," Jia Yi says, "so if time permits, I might play a few tournaments for badminton in the fall season. I also plan on getting my Practical Nursing License so I can start working. I also hope to take a break and travel to China and Japan."
While she recommends that other students give sports at Centennial a shot, she reminds them that balancing that with schoolwork can be a challenge that you need to be ready for.
I would advise anyone who wishes to join a sports team at the college to have good time management skills," she says. "Stay on top of your schoolwork and learn to prioritize so you won't be stressed out while trying to juggle everything." But if she can do it, then so can you.
By: Anthony Geremia