QUESTIONS
P.O. Box 631 Station A
Toronto, ON, M1K 5E9
Jim Pagiamtzis's lifelong journey of education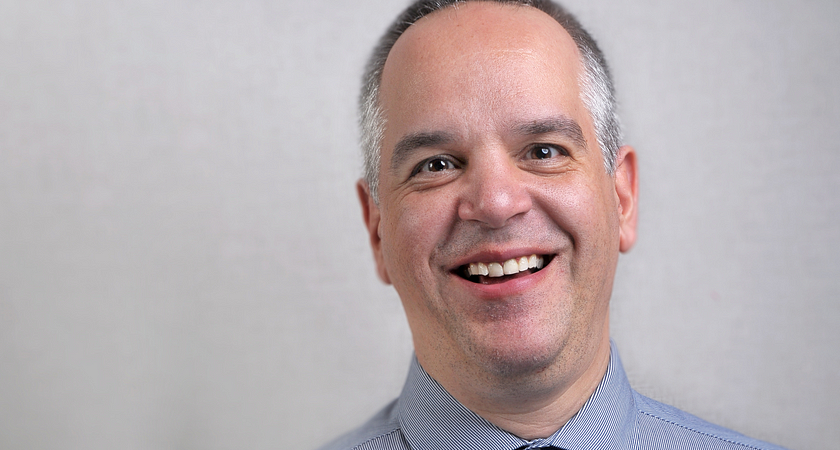 Education is a lifelong journey, and some people don't want to stay still. At Centennial College, we set our alumni up with transferrable skills that let them move around if that's what they wish. That was the case with Jim Pagiamtzis, who graduated from our Business Management program in 1994, and moved on to a varied, successful career in areas as diverse as marketing, public speaking, and even acting. He used his business knowledge as a platform to pursue a variety of interests on his long, colourful journey, and regularly uses his skills to give back to Centennial College, the school that helped set him up. Here's his story.
Coming to Centennial
"I go to my guidance councillor and say, I want to become a scientist. She says, scientist? Science doesn't pay," Jim says about his unusual path into Centennial College. He'd eventually come and take Business Management at our Progress Campus, something he calls "a logical choice."
"It was a cool program because of how I'd go to school and learn on the go, and Centennial College was one of the first schools where co-op was being tested." He'd take part in two co-op placements, working for companies while he took classes.
"I went to school, and I worked for a company called Oshawa Foods," he explains. "I got to work for four months there, and make some really good money, so I did two co-op work terms."
"I had to beat other students out to get into the program," he continues, discussing how in-demand the position was. "Three people interviewed me for Oshawa foods! There was a lot of competition. I'm very grateful that I had that choice, because it helped me later on to understand the world of business, and it allowed me to come out of college with no debt."
"My work ethic definitely improved from being in business, understanding numbers and accounting," he says, reflecting on what he learned that would later benefit his career. "My accountants love me. Understanding numbers, expenses, and investments helped me."
"Later on, I realized working independently and working with a team were two of the greatest assets," he adds. "When you don't have a strong team, things can fall apart."
A varied career
Jim says had a long, varied career, always trying his hand at new things, from the conventional to the unusual, all grounded in what he'd learned in Business Management.
"After Centennial, for ten years, I worked in the shipping and receiving area," he says. "Then, from 2003 to 2011, I worked in the logistics area for FedEx, and at that time, I started a mentorship that had a big impact on me personally and professionally. And then in 2007, 2008, I actually wrote a couple articles about my experience volunteering, which I did quite a bit. A year later, I wrote articles for the Toronto Public Library on mentorship and networking and marketing.
Jim's passion was always in public speaking, though, something he'd finally get to do in 2012, after leaving the logistics industry.
"I got hired by a social media company called Constant Contact," he continues. "I spoke on email marketing, in that industry for about two years in Toronto, which was my dream, to speak full-time and get paid."
His love of public speaking would also motivate him to help bring the Public Speakers Association to Toronto in 2013, which he calls "another adventure onto itself. It let me do something bigger than me, by giving me speakers to plug into," he says.
"In 2016, some great things happened," he adds. "I taught at a private school in Richmond Hill, teaching the future leaders between ages 8 and 13 the power of presentation skills through speaking. It was a great thrill."
"After that, in May, I got back into the acting industry," he says, surprisingly. He did background acting, and got to appear in documentaries, received a small role in "A Girl Without A Song," and even had lines in a Matt Damon movie, 'Downsizing,' which will debut in December. "I got to go behind the scenes, see how things work," he says. "I have a fascination with directing my own movie in the near-future."
"Then I got hired for the Sigil marketing company here in June," he says, "and it's been a great experience to come in every day and enjoy what I do. The stuff I do doesn't take a lot of my time, but it's all things I'm passionate about."
"People want you to succeed, but you have to listen and learn," he says as advice to anyone looking to pursue a similar path. "My three areas of what I live is: Learn, Speak and Socialize. I'm constantly learning, always reading, I read books every week. Being a good communicator, and socialize. Try to understand social media. We didn't have Linkedin or Facebook in '94. There was only phones and McDonalds!"
Giving back to the college
"I've done a lot of great things with Centennial over the years," Jim says. "I constantly run into alumni here on my journey, and I continue to look for opportunities to give back to the college."
"I'm grateful to go back and do what I do," he explains, "and I encourage others to do the same. It's the least you can do to help out your fellow alumni."
"I reached out to Centennial and did a couple articles for Centennial's Ascent Magazine, for the Athletic and Wellness Centre, which was just in blueprints," he says. "I've also done events for the teachers there, like participating in a speaker's event in 2011, I went back to Family Days, and there were other Centennial grads I met along the journey."
Philosophy on success
"Because I was working nights for FedEx, during the day I had nothing to do, so I made myself do something," he says, explaining why he was involved in so many ventures. There's more to it then that, though.
"It's all about making the time," he says. "It sounds like a lot, but it happens over years. It didn't happen all this year, it didn't happen all last year, it happened over time. You got to make time to do things, and I'm glad I've made that time. It allows me to empower others and share the vision of what Centennial College is doing now."
"We all go on a journey, and we all make decisions, and I happened to go on a journey that set me on an extraordinary path. But there's nothing wrong with a regular path," he says. "Life can't be exciting every day, but I try to make it as fun as I can."
By Anthony Geremia