QUESTIONS
P.O. Box 631 Station A
Toronto, ON, M1K 5E9
Learning as a family: James and Gerard share their love of cars in class and on YouTube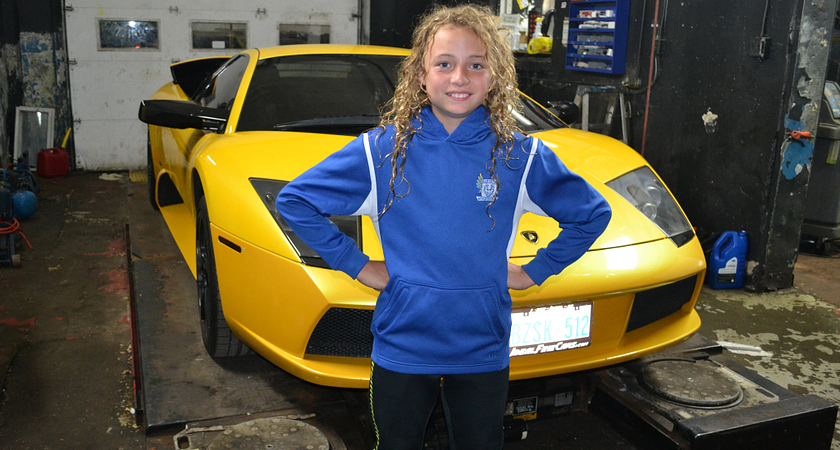 Whether you're young or old, learning knows no boundaries, and if you think your life and its responsibilities will get in the way of the education you want, Centennial College has the solution in the form of part-time learning. It's even possible for families to take their learning journey together.
At the age of 11, James Doyle has his own YouTube channel dedicated to cars. It's not toy cars, but a deep, serious love of the industry. His channel features him attending industry shows, interviewing people in the business and culture he loves, and even posting instructional tutorials on how to fix vehicles, all supported by his dad, Gerard. Despite his young age, he decided that he wanted to enhance his learning about the industry he loves, and acquire some more experience at Centennial College. And his dad decided he wanted to, as well. The pair would enroll at Centennial and take a pair of part-time automotive courses, focused on hybrid cars and brake maintenance, taking part in a learning journey as father and son.
How it all got started
Cars have been an object of fascination for James almost since he was born.
"When I was three, I went to the Canadian International Auto show with dad," James says. "I saw a Dino Ferrari, and that was the moment."
Despite his young age, James was already familiar with YouTube, and so taking to the website to talk about what he loved was natural.
"I've been doing YouTube and connecting with people since I was three years old, talking about my dad's speaker corporation," James adds. "I always found it fun to talk to people on the other side of the camera."
On his channel, James gives interviews and tours of the newest and latest innovations in the automotive world, with an emphasis on electric cars and green solutions.
"I love talking with people that have a passion for cars and telling the story 'about the build.'" James says. "I also love to connect with the motorsports and automotive industry." Of course, his dad helps him out, too.
"It can be very hard work to get that visual story we know is there," Gerard says. "But when we do, it's an awesome victory to have captured a moment of our car community, together. James is a typical kid, but extremely professional and thoughtful when broadcasting and producing video content."
Why they came to Centennial
"I was the youngest member of the Electric Vehicle Society, which meets at the college," James explains. "I saw what was in the shops and classes there, and asked my dad if we could go."
His father, Gerard saw it as an excellent learning opportunity, and the two of them would both enroll, to enhance their learning, and to set off on another of James's ventures.
"I'm all in for sharing his passion for cars and learning all the way," Gerard says. "And with all due respect to what you can learn on YouTube, nothing beats getting educated with pros that have a passion to teach and decades of experience behind them."
"James has a car company that could make an environmental difference in the world," Gerard says. "The company is Doyle Longevity, and will be a socially conscious transportation manufacturer ever, expanding-with new technologies in renewable energy propulsion vehicles."
"My dad taught me that procrastination is something that sucks the life out of you, so why would I wait?" James says. "I started my own car company, did my research, and Centennial came up as having the best people that actually work in the industry I love."
Learning as a Family
The pair of them would take automotive courses at Centennial, taught part-time in the evenings, specifically so that they could continue to work on their channel as they learned.
"I love spending time with my dad and learning about something we both enjoy," James says about taking the program with his father. "It's a lot of fun to be with my dad. I love that we are able to help each other. He's my best friend. And we make a good team."
"Sharing the discovery of knowledge with my son is hard to describe," Gerard says. "It might sound strange but every day we are driving to the school and coming home, we are almost euphoric in the time we have with each other. We enjoy our classmates as well, forming friendships and enjoying this environment of discovering knowledge.
Getting their hands dirty
"My dad always said the best way to learn was to study everyone else's mistakes," James says about his time in the courses. "How perfect is a school that specializes in maintaining and repairing what breaks in cars? The Hybrid course is the cutting-edge of Hybrid maintenance technology. The teacher was Al Playter, who literally wrote the book on how to repair and maintain cars. It's impossible to get a better teacher than that."
As for what his favorite part of the program was? "How things work and getting my hands into it," James says. "Also finding out a lot of places that repair cars, don't always do it right. So I'm really happy these courses teach me what should be done on a car."
A family affair
"Everyone that owns a car should take these courses and arm themselves with knowledge," Gerard says about Centennial's part-time automotive courses.
"It's been great having a class and a 'scheduled time' to be together," he adds. "It's a chance to grow a deeper bond with my youngest son while sharing a search for knowledge of an interest we both have a passion for. Frankly I think about other fathers and sons and friends and families and what an experience this could be for them, if they only knew about how easy it is to get into and enjoy these evening classes."
By Anthony Geremia