QUESTIONS
P.O. Box 631 Station A
Toronto, ON, M1K 5E9
'Lego spaceman' takes the next step in education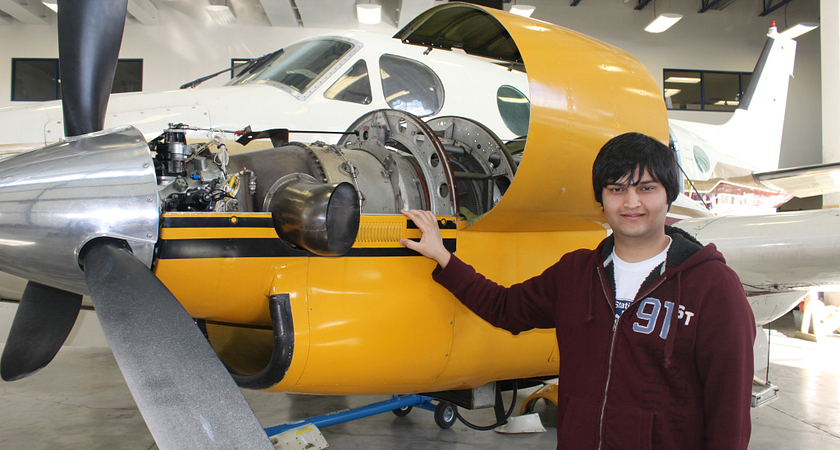 When Scarborough high school students Asad Muhammad and Mathew Ho bought a balloon online and used it to send a plastic Lego man to the edge of space, they never thought their feat would capture worldwide attention. But it did.
"People thought it was a stupid idea, so we kept it quiet while we worked on it," says Muhammad, who helped his longtime friend find the materials to launch a Styrofoam box filled with four used digital cameras into near-space. Their photos were published in the Toronto Star last year, and became a sensation on the Internet.
"We weren't the first to do this. That's why we reached into Mathew's box of Lego blocks and pulled out the little man and put him in the camera shot. We wanted to be different." They even printed a Canadian flag and made sure it remained visible.
The four cameras, two taking still photos every 30 seconds and two shooting video, took some spectacular pictures on the way up. Muhammad estimates the balloon burst in the thin atmosphere at about 90,000 feet (24 km), and the box fell back to earth tethered to a homemade parachute.
"We went to Fabricland and bought some rip-stop nylon, then borrowed my mother's sewing machine to sew the panels together. It wasn't perfect, but it was good enough to work!" says Muhammad. Remarkably, the entire project cost them about $500. He sent his own cell phone into space, since it had a GPS tracker.
After their 15 minutes of fame, the Agincourt Collegiate grade 12 students were inundated with offers to pursue studies at various universities – but the pair had already made plans. Ho was set on studying business commerce at the University of British Columbia, while Muhammad was deciding between the engineering school at the University of Toronto and the Aviation Technician program at Centennial College.
"I was already leaning towards Centennial, but after we were invited to tour the hangar at Ashtonbee Campus, I was certain I wanted to take the program there," says Muhammad.
His mother wanted Muhammad to attend university, but he managed to convince her that he was making the right choice, and that he would be happier working on aircraft and challenging his mind with mechanical wonders.
"I remembered how much I enjoyed working with my hands in auto class, taking things apart and learning how they worked. I knew I would not be happy sitting at a computer and studying engineering theory."
Muhammad enrolled at Centennial's School of Transportation last fall. He relishes both the hands-on work he performs on real aircraft in the campus hangar and the theory he is learning in class. Muhammad recognizes the skills he is learning can be applied in other areas.
"Airplanes are made up of all kinds of systems, including electronics, air conditioning and even entertainment systems, and once you can understand how they work in a plane, you can apply your knowledge in other industries, too."
Muhammad enjoys the camaraderie with the professors he sees every day; many of them have come from the aviation industry and have worked long hours in a field that is both glamorous and demanding. Muhammad is realistic about the challenges that lie ahead.
"Aviation is a specialized field and one of the best careers you can get into. But you really have to love it. Attention to detail is paramount: every bolt you turn on an aircraft has to be documented so that the inspection is flawless." Many lives are dependent on the proper maintenance procedures being followed exactly as prescribed.
"You have to like the industry and the rules that come with it. And the odd hours of work. You have to have a passion for what you're doing," he says.
In his second semester of the two-year program, Muhammad is still learning the various systems that make up a modern aircraft, such as the hydraulics that lift and lower the landing gear.
The first year in Centennial's Aviation Technician program is a common one with all students getting a good grounding in the technology before choosing between two distinct disciplines in the second year: Aircraft Maintenance and Avionics Maintenance. The former examines an aircraft's mechanical systems, while avionics involves specializing in the maintenance and repair of an aircraft's many electronics systems related to everything from communications to radar.
Muhammad has yet to decide between the two. His goal after graduating is to land a job with a small aircraft company that will allow him to accumulate the shop hours he needs to write his Canadian Aircraft Maintenance Engineer (AME) licence. After that, he will be set to work anywhere he wants as an aircraft technician.
"The best thing about having a Canadian licence is that it is recognized by almost every country in the world, so the sky is truly the limit," he smiles.
Given his recent adventure launching a Lego spaceman, it appears Muhammad has already tested that limit.
For more information about Centennial's School of Transportation, visit: centennialcollege.ca/transportation