QUESTIONS
P.O. Box 631 Station A
Toronto, ON, M1K 5E9
Louis Riel Day - 2020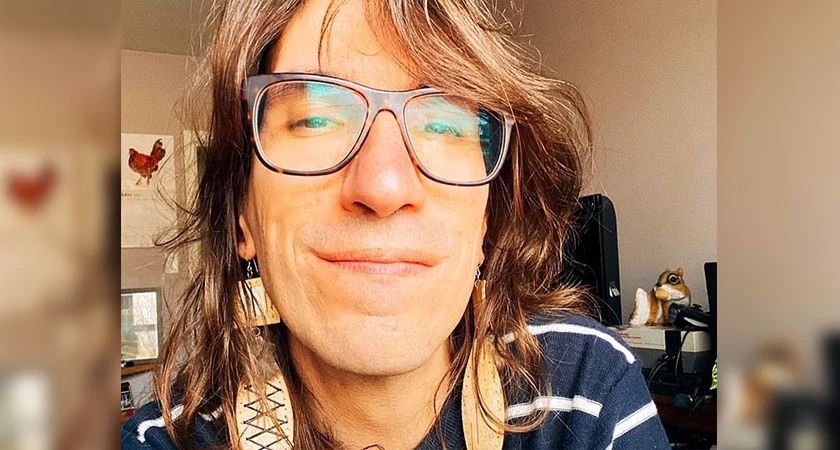 tansi!

Every November 16 we commemorate Louis Riel Day, which is the anniversary of the execution of the Métis leader Louis Riel. While based in a horrific legacy of death and displacement, this day has also become a symbol of celebration for Métis people and a reminder of the resilience of our Nation.

Louis Riel was born in St. Boniface, Red River Settlement in 1844 and was sent to Montreal for education, where he became a lawyer's apprentice. In 1868, he returned to the Red River upon the death of his father to support his family and became involved in the struggle for Métis sovereignty and land rights.
Riel was one of the key figures in the Red River Resistance in the 1860s. He was the leader of the provisional government of what became Manitoba, and is recognized as a key figure in the Manitoba Act, which created the province and brought it into confederation. Following this, the agreed upon terms of the Manitoba Act, which promised Métis rights to their land, as well as an additional 1.4 million acres set aside for Métis children, were ignored.

While elected to parliament, Riel was never able to actually take his seat due to a bounty of $5,000 placed by the Ontario legislature, despite having no jurisdiction, and he was forced into exile in the United States. He lived there among family in Montana working as an agent, trader, and woodcutter, and eventually a schoolteacher.

In 1884, he was summoned by four Métis leaders from Northern Saskatchewan (Gabriel Dumont, Moïse Ouellette, Michel Dumas, and James Isbister) who had moved there after 1869 as settler expansion pushed the Métis further West. Riel and his family returned to Batoche on July 8. He proposed a program that was to equally help First Nations, white settlers and the Métis, and that the districts of Saskatchewan, Assiniboia and Alberta be granted provincial status. He also requested that First Nations people on the territories, who like many Métis were starving after the intentional destruction of the bison, would be provided for.

With Ottawa responding slowly to these requests' tensions boiled over and again Riel established a Provisional government in 1885 and attempted to capture Fort Carlton, which prompted the battle at Duck Lake and a decisive victory for the Métis and their allies. The Canadian government sent troops along the newly completed rail line and eventually overwhelmed the Métis/nêhiayaw/nakawé/nakoda forces at Fish Creek, where Riel was captured and eventually received a guilty verdict rendered by a jury of all Anglo-Saxon Protestants despite many pleas for clemency.

Similarly, the aftermath of the events of the 1885 resistance led to the largest mass execution in Canadian history on November 27, when eight Cree warriors were hanged in Battleford for their role in the conflict, and First Nations and Métis peoples from local communities who were likely also relatives of the men (and children from the nearby residential school) were brought in to watch, an act of incredible violence designed to intimidate the local First Nations and Métis communities.

The legacy of these events continues to have countless impacts on the lives of all Métis peoples, as well as on the families and communities of those First Nations peoples who were branded as disloyal by the government. Many of the key figures in the resistance were imprisoned (including my own family members and ancestors who were Cree/Saulteaux/Métis) and others fled to Montana, or went into hiding. Others, who despite the urging of First Nations leaders to be allowed into Treaty, were dealt with a different but similarly duplicitous program known as Scrip, ended up on Crown land in what was known as Road Allowance Peoples (https://indigenouspeoplesatlasofcanada.ca/article/road-allowance-people/).

As Prime Minister Justin Trudeau noted on Louis Riel Day in 2017… "Louis Riel was a courageous and impassioned defender of minority rights and a key contributor to Canadian Confederation. Today, we celebrate a man who envisioned – and fought for – a more diverse and more inclusive country."

Much of the work of the last few decades has been the recognition of Métis people, and Riel himself, as integral to the history and stories of Turtle Island, and to see us recognized as members of a Sovereign Nation recognized with rights under the Constitution, along with First Nations and Inuit peoples (and recognizing that there are many of us that are members of multiple of these identity categories).
According to the Métis Nation of Ontario (MNO):
"Every year on November 16, MNO citizens, MNO Chartered Community Councils and communities hold events across the province to celebrate Métis culture, recognize the many contributions of the Métis to Canada, and to highlight the struggles that Métis continue to face.

In addition, a special ceremony is always held at the Provincial Legislature at Queen's Park in Toronto. Queen's Park is home to the Northwest Rebellion Monument and the Legislative Building. Ironically, the Legislature is where a price was put on Louis Riel's head and the monument recognizes the Canadian soldiers who fought in the Northwest Resistance against the Métis." (http://www.metisnation.org/news-media/louis-riel-day/)
This year with COVID, our ceremonies and recognition will look different, but I am always reminded of the words of Louis that: "Deeds are accomplished in a few days, or in a few hours. A century is only a spoke in the wheel of everlasting time."
It gives me comfort to think of how far along recognition of our worldviews and kinship structure has come in 100 years and also how much work there still is to accomplish to learn what has been often a history of shame and invisibility for Métis peoples and culture. It is an encouraging sign of the ongoing commitment to reconciliation that Centennial College sees the value in marking this important day, in recognition of a man whose sacrifice and leadership shows values so clearly that our College strives for. We began the day with the raising of the Metis flag, gifted to the College by the Métis Nation of Ontario in 2019 (photo below).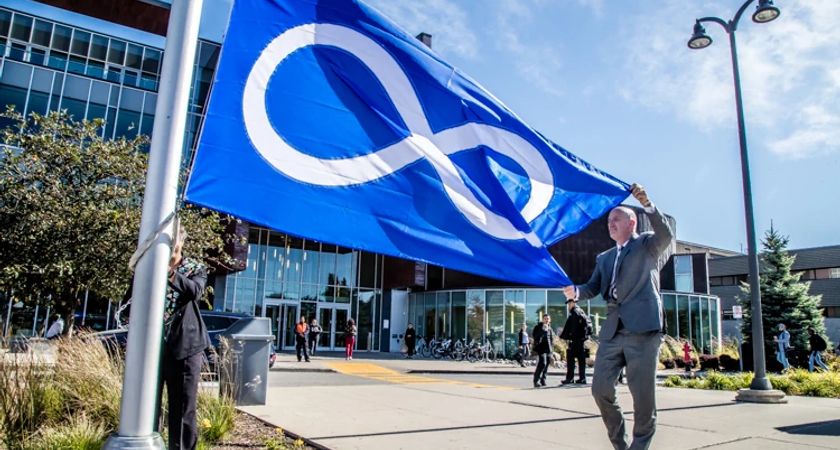 In Cree, Métis people are known by a few names, including otipemisiwak, which translates to "people who own themselves", and this speaks to both the history and ethic of our Nation around notions of responsibility, non-interference and non-coersion and how to live with one another. Everyone has a responsibility to learn more about vibrancy and resiliency of the history that is reflected in our Nations – so, I hope you will take some time to do just that – today and moving forward.
kinanâskomitin and êkosi.
Seán Kinsella (they/them/he/his)
aayahkwew êkâ ê-akimiht nêhi(y/th)aw/otipemisiwak/Nakawé/Irish
Director, the Eighth Fire,
Place of Reconciliation for All Our Relations,
Student Success Portfolio, Centennial College