QUESTIONS
P.O. Box 631 Station A
Toronto, ON, M1K 5E9
Marking International Women's Day, March 8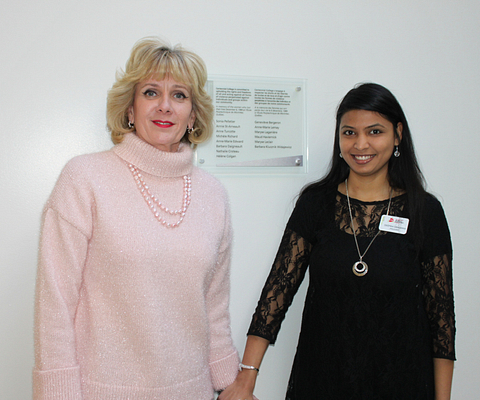 Ann Buller, President and CEO of Centennial College, and Deepika Gangwani, President of the Centennial College Student Association (CCSAI), unveiled a special plaque at Progress Campus on March 6 in advance of International Women's Day, a global day of recognition and celebration marked in developed and developing countries alike. Centennial College installed a permanent plaque at each campus as a tribute to the 14 women who were killed in 1989 at the École Polytechnique, an engineering school affiliated with the University of Montreal.
The Montreal Massacre galvanized the Canadian women's movement and led to stronger gun control laws, the establishment of the Canadian Panel on Violence Against Women, and needed changes to emergency response protocols. It also inspired the international White Ribbon Campaign started in 1991 by men in London, Ontario, to raise awareness about the prevalence of male violence against women. Each year, men within Centennial's community support and participate in the college's own White Ribbon Campaign.
In addition to memorializing the victims of École Polytechnique tragedy, the commemorative plaques will also serve as a reminder of Centennial's commitment to non-violence, and to the provision of a safe and respectful learning, teaching and working environment for everyone. International Women's Day dates back to the early 1900s when women in North America and Europe began to lobby for more rights and better working and living conditions.'
President Ann Buller's International Women's Day message:
I've been thinking about women's lives in the world today.

Have you ever reflected upon your life and realized the randomness of some of the key elements that make you who you are? You did not choose your parents, you did not choose your country of birth, and you did not choose the neighbourhood in which you grew up. As children, we did not choose many of the critical interactions that have shaped who we see in the mirror. We did not choose to be born with wealth and privilege, any more than we chose poverty.
For women and girls, our place of birth has a profound impact on our opportunities and ambitions. In many parts of the world, females are barred from school. Girls are married as young as age 5. As a girl, you could be raped to cure a man of AIDS – the younger the child, the more powerful "the cure." The fact that after the rape these men are never cured is of course seen as a weakness of the child's. One must try again.
As a girl grows - crushing her sexuality, mutilating her body, raping her as revenge against some familial slight, selling her to the highest bidder - all are options available in many countries. What a sordid and diabolical menu. Why does this matter to us?
I offer two compelling reasons. We are a College that believes in, teaches and tries to live our global citizenship values. We choose not to ignore, but to engage. We must not only give voice to those who have been silenced, but we must endeavour to create the conditions where our frail interpretations are replaced by their authentic fray and cry and celebration. We must offer leadership until what these women and girls need from us, is followership. And even in the leading, we must never co-opt what was never ours; we cannot assume we have the answers, but it is a moral imperative that we feel compelled to work with a global community to find them.
Look around Centennial and what do you see? I see the potential for Canada – a ripe mixing of cultures, languages, and religion. Representatives of a spectrum of the socio-economic strata; those whose lives can be described as privileged, and those who are breaking through barriers imposed by poverty, violence, and sometimes, by culture and religion. We have set ourselves up to be the place where this experiment that is our country can unfold – and that comes with a special responsibility. It is in Canada's best interest, and in our own, that we are mindful of this privilege and that we protect its fragile shell with vigilance.
Centennial College's Statement of Respect, our Diversity and Inclusion policies, our Sexual Misconduct Policy, our Violence Prevention policy – all of these make clear what we expect of each other. Our global citizenship and social justice work is the enabler, the great catalyst for teaching our students, and ourselves, how a College of great plurality can create a community with so much in common.
Centennial needs to be a place of learning – of debate, of challenge, of pushing boundaries. Ideas, even controversy, must not be shied away from. However, we cannot, we will not abide hate, or violence.
I am proud to work in a College where we actively focus on leadership, on issues of social justice, and of working for non-violent solutions to some or our communities' most pressing problems. I am honoured to stand with the women and men in our College who state categorically that violence against women will not be tolerated.
In a powerful statement of anti-violence, we chose to feature the names of the 14 women murdered at L'Ecole Polytechnique in Montreal on plaques unveiled at each campus last Friday. That horrific event in 1989 is emblematic of so much that we must remain vigilant against: gun violence, targeted violence against women, male disenfranchisement that mutates into a hatred that breeds anger so deep, that violence is the outcome; and finally, the violation of educational institutions as safe havens. Canada's institutions must reflect our values and our vision for our country, which means they should allow for debate, and freedom of expression, and ideally, understanding and compassion.
Our plaques read: "Centennial College is committed to upholding the rights and freedoms of all and acting against all forms of violence perpetrated against individuals and groups within our community."
I've been thinking that with our focus on social justice and global citizenship, our College community really can make the world a safer place for girls and women.