QUESTIONS
P.O. Box 631 Station A
Toronto, ON, M1K 5E9
Meet Centennial's Premier's Award Nominees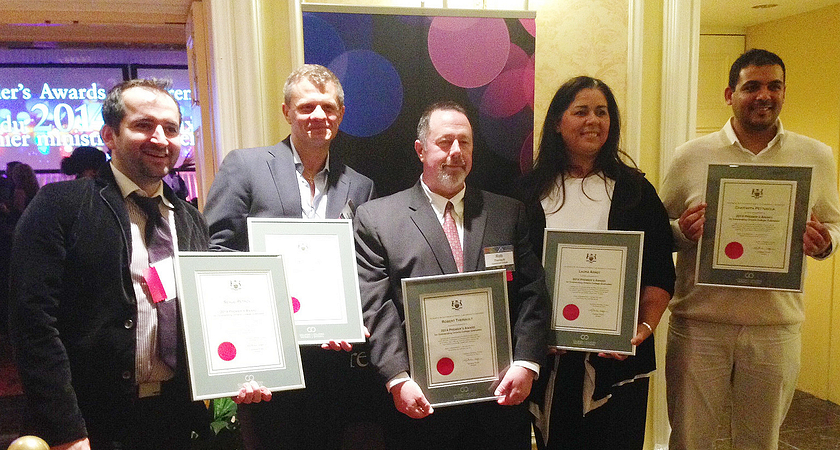 Centennial College's 2014 Premier's Award nominees (from left): Sergei Petrov, Piotr Mierzejewski, Robert Theriault, Laura Arndt and Chaitanya Pettukola (not shown is Domenic Serafino).
Each year, Ontario presents awards in six categories to acknowledge the social and economic contribution college graduates make to the province and throughout the world. The awards were launched in 1992 to mark the 25th anniversary of the province's colleges. The Ontario government is pleased to partner with Colleges Ontario, which administers the awards.
Submitted by all 24 of Ontario's public colleges, the nominees demonstrate outstanding career success related to their college experience and have made a significant contribution to their community. Presented here are Centennial College's six nominated graduates for 2014, drawn from the fields of business, community services, arts and design, technology, health sciences and recent graduate. We're especially proud of each and every one of our graduates!
Domenic Serafino
Business Administration (Marketing), 1981
Chief Executive Officer & Co-Founder, Venus Concepts
Domenic Serafino has played a key role in creating new standards in the medical aesthetics industry. His company, Venus Concepts, is a world leader in providing non-evasive, pain-free skin tightening treatments. Before forming Venus Concepts, Serafino was partner and president of Syneron, Canada's largest laser distribution company. Under his leadership, Syneron grew from zero to $1.3 billion market capital in less than five years and held almost 80 per cent of the Canadian aesthetic device market. As Venus Concepts' key spokesperson, Serafino has appeared on numerous television shows including Rachel Ray, The Doctors, Real Housewives of Vancouver and CNN.
Laura Arndt
Developmental Services Worker, 1984
Director of Strategic Development, Office of the Provincial Advocate for Children and Youth
For 30 years, Laura Arndt has dedicated herself to serving children, youth and the disability community, with a strong focus on community development and social justice. As director, strategic development, Ontario's Office of the Provincial Advocate for Children and Youth, Arndt helped author the Feathers of Hope report that identified issues raised by First Nations youth from 65 remote Ontario communities. The Truth and Reconciliation Commission of Canada was so impressed with the report that Arndt and the First Nations youth were invited to present at the commission's last national event and their report was entered into the national archives.
Sergei Petrov
Broadcasting and Film, 2006
Founder and Executive Director, Scarborough Film Festival
After completing Centennial's Broadcasting and Film program, Sergei Petrov marshalled his considerable skills to work in Toronto's busy film and television industry. His work led him to the Canadian Film Centre and eventually to the film festival world, first as a filmmaker, then as a staff participant for TIFF, HotDocs and other festivals. Petrov envisioned his own bold project: a film festival planted in the relative obscurity of suburban Scarborough. He wanted to bring challenging films to the people and inspire them to tell their own diverse stories. With 5,000 attendees this year, the Scarborough Film Festival has taken root in the community.
Robert Theriault
Ambulance and Emergency Care, 1984
President, Ontario Paramedic Association
After a harrowing car crash that changed his life's trajectory, Robert Theriault came to Centennial in 1983 to study ambulance and emergency care. He went on to work in British Columbia and then trained as an elite critical care flight paramedic. He staffed Air Ambulance helicopter Bandage One for 10 years, after which he began teaching in primary, advanced and critical care paramedic (Flight) programs, as well as contribute to texts and original research. He continues to work saving lives as a part-time advanced care paramedic, while serving as president of the Ontario Paramedic Association.
Piotr Mierzejewski
Computer Programmer Analyst, 2010
DB2 SQL Compiler Developer, IBM
Piotr Mierzejewski began working with IBM's Center for Advanced Studies as a Prototype Developer in May 2009, a placement position that was a core part of his Centennial program. In recognition of his work on IBMs Extensible Markup Language (XML) Index Advisor, he received the 2009 IBM Center for Advanced Studies Innovation Impact Award. After graduating in 2010, IBM hired Mierzejewski full time as a DB2 SQL compiler developer. Most significantly, he has proposed a patent, currently in the innovation disclosure status stage, which has the potential to lower the cost and time required to analyze and address customer problems. His patent is pending, as they say.
Chaitanya Pettukola
Digital Animation, 2006
CEO/Co-Founder/President, Bitebank Media
Not yet 30, Chaitanya is the co-founder, president and CEO of Bitebank Media. The company provides affordable, customized, user-friendly solutions to dentists, allowing dental firms to create and manage professional websites that promote their services. In 2012, Bitebank branched out into the medical industry with Medbank, which expanded Bitebank's services to provide physicians with the same web applications offered to dentists. Today, Bitebank is an award-winning company that has achieved 99 per cent customer retention. Over the past five years, the company has swelled to nearly eight times its size, from 20 employees to 150 employees (and growing) today.