QUESTIONS
P.O. Box 631 Station A
Toronto, ON, M1K 5E9
Meet Ravneet Kaur, your Student Association President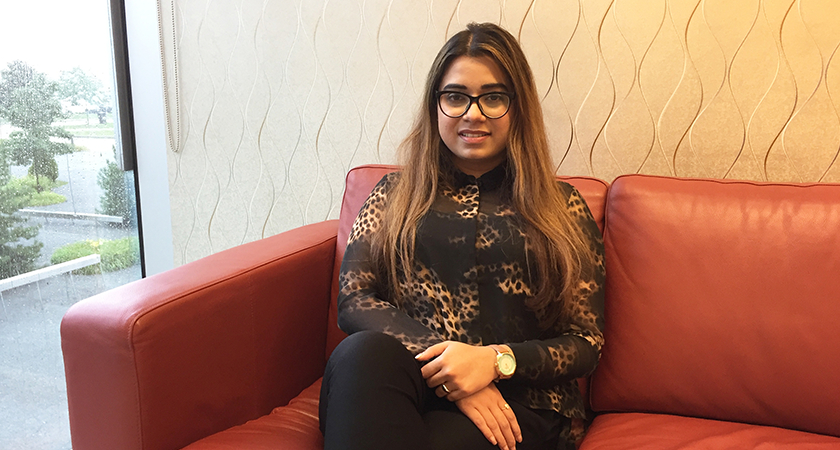 It takes a certain confidence to leave the comfort of home and travel to the other side of the globe to pursue higher education.
Ravneet Kaur is grateful for the opportunity, spurred on by parents who encouraged her to try new experiences far beyond her native India to gain an understanding of the world and her potential role in it.
"I actually didn't want to go abroad. But my mother wanted me to study further and to be independent, instead of getting married at the age of 21 like my friends," says Kaur, smiling.
As the daughter of a business owner and a homemaker living in the bustling metropolis of New Delhi, Kaur is no stranger to the big city – India's capital has a population of 22 million – so the notion of coming to Toronto did not deter her.
Kaur had studied economics at the University of Delhi and graduated with a degree in commerce. But being studious was far from her only talent. Kaur adores swimming, skating, playing field hockey and her favourite sport: soccer.
"I was playing at the national level in women's football in India," she says proudly. Kaur also enjoys dancing and choreography; in fact, she performed at the ceremonies of the 2010 Commonwealth Games in Delhi. It was her mother who suggested studying overseas after completing her degree.
"I did not work in India because the competition for jobs was so intense," she recalls. "I wanted to find post-graduate studies in global business management, and it made sense to study that subject abroad." Toronto came recommended as a learning destination and Kaur found her ideal program at Centennial College.
"The two-year Global Business Management program fulfilled my business aspirations and, in addition, Centennial's Leadership Passport credential and the Global Citizenship learning experiences sounded like amazing opportunities to round out my education, something the other colleges did not offer."
Kaur arrived in Toronto in August 2015 and quickly settled in her adopted home, first with a local family offering homestay accommodations, and then in her own apartment. Coming from New Delhi, the city seemed small by comparison. But it was her introduction to a Canadian college that surprised her.
"There's a heavy emphasis on final exams in India, while here there are lots of assignments throughout the year, so stress can be managed better. There's also plenty of presentations in class, which build your communications skills and your confidence."
She enjoyed the interaction with her professors: "My teachers are approachable and helpful. In India, professors are held in high esteem and their status can make them less approachable."
Kaur also found the college's online resources useful, rather than rely on paper handouts as she was accustomed to back home. One aspect of campus life that Kaur gravitated to quickly was the student government, which she viewed with familiarity.
"In university in India, you have small colleges on campus with multiple student associations. There's a strong tradition of voluntary work in student government in India," she explains. "When you come to Canada and you don't have family and friends nearby, the student association can play an important role."
Students from India clearly have some affinity for student government at Centennial, as Kaur found herself teaming up with compatriots from back home. She worked as a student advocate, learning about grade appeals and how to resolve other student issues.
After a year of practical experience helping students, Kaur decided to run for president of the Centennial College Student Association Inc. (CCSAI) this past spring – which she won. Having graduated from her business program in June, she will spend the upcoming year serving the college's 21,000 students and earning a paycheque.
"I am going to build the advocacy structure further, and lobby government for food security and transit for students," says Kaur of her new administration. She also would like to implement a better supplemental healthcare insurance plan that can pay for prescription drugs and other benefits.
It's important and responsible work that Kaur relishes. Student issues are more complex these days, especially in a college as diverse and globally connected as Centennial, where fully one-third of the college population is made up of international students.
"Maybe a business graduate can do a better job of helping our students," Kaur says. "I grew as a leader, encouraged by the Leadership Passport program I studied here."
Rather than pursue a career in banking as she had originally planned, Kaur would like to become a professional consultant who can help guide people and businesses to thrive in a changing environment. She intends to stay and launch her career in Canada. Needless to say, her mum is suitably proud.