QUESTIONS
P.O. Box 631 Station A
Toronto, ON, M1K 5E9
Men's Cross Country team wins bronze at championship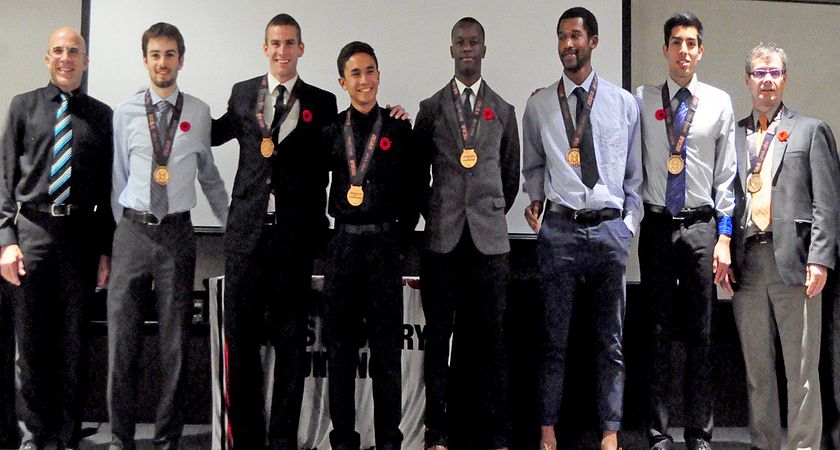 The Centennial College Men's Cross Country Running team collected well-earned bronze medals at the provincial championship hosted by Sault College on Saturday, October 31. The trail at Crimson Ridge Golf Course in Sault Ste. Marie, dubbed the Grizzly Bear, was designed by 2004 International Triathlon world champion Sherri Smith. The course is a gut-buster that was made even more challenging by the cold, wet weather on Halloween. The slippery course sent two runners to hospital, and it was much longer and steeper than what most were accustomed to running.
It was Centennial Colts forerunner Gabriel Torres who surprised everyone by running a consistent race, coming in 10th out of a field of 100. The Colts men managed to improve their personal times despite the gruelling conditions. Lugei Juma placed18th, besting his own times by 18 seconds, as well as Ryan Linklettter, who ran his fastest time of the season. Rookie Matthew Lozano improved to 29:41, sevens seconds off his season best time. Saed Griffith came in at 30:10 managing to crack the top 30, and Maxim Kuntz placed 37th to round out the men's team.
The Colts women's team racked up a positive team finish of 9th place overall. It was Alyssa Daragay who crossed the finish line first for the Colts in 26th place with a time of 23:25, followed by Bailey Debruin-Stam in 28th timing 23:39. Kate Perkins came was in 51st place (25:44) while Ana Gabriellla Lopez Castro (26:23) was 58th, Lanise Lywood 59th (26:44) and Erin Maitland was 62nd (27:37).
The Centennial Colts have been making great strides since the beginning of the season. In their first meet of the year at Fanshawe College, the men's team placed third. They followed that up with a second place finish at Sault. The Colts men's running team placed 4th at St Lawrence and earned themselves a 6th place ranking on the Canadian National Top 10 (later downgraded to 8th).
The Colts men's team will now head back to St Lawrence College, Brockville Campus, on Nov 13-14 for the National Championship. The team is currently ranked 5th place having moved up a few spots after their positive Provincial Championship finish. Go Colts!