QUESTIONS
P.O. Box 631 Station A
Toronto, ON, M1K 5E9
Mock disaster simulation Mar. 28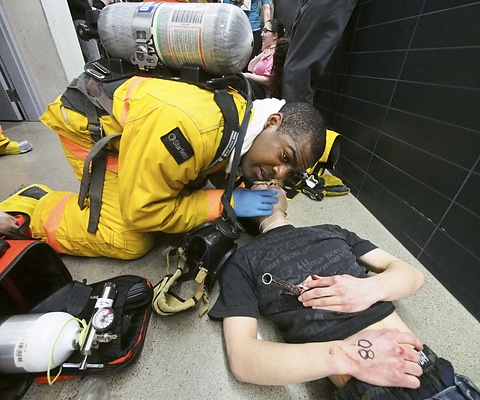 On Saturday, March 28, Centennial College's Morningside Campus will be transformed into a small community that will have a "real bad" day.
More than 250 students will play their professional roles in staffing mock police, fire and paramedic stations, a long-term care facility, social services office and a hospital during a severe weather scenario that will end with a tornado and black-out.
An additional 150 doctors, nurses, emergency responders and other professionals will be on hand to play roles and mentor students as they deal with mass casualties, wandering dementia patients, a building collapse and other crisis calls.
The exercise marks the 12th year that the School of Community and Health Studies has conducted a mock disaster to enhance its students' experiential learning, a core belief of Centennial College.
"We add something new every year," says Richard Kinchlea, Centennial's Chair of Emergency Management and Public Safety. "We want to continuously include more students and career programs. This year we will have a fully staffed emergency operations centre tasked to coordinate resources and make sense of an overwhelming situation."
Mock disasters, or emergency exercises, are regularly run by cities, agencies and businesses to evaluate their response to different emergency scenarios. At Centennial, the students learn some of what they may expect to face in their careers should a disaster occur, and how to better prepare for critical decision-making.
"We try to provide a realistic disaster environment," Kinchlea says. "There is no smoke or car wrecks, but more than 100 'patients' are made up with various injuries and everyone knows the community of Morningside is at risk."
Please view the following short clips of this years Mock disaster simulation on our Instagram page: