QUESTIONS
P.O. Box 631 Station A
Toronto, ON, M1K 5E9
Moving with technology: Patrick Kelley keeps us up to date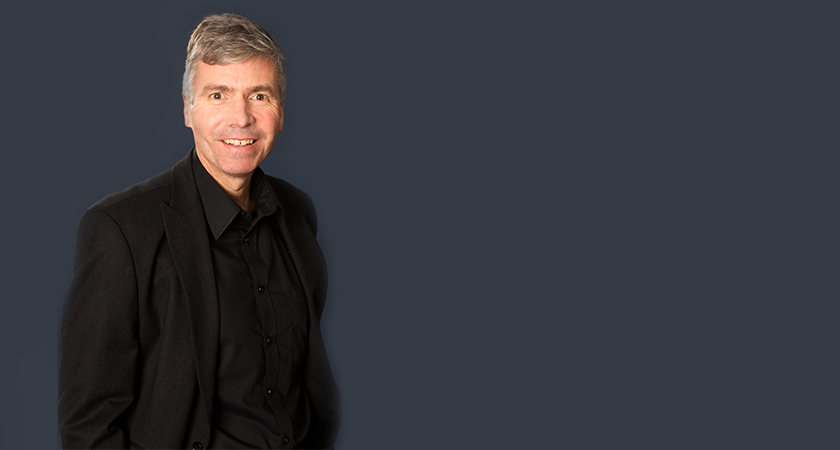 Centennial College works to set its graduates up for success by having them study under experienced professionals. So who better to take charge of educating Centennial students than our own alumni, closing the loop? Patrick Kelly started out studying Electronic Engineering, entering the tech industry in the 80s. Years later, he'd return to us, and now works as the Dean of the School of Engineering Technology and Applied Science (SETAS), helping train the next generation of tech students, making sure our programs keep up with the ever-changing world of technology.
His history
"It was the early 80s when I came to Centennial and took the Electronic Engineering Technician program, and graduated in Electronics," Patrick says of the beginnings of his career. "It was my first post-secondary experience, and it really opened the door to a career path into the electronics field. It was an entry-level position at the time, but I was working with a circuit board company once I graduated from Centennial."
After that, he'd work with A.C. Nielsen, the company responsible for figuring out ratings for television, which would give him the chance to travel North America and Australia while in his mid-20s, before he decided he needed to further his learning.
"The college diploma really opened the door to all of that," he says. "When I was at A.C. Nielsen, I decided that to progress through the ranks, I needed to go back to school."
He'd go back to University, and get a Bachelor of Commerce before deciding to get re-involved in education.
"I was out of school, I had my bachelor degree, and that's where I entered the educational field," he says. "I had the technical background, the Diploma from Centennial, plus my Bachelor's degree in Business."
He'd work as an instructor, and come to Centennial in 2001 as the Chair of Information Systems. While there, he'd continue to bulk his skills up with a Masters of Education, something the college supported him with.
"I was working full time, with a young family, doing my masters," he explained. "I was able to obtain a sabbatical through Centennial College for ten months, right at the end of my dissertation, and it really allowed me to focus and write the last three chapters of that dissertation. As far as balancing work and school, without that sabbatical, it would have been difficult to complete, so it was a huge gift."
After that, he became chair of Applied Biological sciences from 2007 to 2012, when he finally became the Dean of SETAS.
"I saw a lot of change in the department, brought in a lot of new programs in a number of different areas across the school, and the Dean's position came up in 2012, so I applied," he says. "Since 2012, the school has experienced tremendous growth, both domestically and internationally. We've added many new programs and subsetted some old ones. We've had tremendous growth and enrolment, and also new staff members. It's just been a great time to be at the college, and SETAS specifically."
How things have changed
Having been in the tech industry since the 80s, Patrick has seen vast changes, something he makes sure is incorporated into the programs at SETAS.
"Certainly technology has changed astronomically," he says. "When I studied in the early 80s, it was all about mainframe computing, and there were no cell phones or internet per se. That's why for all our programs, we bring in Program Advisory Committees twice a year, made of industry experts from various sectors right across the school."
"Technology has changed so much," he continues, "and will continue to change going forward, but what I've found is those general employee skills, like leadership and time management and communication skills don't seem to change, they're the one constant in the workplace."
Where we're headed
When it comes to the future of technology and engineering, Patrick looks to what the school is shifting its focus to as a sign of things to come.
"Some of the new programs we're bringing in point to where things are going," he says. "Mobile Applications will continue to grow, there will be huge need for cybersecurity, another big area is renewable energy and sustainable design. We're very excited about that, creating a fourth department to address those needs, the Department of Renewable Energy and Sustainable Design."
"For Advanced Manufacturing," he continues, "we'll see a move towards smart manufacturing, meaning the use of sensors, and really to improve efficiencies in manufacturing. That's going to be needed to ensure Canada remains competitive in that area, and certainly we're excited about our aerospace programs, with the new facility at Downsview Campus opening in January 2019."
A point of pride
For now, Patrick will continue working to keep the programs in his school fresh and relevant, something that he enjoys.
"Certainly in developing new programs, there's a lot of satisfaction," he says, "because you're woking with a team across the college, and working with our industry partners, really taking a look at what future needs and skillets are."
Another thing he enjoys? Seeing students graduate from the college into success, like he once did. "Every year when we have those convocations, and we see those students coming across the stage, then afterwards getting together with the family members, to me that really keeps me grounded, and that's why we're all here."