QUESTIONS
P.O. Box 631 Station A
Toronto, ON, M1K 5E9
Nancy Baltazar and the Business Socks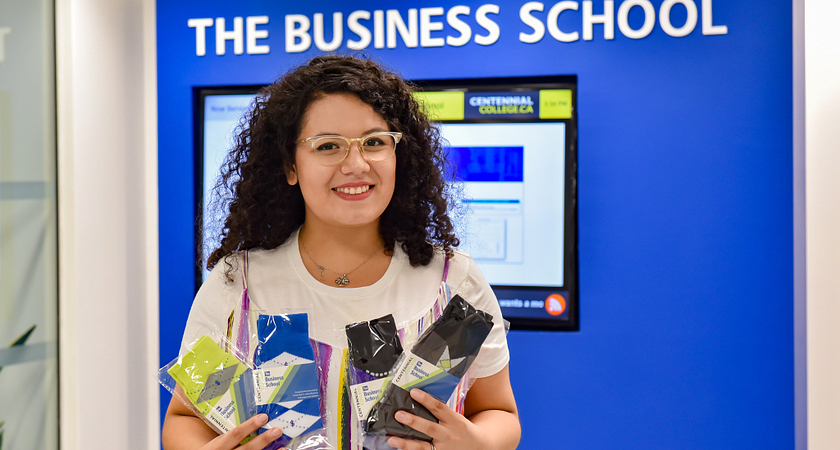 A theme behind many of Centennial College's programs is making sure that students get equipped with the practical means to make their creative dreams actually happen. That's the case with our Fashion Business and Management program. Rather than just teach students how to create stunning fashion, this Business Diploma program teaches them the practical part of putting that fashion out in the world, covering manufacturing, technology, marketing, retail, business and management through a series of practical projects.
The latest project in the program produced a tangible product for all students to enjoy, special socks designed for students taking Business classes. Students were put into groups and tasked with designing socks, and then taking them through the manufacturing process to completion, making them available for purchase at campus stores.
For Nancy Baltazar, this helped her learn the manufacturing and business skills she was seeking. She came to Centennial College (and Canada) to learn how to take the fashion designs she already knew how to make, and bring them to market. Here's her story.
The search for knowledge
"I'm from Mexico, and already have a degree in Fashion Design from Mexico City," Nancy says. Her education encompassed the creative side of fashion, teaching how to come up with the clothing designs she loved, but she wanted to know the other half of the coin, how to make those designs into mass-marketed products through business. That's where Centennial came in.
"A lot of the fashion or design schools don't really touch on the business part of it," she explains. so I really needed that experience of the numbers and the marketing, and all of the steps that come after you have a product that you want to sell."
"I came to Centennial because it was always a dream of mine to come to Canada and do something more," she continues. "The curriculum of the college appealed to me most because there were a number of courses in math, pricing, markup, all things I needed in order to better understand how to sell." She'd learn those things through the practical aspects of Fashion Business and Management.
"We have lots of invitations to volunteer during fashion week, or with designers backstage," Nancy says as one example. "I was a volunteer during Toronto fashion week last winter, and you get to experience what it's like during a show, and what you need to do to have everything ready for a show that people see for 15 minutes at the most. Behind it, there's an enormous amount of work that needs to be done." But the Business Socks project would be the one to give her the most relevant experience to her dream career.
The Business Socks
"We were divided into groups for this project, and it was sort of like a contest," Nancy says, explaining how the Business Socks project works. "We had to make a design for the socks, and get in touch with the supplier, and after that, whatever group won was going to have their socks made up. I worked with two other classmates."
"We were asked to create a design, and our team ended up presenting about five designs," she continues. "They picked two designs, and ordered 500 pairs of socks, which will be available at the bookstore."
"I was the one that kept in touch with the Chinese supplier," she says, explaining her role in the process. "I oversaw the process of ordering the samples and ordering the socks all throughout the summer, making sure everything was in order."
"I had worked before with manufacturers and suppliers, but not on such a large scale," she says, "so having to deal with someone who's on the other side of the world is really exciting."
So, what did she learn? "Just how precise you have to be with everything," she says, "how you have to look into everything, and how when you deal with other countries, you have to take into consideration a lot of other customs. There were a lot of times our suppliers were on vacation just because it was their holidays. It was a matter of knowing they were going to be off that week, so you needed to work around those dates."
"I now feel more confident speaking to manufacturers," she adds. "I already had a base in design, so that part wasn't as challenging for me. I was quick to come up with designs and a range of options for the dean to see. After that, you have to go outside and talk to people, and it does make you go out of your comfort zone, which is really helpful. If you want to have a business, you have to go out there."
What's next?
"I want to start selling my creations now that I have a better understanding of what was once very difficult for me, like margins, how to price stuff and how money works around a business," Nancy says. "Now that I have a better idea of it, I want to have an accessory brand to start. With these socks, I know how they are made, so I can look into other things. I want to start a brand as soon as I can and see where it takes me. I really want to stay in Canada, and learn about all the cultures here to have a brand that is attractive to other people."