QUESTIONS
P.O. Box 631 Station A
Toronto, ON, M1K 5E9
New Residence coming to Progress Campus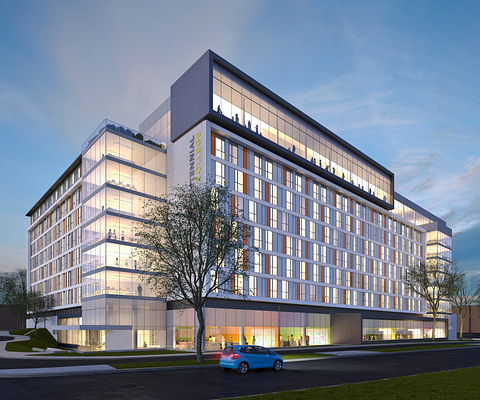 To address the need for new student housing, Centennial has begun construction of its eight-storey Centennial College Residence and Culinary Arts Centre at Progress Campus. The college's rapid growth created unprecedented demand for accommodations at its old 340-bed facility, a former hotel on Progress Avenue that was renovated to become Centennial's first residence in 2001.
The striking new building takes the shape of a quadrangle with a central courtyard to allow natural light to reach all of the residence rooms. There will be space for 740 students in two- and four-bed suites, complete with a bathroom and kitchen in every suite. All residents will have their own private bedroom. There will also be communal kitchens and lounge space where students can congregate. The residence floors will be highly secure and inaccessible from other parts of the building.
The new residence will also provide teaching space by dedicating the ground level to Centennial's Culinary Arts Centre, complete with seven kitchen labs, a teaching restaurant and nine new classrooms with capacity for up to 600 students. The naturally lit kitchens will serve a conference and banquet centre on the top floor, which can accommodate up to 425 guests. The facility is targeting a LEED Silver certification, which involves focusing on sustainable "green" practices as they apply to the hospitality industry.
The $85-million Centennial College Residence and Culinary Arts Centre will be located on the main campus driveway close to Progress Ave. Construction is scheduled to begin this fall, with occupancy slated for the fall of 2016. Knightstone Capital Management is undertaking the planning, financing, construction and management of the project. Other key partners include Diamond Schmitt Architects, Canadian Campus Communities and FRAM Building Group.
To view the Site Map and Floor Plans, click here.