QUESTIONS
P.O. Box 631 Station A
Toronto, ON, M1K 5E9
No Parrots in Space: Centennial students create a children's book to teach diversity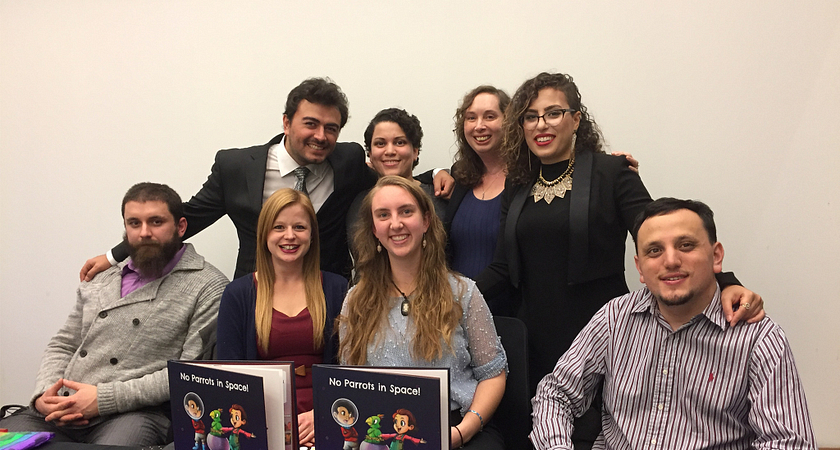 Diversity and inclusiveness are core values at Centennial College that we believe should be taught to future generations, especially children. No Parrots in Space! is a Unique children's book created for our 50th anniversary that teaches these invaluable lessons. The book was created through collaboration by alumni and students from our Children's Media program, who got to show off their skills by teaming up to write and illustrate the book from scratch. Not only was it a showcase of what students can do, the book was thematically in line with the college's values, featuring diversity and inclusiveness as its main message. Sold for $10, all proceeds from the publication go entirely to student scholarships. Over the course of eight months, the team of writers and artists worked tirelessly to create something educational, memorable and positive for children to read. Here's how Centennial College students used their knowledge to put the book together, and how it reflected the values of the college itself.
Creation
It all started with Suzanne Kanso, a Children's Media alumni who would move on to become a 50th Anniversary Project Assistant for the college. She pitched a book to celebrate the college's 50th anniversary, making use of her education at the Story Arts Centre. To find a team of writers and artists to make it, she went to the Centennial community.
"I reached out to alumni from my year of graduation, 2014, and colleagues from the 2016 program," Suzanne says. "I presented the opportunity to them, and we rallied up."
"During one of our classes, Suzanne came in and asked who'd be interested in helping with a book project for the school's 50th anniversary, so I was interested in that, and a few other people from the class were interested," says Daniel Sharestrom, one of the book's writers.
"When she said that, I figured I should join," adds Max Gorokhovski, another one of the writers, "partially to start working on my portfolio, but also I just liked the idea of doing something like that, because everyone liked Pixar in the class, and it sounded like we might do something that skews a lot towards that. Also, it was very open, so I was just curious and excited to see what could come of that."
A challenge
In the end, the team consisted of six authors, three illustrators, and a professor from the Children's Media program serving as editor, making it an unusual creative process.
"A book is usually one author, with one vision, and that's how you see it grow," Suzanne says. "But in our creative processes, everyone's throwing in ideas, and it added a meaningful twist."
"No Parrots in Space! had many versions and story plots," she says. "Initially, we had Caucasian lead characters, but as we progressed collectively as a team, our Centennial and children's book objective became unified - we knew what direction the book should embody – that of diversity and inclusivity."
"Basically what we did was, we all had our own input with the story, and we went back and forth on the details," Daniel says. "I personally came up with the idea of having two separate worlds collide, and we fine-tuned that from there."
"We got together a couple times a month for about eight months, as we came up with ideas, we storyboarded the whole thing out, and we workshopped ideas," he adds. "Eventually, it got to the point of editing and debating over individual words. It took us awhile, but I'm very proud of the final product."
"Each of us had to write 15-20 titles," Suzanne says as an example, "and decide as a group what we liked, just as a title."
"Coordinating and managing everyone's schedule was very difficult. Between school, full-time/part-time work, personal lives, a lot of commitment was required," she admits.
"It was a little bit tricky to work with so many other writers," Daniel says. "Usually, the other things I've written, I've written by myself or with one other person, so it was an experience learning to write by committee. There were definitely some parts where we disagreed."
"Between six people, it really delved into the minutia," says Max. "At points we were arguing about Oxford commas, and if to have them or not, which is ridiculous, but in the end, it helped out, and everyone got a say in it. Because of the challenge, we got to figure out what actually mattered, and what didn't."
A diverse message
"The challenge was to mobilize experiential learning in our creative practice as children's storytellers. We wanted to ensure that our messaging to our youngest catalysts implored an active desire to change, build and construct a better future. That ties into Centennial's vision of transforming lives, and through our main protagonists Ali and Neelu."
"We have Ali and Neelu as non-Caucasian, because we wanted to be very reflective of the Centennial community," Suzanne says. "We wanted to focus on inclusivity, fostering a space for creativity and exploring one's identity."
"We, as storytellers, came from various backgrounds, so it was imperative our fictional kids did too," she adds. "We wanted to break stereotypes and empower kids through character representation; we had one kid wear the hijab, another kid with big beautiful curls, a boy in a wheelchair playing basketball, an introvert kid being an extrovert in his own way, and plenty more."
In the story, Ali is very strong-willed, the leader of his pack, and wants to play games about space. Neelu, meanwhile, wants to introduce non-space elements, and brings a parrot into the picture. Initially, Ali rejects her ideas, but comes around as the story progresses.
"He's afraid of exploring new things, and, if we based it on a bigger scale, new cultures," Suzanne says. "When Neelu comes in, she's very suggestive in her method of play, because we wanted to focus on a positive learning space."
"Throughout the book, the kids start realizing that this new form of play is actually very fun, and they really enjoy it, because they tap into their own creativity and imagination; they start to discover themselves, other forms of play, and the world around them," she adds.
"When everyone is allowed to be who we are, and we come together as a community, then it becomes a much better place. That's what we want to advocate for," she says.
Where to go from here
The book's first launch was at the Centennial College 50th Anniversary Gala, where Ontario's Representative of Her Majesty The Queen- Honorary Lieutenant Governor, Elizabeth Dowdeswell, stopped in a second time for more copies of our children's storybook.
"Once we had it in our hands, it was something very empowering for us as artists," Suzanne says. "Seeing what we've accomplished, seeing the expressions of joy and content on my colleagues' faces at our first book launch, the sense of accomplishment they had in their eyes that finally after eight months we published our first book, is something to pride yourself on as a grad from the Children's Media program, because you want to see the fruit of your seed. This was something they could proudly add to their portfolio."
"I didn't realize the quality of the materials that they were going to be using," Max says."I thought it was going to be more like the softcover/softback kids colouring books you see, but when I saw the hard cover, and the thickness of the pages, I felt really happy to see that's the kind of support we had behind us."
"I didn't actually see the illustrations until the day that we sold them at Centennial's 50th anniversary," Daniel says. "So I got there, and saw this amazing book in my hands, and I'm flipping through it the same as the customers, amazed, and it's got my name on it, which is more amazing. I've had the opportunity to read it to my nieces and nephews, and the response I've gotten from them has been very heartwarming, so it's been a great experience."
Since then, they've had a book signing at an event in Toronto called Positivi-tea, had requests from faculty and community members to have the book translated into Spanish, French and Arabic, and are now looking at selling copies of No Parrots in Space! at the TIFF Kid's book store.
"I had a colleague of mine donate 50 books, and asked me to pay-it-forward in the way I see fit," Suzanne adds, "so as an 'Agent of Change,' my mandate was to reach out to the school I once taught English at in Mexico and partner with them. Today, No Parrots in Space! has proudly become part of their English curriculum. My next pay-it-forward mission is donating copies to the Children's Book Bank and Sick Kids Foundation."
Importance
"In this day and age, the message of this book can be really impactful for kids," Daniel says. "They can learn that other people can have valid opinions, and it's okay to think a little differently, or be a little different."
"I'm hoping to see Centennial or the Children's Media program do something like this again in the future," Max adds, "something that uses the talents of the students in the programs if they're willing to put in the effort and show the value of the students and the work or programs that they're doing."
By Anthony Geremia