QUESTIONS
P.O. Box 631 Station A
Toronto, ON, M1K 5E9
Ontario increases funding to renew and modernize Centennial College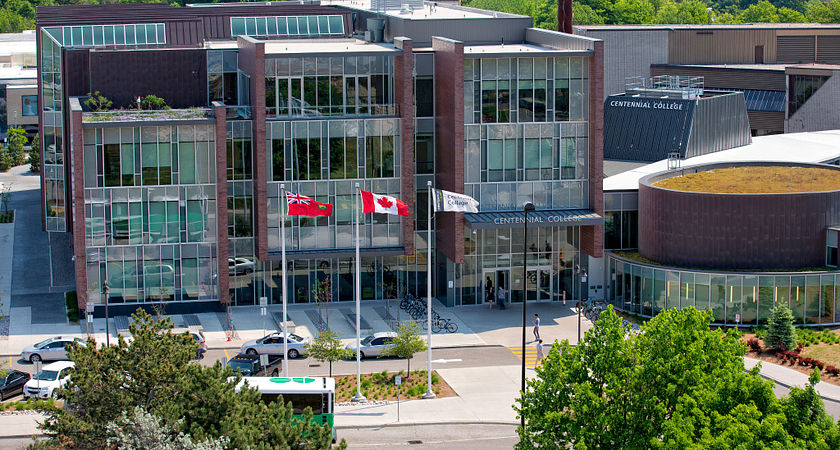 The Ontario government is investing $ 4,086,400 in capital funding to help Centennial College address deferred maintenance, undertake critical repairs and upgrades, and provide a modern and safe learning environment for students, faculty and staff. The announcement was made on December 18 by Vijay Thanigasalam, MPP for Scarborough-Rouge Park.
"Well-maintained facilities and the latest in learning tools and equipment are critical parts of a postsecondary education," said MPP Thanigasalam. "By investing in postsecondary infrastructure, our government is supporting economic recovery, creating jobs and ensuring students obtain the skills they need for the in-demand jobs of today and tomorrow."
"Centennial College is one of the cornerstones of our community. It is a pleasure to support them as they help our students, and our province, to compete successfully on the world stage," said Minister Raymond Cho.
"Centennial College provides students in Scarborough a world-class education, and the facilities where students learn must also be world-class, I am proud of our government's commitment to Centennial College," said MPP Aris Babikian. "Investing money to ensure capital funding and repairs take places at the college will ensure that the students of Scarborough are provided with the best facilities possible."
"This funding signals a true commitment on the part of our government to invest in our young people. By revitalizing Centennial, we are ensuring that our students are getting the high-quality education they need today in order to be competitive and thrive in the workplace tomorrow. Moves like this show us that Scarborough's future is bright, and our young people matter."
As part of the Facilities Renewal Program (FRP), the province is providing $3,087,100 to Centennial College to help address the ongoing need for maintenance, repair, renovation and modernization of existing facilities. The 2020-21 FRP funding represents an increase of more than $2 million to Centennial College over and above last year.
As part of the College Equipment and Renewal Fund (CERF), the government is also providing $999,300 in capital funding to help Centennial College purchase and renew instructional equipment and learning resources. For 2020-21, CERF funding can also be used to purchase equipment to support student virtual learning during COVID-19.
"The first-class education students receive at our postsecondary institutions is critical to the future of Ontario, our economy, and the prosperity of our people, said Ross Romano, Minister of Colleges and Universities. "That is why our government is committed to providing annual funding that will help our colleges and universities renew and modernize their facilities."
"We are elated to receive this generous investment in our facilities and equipment at this critical time," said Dr. Craig Stephenson, President and CEO of Centennial College. "While much has been done to rejuvenate and expand Ontario's oldest public college, we have been the custodians of facilities that have seen increasing wear and tear as our campuses draw more and more students. The funds will spark some welcome and very necessary revitalization."
As announced in the 2020 Ontario Budget, Ontario's Action Plan: Protect, Support, Recover, the Ontario government is making an investment in critical maintenance, repairs, upgrades and renewals of $466 million in capital grants over three years starting in 2020-21 for Ontario's universities and colleges. In addition to the $144 million investment in FRP funding for 2020-21, the Ontario government is investing $20 million through the College Equipment and Renewal Fund (CERF) to help Ontario colleges purchase and renew instructional equipment and learning resources.