QUESTIONS
P.O. Box 631 Station A
Toronto, ON, M1K 5E9
Ontario Ministers announce Youth Jobs Strategy success at Centennial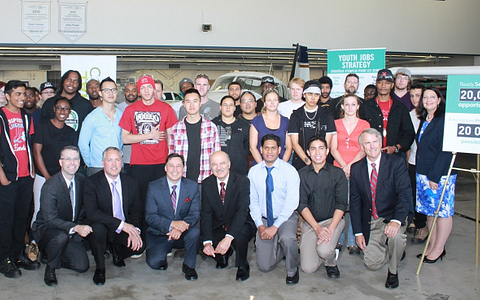 Centennial College's Ashtonbee Campus played host to Ontario Ministers Brad Duguid and Reza Moridi on July 18 as they announced Ontario's Youth Jobs Strategy having already surpassed 20,000 job opportunities created for young people wishing to break into the employment market.
The Ontario government is investing $295 million over two years in the Youth Jobs Strategy to help connect youth with the tools, experiences and entrepreneurial support they need to succeed in today's workforce. The strategy – which is already ahead of schedule – is helping thousands of young people across the province find work, build skills and start their own businesses.
Minister Duguid noted that 95 per cent of Youth Employment Fund clients who have completed their job placements have either been retained or gone on to further employment – a success rate far higher than the government had originally anticipated.
Centennial's Ashtonbee Aircraft Hangar provided the backdrop as the ministers shared the good news with the assembled media. A group of pre-apprenticeship students from Centennial's Automotive, Autobody and Truck & Coach Technician programs were on hand to view the media announcement along with faculty and staff.
Centennial College plays a pivotal role in the Youth Jobs Strategy by delivering specialized, funded programming for youth looking for relevant training and education. The college has been awarded a total of $867,775 in Campus-Linked Accelerator funding over two years to help young entrepreneurs connect with investors and industry.
In addition, Centennial received $497,000 through the Youth Skills Connections program to train 83 youth in a 16-week program to meet the hiring needs for Bombardier and other aerospace firms. Bombardier Vice President Graham Kelly was in attendance and articulated his company's support for the training program and the ongoing partnership with Centennial and the government. The training program is scheduled to begin this fall.