QUESTIONS
P.O. Box 631 Station A
Toronto, ON, M1K 5E9
Ostap Hamarnyk is Centennial's Most Valuable Men's Soccer Player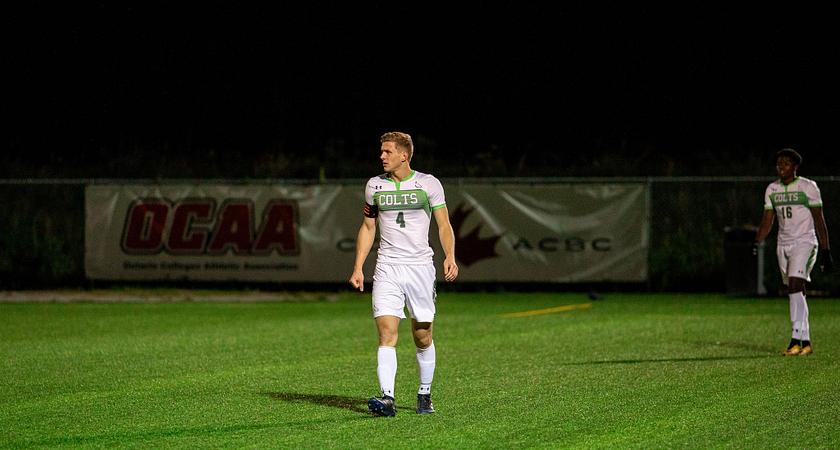 There's more to do at Centennial College than just learn. You're here to pick up career skills, but the school should also feel like a home away from home, which is why we have plenty of fun extracurricular activities, including competitive sport and athletic activities. We're proud of our varsity sports teams, where you can play hard while you work hard. Every year, we also recognize the most valuable players from each team. Soccer player Ostap Hamarnyk is one of them. He's an international student from the Ukraine who came here to study Software Engineering Technology. He also played Men's soccer for the four years he was at Centennial, even becoming team captain. Here's his story.
Coming to the College
"Centennial College is one of the best colleges in Ontario, and I really liked the program itself," Ostap says, explaining what brought him here. "The courses were very helpful and knowledgeable. Another major point was that students, after Centennial, were getting jobs."
Ostap's education would eventually connect him to a career in application development, but while he was at school, he decided to pursue his other lifelong interest, Soccer.
Coming back to Soccer
One of the first things Ostap did when he came to the college was look into our soccer team, so he could pick up where he left off back home.
"I'm an international student, and I knew that in North America there are varsity teams at colleges and universities," Ostap says. "I used to play soccer back home for seven years, and I wanted to continue playing soccer."
"The facilities are good," he says about what Centennial provides for its players. "We have the field, and we can have access to the gym at any time to practice on your own. The transportation and logistics are also very good if we're going for an away trip. The school will provide us with a bus, and then a hotel and meals, so that's very close to what it looks like in professional soccer, too."
How he plays the game
"The first thing is probably putting a lot of effort into teamwork," Ostap says about his philosophy. "Teamwork's one of the biggest goals when you play."
"If you're indifferent to the game, you'll never win," he adds. "Even if the other team is better, the team that has more desire will win."
But no matter how hard you play the game, you have to remember that you're in school to learn, and Ostap has advice on that.
Balancing sports and school
"It's just time management skills," Ostap says. "You develop them over time. Since Grade 5, I've been going to school and playing soccer, and I've had to manage since then. You kind of get used to managing it all. You have to say no to some stuff, like partying and games, because if you don't study, or skip practice, you'll lose in studying or soccer. So it's a matter of managing your time properly, and examining your priorities, what matters more."
His proudest moment
"This season, we had an away game against Algonquin College," Ostap says. "For the past ten or 15 years, Centennial College couldn't win against them on their home field, and we were the first, we won 2-1. It was a hard game, and all the guys put in great effort. Being the captain, I was very proud of both myself and the team."
"It was my fourth year at Centennial," he says, explaining how he became captain, "so I'm one of the biggest vets on the team. I get along very well with the coaches, they can teach me and I can give them advice as well, and my other teammates respect me."
On being named MVP
"It's a great experience when you put a lot of work into what you're doing, and get rewarded for that," Ostap says about the win. "It also encourages you to work further, work harder and get better."
"The whole team had a good season," he says. "My being team captain was probably an aspect of it. I was also recognized at one of the best defenders in the division, so that had something to do with it as well. For the most part, it's just hard work."
Following his footsteps
Ostap works in applications development now, but hopes to keep playing Soccer in the future. In the meantime, though, he offers advice to any other potential players looking to hit the field while they study at Centennial College.
"Just be mentally prepared, and physically prepared," he says. "Stay healthy, avoid the bad habits, and try to work on yourself."
By Anthony Geremia