QUESTIONS
P.O. Box 631 Station A
Toronto, ON, M1K 5E9
Our professional Financial Planning students show off their skills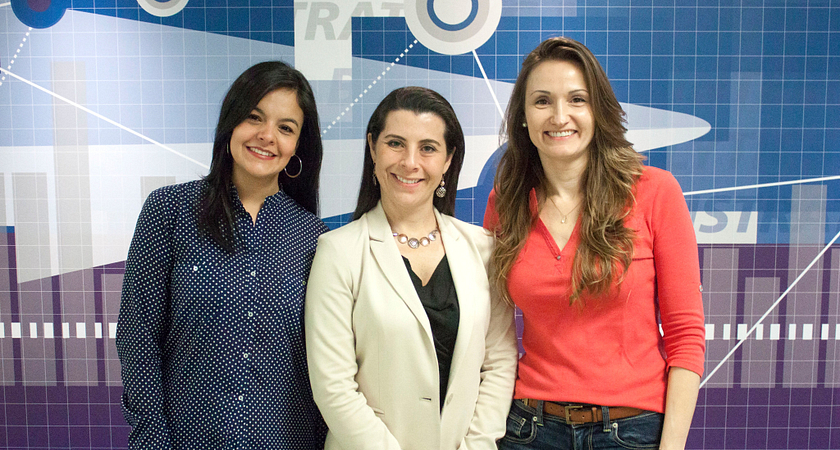 Centennial College works to give its students a chance to practice the skills they've picked up in real-world settings, leaving the classroom to test their abilities as they launch their careers. Such is the case with our Financial Planning post-graduate program. Offered by the School of Business, this Graduate Certificate program gives business students the skills they need to help people figure out their future, at least where the money is concerned. Becoming a financial planner means that you help people shape their lives, as they plan how to put their kids through school, own the home they want, retire, or simply live the best life they can. By becoming a financial planner in Centennial's program, students are learning how to help make these dreams come true.
Not content to just teach the students in the classroom, the program sent three students to a special case study competition, to prove their worth. The Canadian Institute of Financial Planning (CIFP) Case Competition at George Brown College took place on March 4, and three students from our Financial Planning post-graduate program, Carolina Perozo, Lina Diaz and Luciana Galindo, took part. The students tested their skills against other Ontario colleges, and in the end achieved second place out of nine competing teams.
Training for the competition
On the day of the competition, Carolina, Lina and Luciania were given a fictional financial case, and tasked with creating and presenting a financial plan while under a strict two-hour time limit. They needed to solve the problems, then deliver the solution, and were marked on how they solved it, and how they presented their solution. They had to help someone plan the financial side of their life, like what they'd be doing in their eventual careers.
To prepare for the competition, the three students were first given a practice case, which they presented to their two coaches, program instructors Tracey Britt-Thorne and Deborah Williams.
"I learned the things I needed to learn last semester," Carolina says of the preparations. "This semester, these two teachers that were coaching us had experience in the field, and were telling us all of their personal experience from having worked as financial planners and advisors."
"This couldn't have been possible without the coaches help," Lina asserts. "They taught us everything we need to know about not only the competition, but also for the way you have to face that kind of situation in real life. Last semester, we learned all the theory, so this semester, we were prepared to face things like this."
For the test case, the trio was given two fictional clients, Nikkala and Jerome, who had the goal of retiring. The team was tasked with creating a financial plan for them based on their info, and presenting it as though the couple was in the room. In the space of 20 minutes, the team outlined their current financial status, talked about their goals, their plans to have kids, and discussed education and insurance. They then talked about their retirement plans, and recommended solutions to them ("Right now, you need to get rid of your credit card debts," said Luciana). They then moved on to risk planning, tax planning, and summed up their recommendations, before moving onto a Q and A, followed by feedback from the instructors.
"One of the things our coaches told us during our preparation is that the way you convey the message to the clients is important, the way you stand up there, talk to them and explain why your advice was best," Carolina says. That would become very important during the actual competition.
An unusual case
That weekend, they did it all over again, helping another fictional couple plan for their retirement.
"They're facing retirement, and they need to know if they have enough money to retire at 65," Carolina explains of the final case study at the competition. "They have a lot of property, and they have three children." This time, though, there was a difference.
"The most important thing we had to say to them was, do you have the money, yes or no?" Lina says. "And they didn't have the money to do all the things that they wanted to do, retire, give the property to their children. We needed to analyze and say that to them."
"We had to come up with a strategy that was completely different from the other teams," Carolina continues, "because we were able to say to the clients, this is not going to be possible, so you need to be realistic, and we need to make some adjustments to your plan and to your goals, otherwise you're going to get none of them."
Winning the silver
In the end, their unorthodox approach worked, netting the trio a silver medal.
"I didn't expect it," Carolina admits. "I knew we were good, but there were nine other teams competing, and the competition was tough."
"After this experience, I started thinking that I can be good at this," Carolina says. "All the financial advisors we've met have said we can help people, and that's the key for this career, if you want to follow this path. You can help people, you can give your advice to people, and that's going to make you feel really good."
By Anthony Geremia