QUESTIONS
P.O. Box 631 Station A
Toronto, ON, M1K 5E9
Overcoming barriers to education: Chantelle Fogarty-Griswold finds her success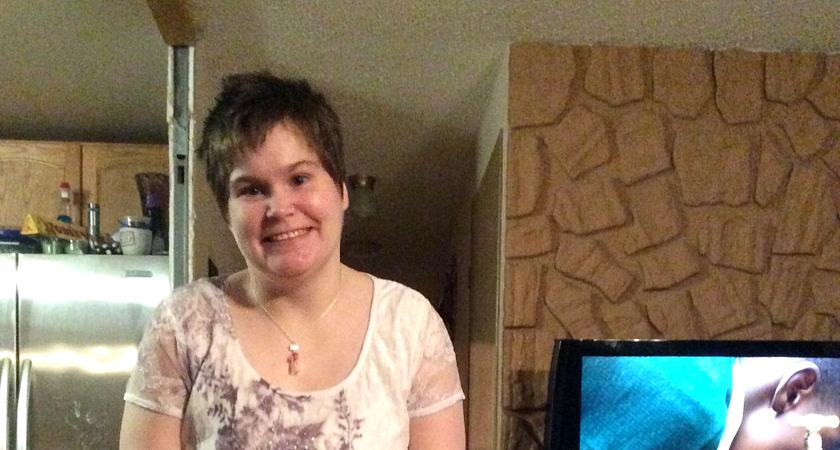 No matter who you are, you're entitled to an education, regardless of the barriers life may set up in your path. At Centennial College, we believe in helping students overcome those barriers, and assisting them in achieving their educational and career goals. Such is the case with Chantelle Fogarty-Griswold. She has severe spastic cerebral palsy, but at 26, enrolled to be a distance learning College student, and now studies Professional Writing at our Story Arts Centre campus. Here's how she got to where she is.
Deciding on education
While Chantelle had wanted to attend a post-secondary institution for some time, her cerebral palsy had been a barrier, with some institutions outright refusing to enroll her.
"I kind of gave up on the idea of higher education, because I live with severe muscle spasms, and chronic pain," she says. That would change, though.
"My parents were driving me back up to camp, and I don't know how we got to the topic of college, but we did." she says. "I thought about it a lot at camp, and spoke to some of my friends and counsellors about it. When I came home, I went online, did some research, found Centennial College, and I made an appointment with the Centre for Students with Disabilities."
"I made an appointment with a Learning Strategist all on my own," she continues, explaining how the CSD works. "In that meeting, I explained to the Learning Strategist that I want to do my program through distance learning. The Learning Strategist set me up with an Individual Student Profile that listed all the accommodations I would need to succeed in my program. Then she told me to go register for my first college course." As for her career choice, it would be born out of a desire to help others like herself.
"All my life, I knew I wanted to go in a field of study where I could help individuals with special needs, but because of all my health conditions, I didn't know how," she says. "When I looked at the courses at Centennial College, I found this course called Professional Writing. I just knew that was the way to help advocate for individuals with special needs."
The tools for success
Chantelle credits services provided by Centennial, like Prep Smart to help with her transition from high school to Centennial.
"Centennial College has accommodated my cerebral palsy in many ways," she says. "My Learning Strategists have been able to speak to my professors to extend my courses past the deadline, CSD has always advocated on my behalf to give me extra time on tests, quizzes and assignments, and they have provided me with assistive technology."
"Doing distance learning is important," she explains, "because if I am having bad days where I can't work, I don't need to worry about missing classes and falling behind, and I can work in the comfort of my own home."
Chantelle is currently in the second year of her program, and takes her courses online through Ontario Learn. Despite that, Professional Writing has still given her plenty of opportunities for practical experience.
"As part of my second semester, my class was encouraged to find a publication, write an article and have it published before the end of the semester for extra marks," she says. "I took this assignment very personally. I searched for a publication and I wrote an article for Bloom, an online parenting magazine at Holland Bloorview Kids Rehabilitation Hospital. By May, my article was published."
Spreading her message
"Centennial College has helped me in so many ways with my dream of becoming a writer," Chantelle says, "by supporting me and advocating on my behalf to make sure I succeed in all aspects of my education." Chantelle hopes to use this education to spread activism and awareness of Cerebral Palsy through her writing.
"I have a passion to write," she says. "I have a passion to advocate for myself and others with special needs. We talk so much about what people with disabilities can't do. We do not often talk a lot about what they CAN do."
"I have an aspiration to write a book about my life with Cerebral Palsy," she adds, "and I plan to write a lot more to advocate for individuals with special needs." One day, she'll spread her message, and for now, Centennial College will continue setting her up for success.
By Anthony Geremia