QUESTIONS
P.O. Box 631 Station A
Toronto, ON, M1K 5E9
Passing of Dr. Catherine Henderson, former President of Centennial College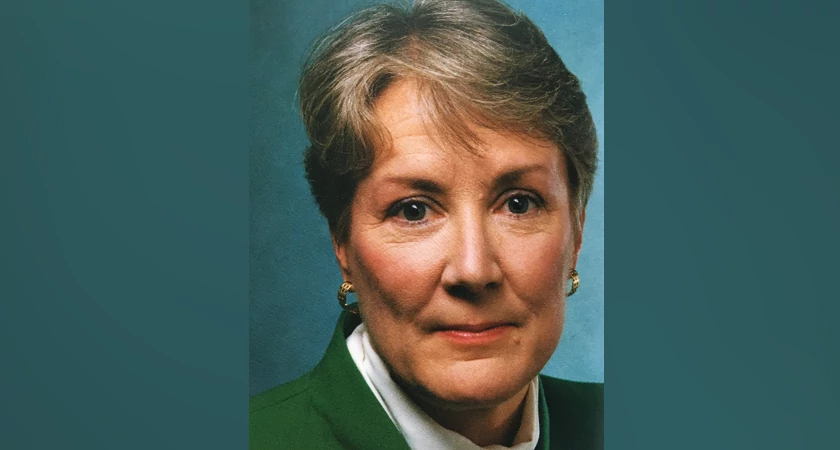 Dr. Catherine Henderson, who served as Centennial College's fourth President from 1992 to 1998, passed away peacefully in her Toronto Beach home on December 27. Cathy Henderson succeeded retiring President Ivan Bev McCauley, becoming Centennial's first woman in the role and one of the very few women to lead an Ontario college at the time. She came to Centennial by way of Oakville's Sheridan College, where she had originally taught in the Child Studies program and eventually rose to the position of Vice-President Academic.
A big proponent of technology, Cathy instituted a number of important changes at Centennial, not least of which was the establishment of The Bell Centre for Creative Communications, now known as the Story Arts Centre. While the digital media campus project was already underway, Cathy brought some leading technology partners to the table, garnering $17 million in corporate support from such companies as Bell Ontario, Silicon Graphics, Alias Research and Sony. When the Centre opened in the fall of 1994 – during the early days of the Internet – it was touted as North America's largest multimedia training centre with a robust digital infrastructure that eclipsed the network serving the CBC Broadcasting Centre in Toronto.
With a keen interest in early childhood education, Cathy was instrumental in having a new child care centre built at the East York Civic Centre to relocate the one the College had operated at nearby John Diefenbaker Public School. The state-of-the-art facility, which opened in 1995, remains a model of child care to this day and is immensely popular with the residents of East York.
Cathy Henderson traveled to China in 1995 to meet with her counterparts at Tianjin International Women's College and Jilin University of Technology, paving the way for Chinese students to come to Toronto to enrol in Centennial's International Business and Hospitality and Tourism Administration programs. The agreements that Cathy signed formed the template that Centennial would follow many times as the College pursued closer ties with numerous learning institutions in China.
An alumna of Branksome Hall and the University of Toronto, Cathy herself pursued a diverse education, including a diploma in Early Childhood Education at Sheridan, Master of Education in Teacher Development at Brock University and a doctorate in adult education at OISE. She won several awards for her work at Centennial and elsewhere, and was a tireless advocate for the Ontario college system, having been the first college graduate to become a college president.
Cathy left Centennial in 1998 to become the President of the Ontario College of Art and Design. It was under her leadership that OCAD would earn university status from the province. Cathy lived in the Toronto Beach community and was a common sight on Queen Street and on the boardwalk accompanied by her wonderful dogs. She enjoyed antiquing with friends, going to the ballet, traveling and having lunch with her sisters.
Cathy Henderson left an indelible mark on Centennial College in the relatively short time she was with us, and touched the lives of many people both within and outside of the college system. We're grateful for the leadership she provided during a formative time at the College. Indeed, hers was a life well lived.