QUESTIONS
P.O. Box 631 Station A
Toronto, ON, M1K 5E9
Pharmacy Alumni gives back through job creation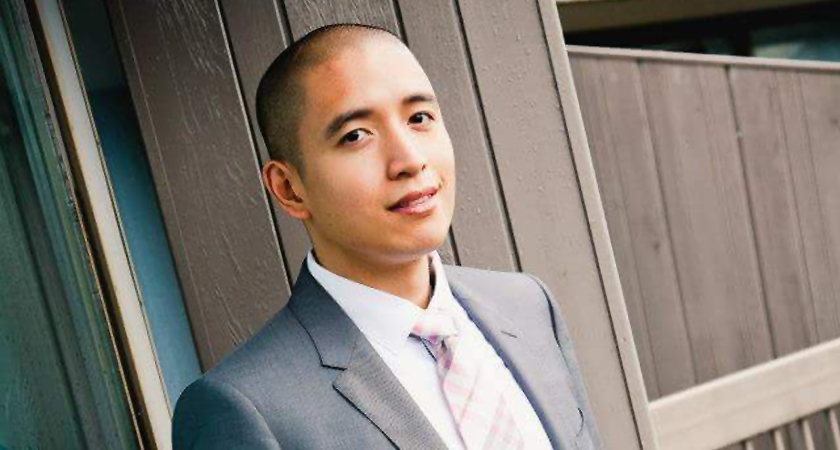 Pharmacy technicians fill an essential and fundamental health care role in Canada, ensuring that medication is safely and effectively dispensed to patients. Centennial College's Pharmacy Technician program gives students the theoretical and practical skills needed to succeed in this career, thanks to a mixture of classroom learning and hands-on experience in Morningside Campus's medical labs. The professional job-related skills are further enhanced by work placement opportunities within the program.
The Pharmacy Technician program has produced its share of accomplished alumni, including Gerald Tan. Gerald attended Centennial College for the Pharmacy Technician Program, and it would eventually lead him to his current job at the Regional Municipality of York under the Infectious Diseases Control Division as the Supervisor for the Vaccine Inventory Program. Centennial's education helped get him there, and now he's giving back to both alumni and the job market by creating new opportunities for pharmacy technicians.
Career Connections
"I wanted to get into the pharmaceutical industry, but I felt that I wasn't ready to go through the university route during that time in my life, so I went through the college route to test the waters in that industry," Gerald says about his decision to come to Centennial College. That decision would eventually connect him to his current career with York Region, managing the storage and distribution of over $25 million worth of publicly-funded vaccines.
"I graduated from the program in 2007. Afterwards, I immediately gained employment at the University Health Network - Princess Margaret Hospital's inpatient and daycare pharmacy," he continues, "and while I was there I reflected on what I could do to further develop my professional career." He would pursue his educational studies in Public Health and Safety at university, before graduating with honours and obtaining a bachelor's of applied sciences degree.
"After I graduated from university, I worked as a certified public health inspector at the Regional Municipality of Durham by enforcing provincial Acts, Regulations, and Municipal by-laws to protect the health and well-being of the public" he says. "I then noticed a public health job opportunity at the Regional Municipality of York for the Supervisor of Vaccine Inventory." It turns out that his Centennial College education in combination with his Ryerson University education left him perfectly qualified.
"My two professional careers and educational experiences have supported my transition effortlessly into the role of the Supervisor in Vaccine Inventory," he says, "as I have proven expertise in the mandated public health programs and services, pharmaceutical inventory control and management processes, and innate leadership and supervisory capabilities."
"What the Pharmacy Technician program did to prepare me for this position was the drug inventory management component, aseptic technique courses and community and institutional dispensing practices," he says. "This program helped me with my current position because it allows me to apply my knowledge in the safe and equitable distribution of vaccines by placing safeguards during the distribution process to prevent unnecessary vaccine wastage within our organization and at health care provider facilities, and to ensure that vaccines remain potent and viable."
In time, Gerald would give back to the college and its graduates in an extraordinary way: Helping create new job opportunities for pharmacy technicians.
Creating Jobs
Gerald would briefly come back to Centennial College to teach both theory and laboratory courses, but his major contribution to the field is helping provide pharmacy technicians with employment by creating a unique position at York Region. This new position involves ensuring publicly-funded vaccines are dispensed and distributed to community healthcare providers and internal public health clinics, ensuring that vaccines are stored at optimal levels and handled appropriately and conducting mandatory annual cold chain inspections as per accountability agreements with the Ministry of Health and Long-Term Care.
"Although we are not a licensed pharmacy, our vaccine inventory depot runs very much like a pharmacy and I know that a pharmacy technician has the skill set that will effectively improve our current drug inventory practices," Gerald explains.
"Although my pharmacy technician career is in my past, I am still able to remember and utilize what I have learned from my job experiences and I believe that pharmacy technicians will be an ideal and complementary fit to my team. They will take on significant roles and responsibilities in York Region's vaccine inventory program," he says. "Currently, I'm working with Human Resources to develop a job description, because there has been no pharmacy technician role in regional government that I am aware of. I'm positive other public health units will be interested in what I have created and may follow suit." It's a unique role for a pharmacy technician and one that Gerald considers important.
"Typically, pharmacy technicians work in the private community retail sector, institutional facilities such as hospitals, and large pharmaceutical companies," Gerald says. "I hope to encourage pharmacy technicians to apply for this new and upcoming position at the Regional Municipality of York. As an alumnus of Centennial College, I am honoured and privileged to have represented the Pharmacy Technician program throughout my careers and I will promote the profession to other public health units in Ontario."