QUESTIONS
P.O. Box 631 Station A
Toronto, ON, M1K 5E9
Photojournalism students show the country life during covid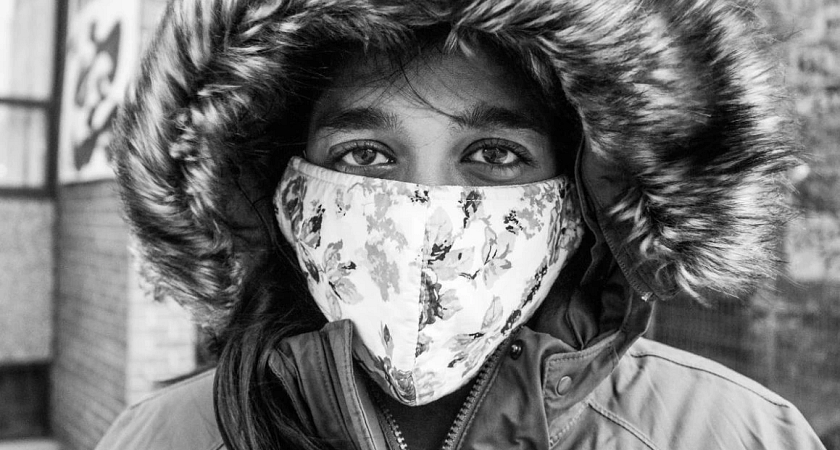 For Tobi Asmoucha, the professional photographer who teaches Photojournalism at Centennial College, the Life During Covid project became the class's assignment out of necessity.
"I had to completely change the course around from what I had planned in previous years," Tobi says. "A few of the students are international, and they couldn't go into situations where there were a lot of people you were photographing, or events had been cancelled. So we had to pivot and make it something different." On top of that, even the Canadian students lived in many different locations with varying COVID-related restrictions. In the face of all of this, it made sense to turn students' lenses towards documenting the biggest story of their time.
"What's really of interest to document right now is what's going on with all of their lives, with COVID, which they have the ability and authority to photograph," she continues. "It's really timely and interesting to photograph." Thus, the Life During Covid project began. This photojournalism assignment would produce stunning results that would earn the Centennial students that took part official recognition by Canada COVID Portrait, a nonprofit dedicated to documenting the lives of Canadians during COVID-19. The gallery of selected images would go on to be featured on the project's Instagram page.
Pictures of reality
"Students were tasked with documenting different parts of their experience in the pandemic," Tobi says, explaining Life During Covid. "They were documenting what was going on during their time with COVID, either in the community or their homes."
"They'd build a body of work from their past assignments and pick one of their best pictures," she continues. "We had a couple classes where we gathered their work and gave feedback on which were the strongest images, which fit into the show, and what the pieces say, so they selected their top pictures from what they'd done in their term."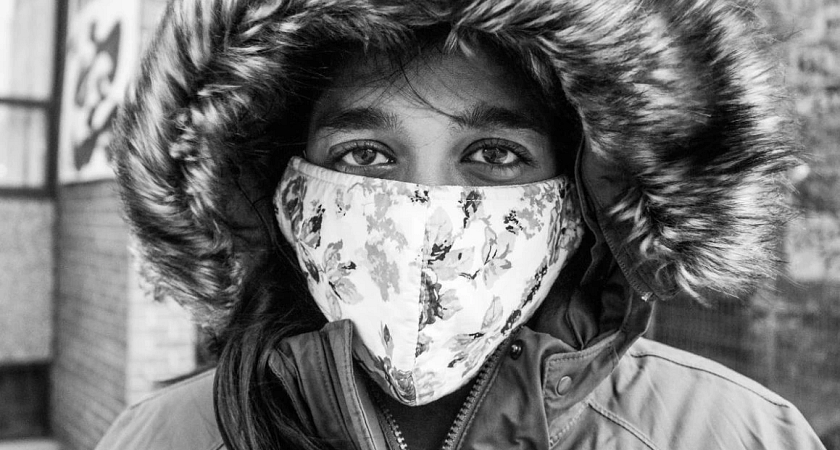 "That picture is my friend, she's Canadian, and my neighbour," Meng-Ke Hsieh says about his entry, above, which was also selected to be the project's header image. "During COVID, that day, we went out and I said, can you let me take a picture? I thought it was a good picture to show what's going on during COVID, because she had her mask on."
"I think her eyes tell everything," he continues. "She looks a little sad, a little moody. It makes me feel like this is a perfect way to show what's going on."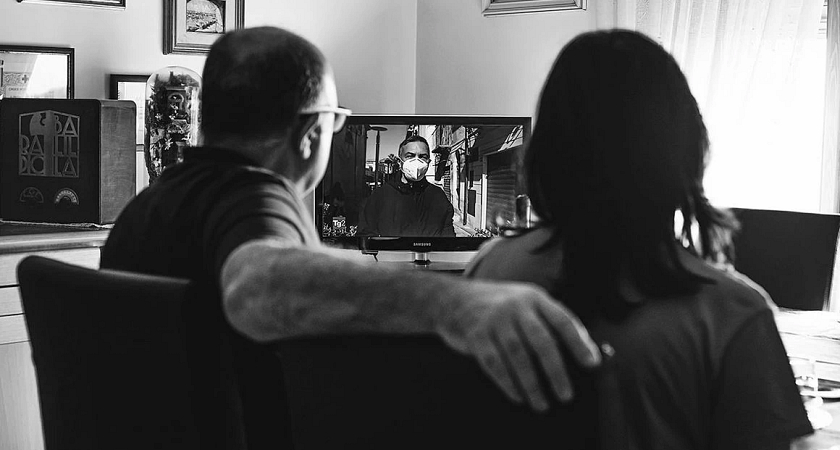 "In Italy the situation was, and still is, tragic in terms of infection," says Chiara De Falco, an international student who was remotely learning from Italy. "We were not allowed to go out unless we had specific reasons, and we needed written documentation and authorization to go out. This led me to spend more time with my parents, who work from home, as well. This situation improved my relationship with them, because we spent more time together than in the past. It pushed me to document their daily activities."
"This photograph in particular," she continues, "I took during a typical Italian Sunday lunch. I'm a fashion photographer, but during COVID, I had the opportunity to discover a new type of photography. Thanks to my professor, I developed an interest in photojournalism that perfectly fit the situation."
What everyone learned
"One great part of it is that students figured out a lot about the editing process," Tobi says about the project. "Like how many photos you want to take, how you get key images, recognizing what those key images even are. They even helped each other with the editing."
"I used to spend a lot of time photo-retouching my pictures," Chiara says, confirming this. "For this assignment, I just enjoyed taking pictures and enjoyed the moment. I discovered the real essence of photography, doing this assignment. I used to think a lot about my shot, but for this kind of assignment, I had only to show the reality. Things came by themselves."
"You could see people's work evolving over a short time, and to me that was crucial," Tobi continues. "We also talked a lot about how you handle delicate situations about professionalism, and how important it is to have a community of people to depend on. We became that for each other in the class, so professional practices came through in this assignment."
"I learned how to know people better, and talk to people," Meng-Ke adds to this. "Portraits like these, you have to know their stories and what they've been through, in order to get the real emotion of the moment or the picture."
The best part
"My favorite part was seeing into everyone's world," Tobi says. "In some ways, people had to be a little bit more vulnerable, because they're photographing their lives, they're not photographing something that's happening outside of them. Usually in photojournalism, you're photographing other people's experiences and telling stories, but they're not necessarily the stories that you're living through. I got to see who all these people were, and everybody had different experiences within it, even though there were lots of commonalities."
As for Chiara, she was happy to gain feedback on her work from Canada COVID Portrait.
"I have never experienced something like that, so for me, it was very exciting," Chiara says. "I was only in this program six months ago, and I've already achieved this goal. I'm loving the opportunity that this college has given to me."
Meng-Ke, meanwhile, was excited to have his work in the spotlight through CCP.
"It's my first time submitting photos, and it got selected by the online exhibition," Meng-Ke says, referring to both Life During Covid, and a photo set of his own that he submitted. "It's an honour for me, and I feel like that's why I got more interested in photojournalism. My photos can express and tell the stories behind what's going on, and make people feel related to it."
By: Anthony Geremia