QUESTIONS
P.O. Box 631 Station A
Toronto, ON, M1K 5E9
Profiling Michelin Star Chefs Cristina Bowerman and Silvia Baracchi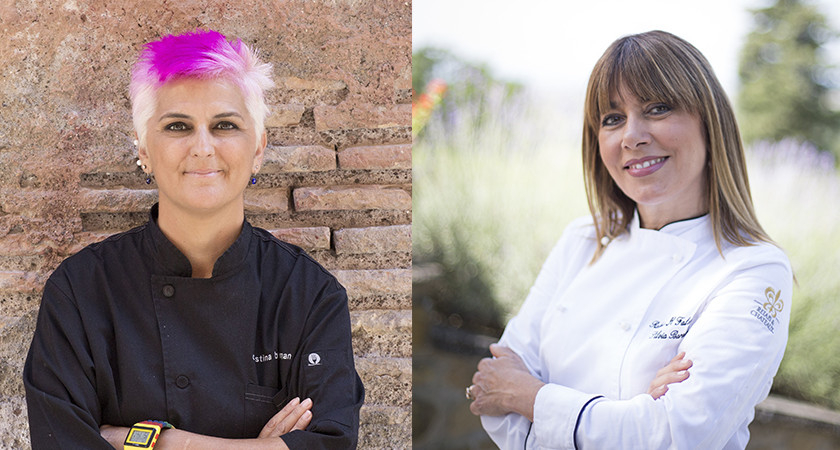 Each year, chefs around the world vie for a coveted Michelin star — the hallmark of fine dining quality that can have a dramatic effect on a restaurant's success. For female chefs working in a male-dominated industry that honour is even more elusive. However, Italian chefs Cristina Bowerman and Silvia Baracchi — who both have a unique connection to Centennial College thanks to the annual CENTItalia programming — defied those odds and are inspiring other women to do the same.
"We are few to actually acquire positions of power and authority in this field," says Bowerman, who appeared at CENTItalia in 2017, of women in culinary arts. "There are plenty of women who are skilled, professional and amazing but not enough people talking about them. We, that means everyone but especially women, need to start talking about these women to push them into role model positions. Education, such as what's offered at Centennial College, also plays a role."
CENTItalia, a partnership with the Italian Chamber of Commerce of Ontario, brings together prominent chefs, food and wine experts, restaurateurs, influencers, educators, journalists and foodies to celebrate Italian cuisine, showcase its ingredients and demo regional Italian dishes. It's also an exclusive opportunity for Centennial students to interact with world-renowned chefs in an intimate setting.
Roberto Fracchioni is a School of Hospitality, Tourism and Culinary Arts professor and project coordinator for various events, including CENTItalia. He says having women such as Bowerman and Baracchi participate in the programming is an inspiration for all culinary students, but especially female learners.
"Even though traditionally, chef roles have been held by men, it's changing and changing quickly," he says. "So, while I can talk about it as an instructor, when they get to see it for themselves and have a conversation with Cristina who tells them how it's done, they realize what we're saying is true. It really demonstrates the opportunities they can have as chefs."
Both Baracchi (who appeared at CENTItalia in 2018) and Bowerman, he adds, are especially powerful examples of women chefs. Baracchi's restaurant, Il Falconiere, acquired its one Michelin star in 2002 and is known for locally sourced and onsite-grown ingredients. As a result, Baracchi is a regular at global culinary events and on TV. In 2016, she published her first book, The Red Tastes of Love: Passion in the Tuscan Kitchen. Bowerman, meanwhile, can be found at the Glass Hostaria restaurant in Rome, where, in 2010, she acquired her Michelin star. Since then, Bowerman has published a book, received various culinary prizes, was the only woman Chef Ambassador at Expo Milano in 2015 and became President of the Association of Italian Ambassadors of Taste in 2016.
"Cristina is one of the most dynamic speakers I've ever met and a great spokesperson for women in the industry," he says. "Silvia, on the other hand, is that chef who is really focused on cooking great food."
Despite her very celebrated career and role in the industry, Bowerman says she was impressed with the type of education Centennial's culinary students receive. In addition to finding the College professional and its facilities up to industry standards, she says what stood out for her was how present students and faculty were.
"I wasn't expecting their techniques to be so refined," she says, laughing. "It is a well-greased machine and you could see how engaged students and teachers were.
"I hope these students realize that when you go to school, you learn how to learn. Yes, what you study is important but the techniques you used in order to study stay with you forever. You become a lifelong student and that's essential."
By Izabela Szydlo