QUESTIONS
P.O. Box 631 Station A
Toronto, ON, M1K 5E9
Putting his business skills to work: Ahmed Bafagih creates his own business with GizmoGrind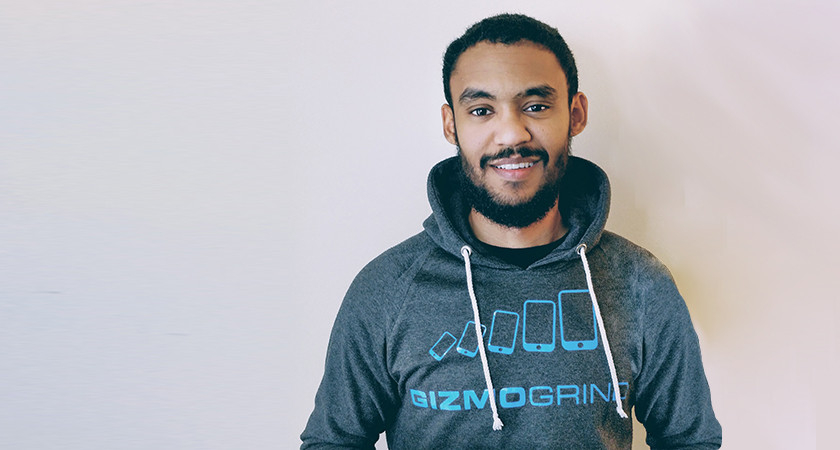 Centennial College equips its students with the skills they need to make their career dreams come true, and Ahmed Bafagih is one such success story. Ahmed came to Centennial College for our three-year Business Administration Accounting program. It connected him to a career, but he still wanted more. Using the skills the college taught him, he created his own business, GizmoGrind, which makes buying and selling your tech easy. It's been three years, and he's seen a success that he credits to Centennial College's business programs. Here's how he got to where he is, and how you can follow in his footsteps.
Coming to Centennial
"I had come from a trip back home in Dubai," Ahmed says. "My uncle there was an accountant, and he was doing really well. So I thought, man if I was an accountant, I'll do well like him. I was 18 at the time. So I joined [Centennial's program], and it was awesome."
"The professors were the highlight for me," Ahmed says of his time in the Accounting program. "Before that, I hadn't met professors who were responsible for my education who were at that level. It opened my eyes to what education can bring, what it can do to you, how it can transform you as a person."
A path to employment
Connecting himself to a career wasn't a problem for Ahmed, who was employed before he had completed the program.
"I got a job before I even got my diploma, at one of the largest mortgage banks in Canada," Ahmed says. "It was decent pay, I was really happy, everything was good, and you'd think I'd stick with that career." With employment secured, however, he decided to branch out and become independent.
"The freedom of working for yourself was still calling to me," he says. "I pulled the trigger and just handed in my resignation. Three years later, here I am. It's still a very young business, but we've seen success, we're making some money, putting some away, it's good."
GizmoGrind
"When I was in school, I got an OSAP loan, but it wasn't enough. I needed some cash, I was living the student life, so I came up with the idea to sell smartphones," Ahmed says. "I paid my OSAP that way. Before I even graduated, 90 percent of it was paid, and I had pocket change to live my life."
"I'd been selling smartphones on Kijiji, and I realized there was a gap on the market," he continues. In his eyes, first-party carriers sold too low, and Kijiji was a hassle. That's where his business idea came in.
"GizmoGrind is a unique way for people who want to upgrade their phone, or if you have a broken smartphone, replace it," Ahmed explains.
"If you have a device you want to sell, the traditional method was fumbling about with classified ads, but with our service, you get a shipping kit brought right to your door," he continues. "The whole business is online. You choose your device, you see a quote, how much we'll pay for it, and the condition that you've chosen. It'll automatically generate a quote, the box arrives at your home, and you have everything you need to ship your device back to us. You don't need to pay a penny, you slip your phone inside a box with the instructions provided, once we receive it, we make a payment. Usually, it takes one to two business days, and no dealing with ads, scams, or meeting people face to face."
Now, they serve some of Canada's largest organizations and are partnered with OneTreePlanted.org to plant one tree for every device sold to them.
How Centennial helped
"Going through the process of college, and upgrading my mind, allowed me to take that leap," Ahmed says about the creation of GizmoGrind. "A lot of people have their dreams, but just can't make that move. It's just liberating."
"Cost Management Accounting was big for me, operation-wise," he says, naming his favorite courses in the program. "It helps me smooth out the kinks in our day today. It helps me understand numbers. I find myself always coming back to this Auditing class, too, because it helps you see things on a statistical level. It helps me make better strategic decisions using statistics."
Advice from an expert
"Look for advice from people who will give you the most critical feedback," Ahmed says when asked what he'd have to say to others looking to start their own business. A lot of times, we're blinded by the shine of prospect. But to get real feedback is truly something worth its weight in gold."
"Soak up every second of your classes," he continues. "You leave the classroom, you think to yourself, finally, I'm done, but then, you live your life constantly interacting with the world and realizing that I'm interacting this way because of the experiences I had in college."
"Embrace the struggle, embrace the grind," he concludes, "and at the end of all that, you reap the benefits."