QUESTIONS
P.O. Box 631 Station A
Toronto, ON, M1K 5E9
Putting shoes on a Dragon: Kamaj Silva takes his business to Dragons' Den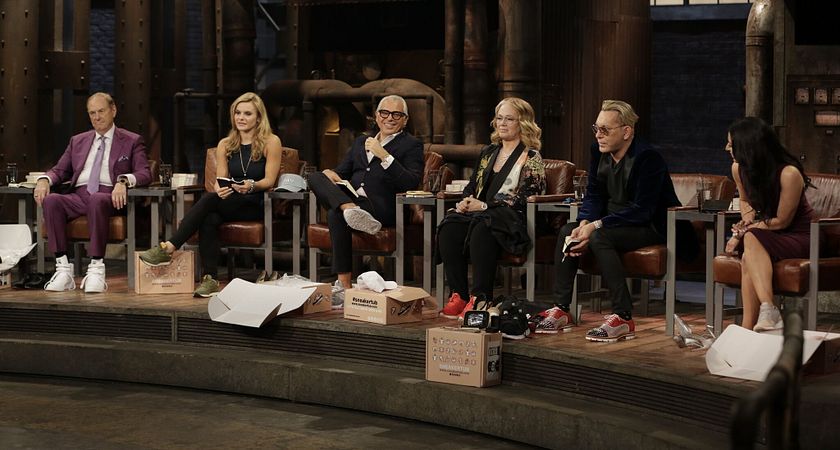 Dragons' Den, for those that haven't seen it, is a Canadian CBC Television show about startup businesses, where entrepreneurs pitch their ideas to a real group of investors, and try to make a deal. Since Centennial College focuses on practical skills and business training, it's no surprise that we've had alumni become entrepreneurs, and go on Dragons' Den before. The latest Centennial grad to put his business ideas to the test is Kamaj Silva. His big idea is SNEAKERTUB, the world's first subscription service for sneakers, delivering a new mystery shoe every month. We'll see how he did on November 16th, but for now, here's his road to the Dragons.
Coming to Centennial
"I originally came to Centennial because I liked cartoons, movies and TV shows, they were the basis of why I got started," Kamaj said. Because of this, he didn't take business or entrepreneurship but instead enrolled in our Children's Media program.
"At the time, no other college had a similar program," he says of his decision, "and I know to this day, because I'm in touch with my colleagues, that it is still the leading program for kid's entertainment studies, and there's a lot of Centennial graduates that work in the industry."
From shows to shoes
So, how did he go from making shows to selling shoes? It began with his graduation in 2011, and the Children's Media program's internship component.
"I first interned at Phase 4 Films through one of my professors," Kamaj explains. "Based on that internship, I performed really well at Phase 4 Films. They hired me full-time as a children's media marketing coordinator and I was later promoted as promotions manager. I worked there for close 1 ½ years. I then went to Entertainment One as their marketing manager, and was there for close to three years, and then, suddenly, one day, eOne films decided to axe about 300 people, and my team was one of the teams that got laid off." That would prove to be the beginning of his new career: Bringing shoes to the masses.
"On my way back home in a taxi," he says, "I was plotting my next move, and starting my own business had been in the back of my mind for a long time, and it was the perfect time to start it up."
Behind SNEAKERTUB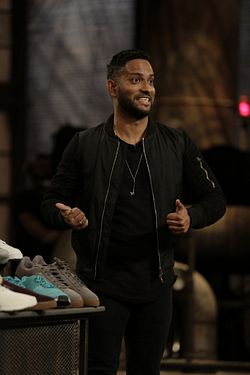 SNEAKERTUB is the world's first and only sneaker subscription service, delivering monthly curated packages of mystery sneakers and accessories to subscribers, and works with Puma, Saucony, New Balance, Supra and Palladium boots.
"I've been a fan of fashion and sneakers for a long time," Kamaj says, explaining where he got the idea. "I'm also a fan of subscription boxes and like the idea of receiving something that's a mystery gift in the mail every month. So, I looked around to see if there was anything similar to SNEAKERTUB, and there wasn't, so I wanted to test it out because I thought it was a great idea that no one else was doing. I wanted to be the first to market with it."
Despite it not being what he studied in school, he found that his Centennial College Children's Media education still significantly helped him.
"For SNEAKERTUB, we do a lot of videos and photo shoots for social," he says, "and a lot of promotional stuff, so a lot of the production background, a lot of the practical things they taught us at Centennial still help me." Another thing that helped: The business pitching aspect of the program.
"We'd be pitching a lot of TV programs," he says, "and that helps me to this day, because as an entrepreneur and independent business, pitching goes a long way. I pitch a lot. I pitch to sales reps, I pitch to new brands, I pitch to investors." Eventually, he'd use that training to get onto Dragons' Den.
How to enter the den
"Every pitcher that goes on Dragons' Den has to audition," Kamaj explains. "What they do is post an open call for auditions, then at the beginning of March, they hold auditions all around the country. The producers hear around 1,500 pitches over a month and a half, from all across the country. You first pitch your product to the producer, and it's a mock Dragons' Den interview. From that, you get selected to actually pitch to the Dragons on camera. There's a lot of people pitching to the Dragons on camera, but not all of those episodes get picked up for broadcast."
He was one of the chosen ones to pitch on camera, something he credits to both his commitment, and the skills Centennial gave him.
"My passion for the business," he says, "and knowing my business inside out helped me prepare for pitching to the Dragons, because obviously a lot of people seen on Dragons' Den turn up, and the Dragons roast them if they don't know their business, so I didn't want to be one of those people. Still, you don't actually know what's going to happen until you get in there."
"For whatever business you start, you have to have a passion for it, because an entrepreneur's journey is not an easy journey," he says. "There's a constant hustle and grind. You have to be prepared for that, and prepared to not give up when the going gets tough."
"Centennial helped me in becoming the person I am today," he adds. "Centennial gave me a lot of confidence in myself, and the courses weren't just written or exams. Centennial is not a traditional education method, there's a lot of practical stuff that goes into the courses."
Kamaj isn't allowed to say how he fared on the show, but we can all find out when the episode airs on Thursday, November 16th at 8 pm, on the CBC.