QUESTIONS
P.O. Box 631 Station A
Toronto, ON, M1K 5E9
'Resilient' professor earns Centennial's top teaching honour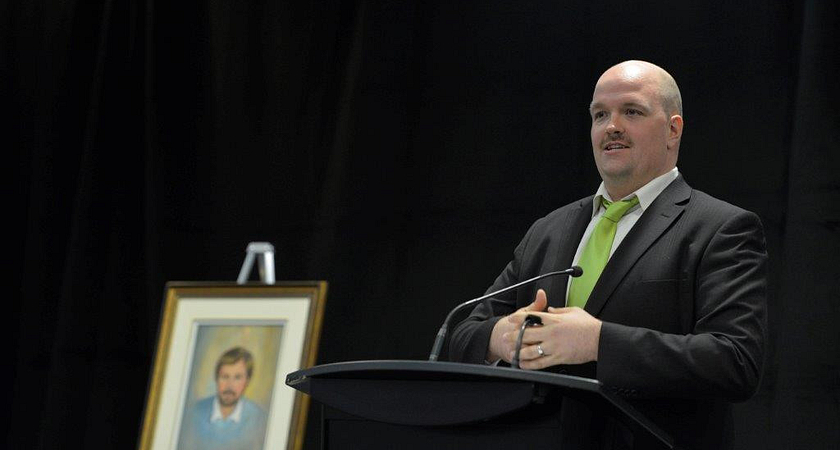 Recreation and Leisure Services professor Lorne Hilts is the 29th annual recipient of Centennial College's George Wicken Memorial Award for Teaching Excellence. He was nominated by his students for the award, which recognizes outstanding commitment to inspiring students in the same manner as the award's namesake, the late George Wicken.
Lorne Hilts joined Centennial in 2011 after 15 years of working in the recreation sector, primarily for the Recreation and Culture department of the City of Vaughan. Originally intent on becoming a teacher, recreation programming appealed to him as it combines teaching with team-building and other aspects of recreation leadership, along with outdoor play – a big bonus for fun-loving Lorne.
When Centennial professors Sandy Foster and Jim Boduch approached Lorne to provide their college students with field placements at his city department, he readily agreed. Taken by his high energy and enthusiasm, the profs eventually suggested that Lorne come to teach in the college's Recreation and Leisure Services program. The career change meant taking a cut in pay, but Lorne recognized it would be immensely fulfilling to convey his passion for recreation leadership.
"I teach people how to teach other people and guide them in activities," he explains with a big grin. "Ive never come to work and had it feel like a day of actual work." In his teaching position at Centennial, Lorne regularly brings in industry guests to help his students network in the field. He's also helped to expand the co-op program, teach in Centennial's community HYPE program, and worked on the international exchange program to broaden students' horizons.
It's a remarkable career for a teacher who had wrestled with Attention Deficit Disorder (ADD) as a student for years. Channeling his abundant energy into something he loves, he recognizes the challenges his own students are struggling with and has helped many of them to overcome formidable obstacles. Lorne always embraces new teaching methods, invites feedback from students, and offers extra assistance with assignments.
"I will push you to the end of the earth to have you do well," he told one student who was struggling to keep up with course work. Lorne cares for each student's success, and it shows every day he comes to class. He has the word "Resilient" tattooed on his right arm – a favourite word of his mother, who taught her son to persevere during some very difficult times he had to endure as a young man.
"Everybody deserves a second chance," he says of his students, who come into his program bringing all kinds of experiences, good and bad. Lorne helps them direct their energy in a very positive way that helps build local communities. He wouldn't have it any other way. With his selfless dedication to his students, professor Lorne Hilts is very deserving of this year's award.
The Wicken Award Dinner has been held annually since 1985 in honour of George Wicken, a Centennial English professor who was highly respected for his dedication to his students and to the teaching profession. He passed away in 1984 at the age of 32. Like every George Wicken Memorial Teaching Excellence Award recipient, Lorne Hilts automatically receives the Board of Governors' Teaching Excellence Award, reflecting Centennial College's commitment to the strategic goal of teaching excellence.