QUESTIONS
P.O. Box 631 Station A
Toronto, ON, M1K 5E9
Retiree Chuck Gullickson inducted into CCAA Hall of Fame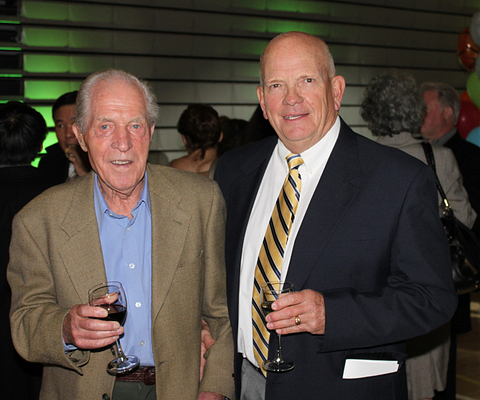 Retired Centennial College Athletics Director Chuck Gullickson (right, with Centennial retiree Willy Mueller) is photographed at the Athletic and Wellness Centre (AWC) official opening in October, 2011.
Former Athletics Director Chuck Gullickson, considered by many to be the original Colt of Centennial College, is being inducted into the Canadian Collegiate Athletic Association Hall of Fame for his outstanding service to the CCAA over the years.
"Chuck is one of the most recognizable and respected athletic professionals that has been associated with the CCAA," said Jim Bialek, President of the Ontario Colleges Athletic Association. "He continues to be active in these circles by way of his ongoing appearances at national events, most recently as a presenter at the inaugural CCAA Hall of Fame induction ceremony in Banff last year," said Bialek.
A native of Naicam, Saskatchewan, Chuck began a successful football career with the Saskatoon Hilltops in 1956, which led to a scholarship at Western Michigan University where he earned a B.Sc. and M.Ed. Chuck would graduate to professional football in 1963 by suiting up for the Saskatchewan Rough Riders of the Canadian Football League.
Chuck joined Centennial in its nascent days as a faculty member in the groundbreaking Recreation Leadership program in 1968. Chuck went on to serve as the college's Athletic Director and then advanced to Director of Student Life, rounding out three decades of leadership at Centennial before retiring in 1998.
At the same time, he was the Ontario Colleges Athletic Association (OCAA) President and held a number of executive positions in Ontario. He was recognized for his contributions by being inducted into the OCAA Hall of Fame in 1993. Chuck also served as President of the national CCAA and is credited with moving the association forward on many fronts.
Chuck, who was inducted into the Centennial Colts Hall of Fame in 2013, was instrumental in establishing Centennial's athletic and recreational programming. He challenged his staff and student athletes to be the best they possibly could. Today, his ideals, beliefs and work ethic are upheld by Joan Healey, Centennial's Varsity Coordinator.
"Chuck was the architect of the Athletics and Recreation program at Centennial throughout the 1970s, '80s and '90s," said Healey. "He is a true champion of the quality of the student experience at every level – at Centennial, the OCAA and CCAA."
Chuck is often sought after for his ideas, opinions and communication skills. He was progressive in his leadership and actions, and possessed a great sense of fairness. Since 2000, the Chuck Gullickson Fair Play Team Award is presented annually at the CCAA Women's Volleyball National Championship.
The Canadian Collegiate Athletic Association is a national sports organization enriching the academic experiences of student-athletes through intercollegiate sport. On June 9, the CCAA will induct six new members into its Hall of Fame, including Chuck Gullickson. The ceremony will be hosted by St. Thomas University in Fredericton, New Brunswick.