QUESTIONS
P.O. Box 631 Station A
Toronto, ON, M1K 5E9
Robotics students win big at Centennial College's Tech fair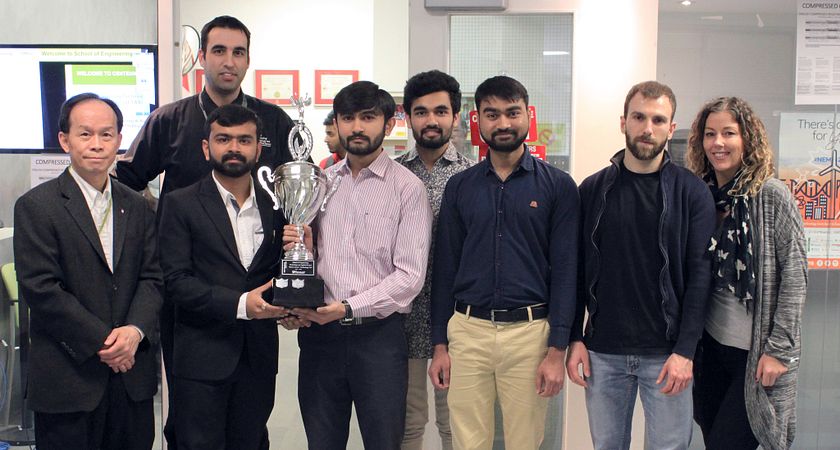 When it comes to Centennial College's Engineering and Technology programs, students learn their trade through getting busy with their hands, building and creating as they pick up essential career skills. Frequently, what they create is worth showcasing. Our 7th annual technology fair is where we showed off what our students have created. 50 teams of students took part, showing off their special technology projects, and a winner was chosen from them. The winning team consisted of students Akash Mangukiya, Chirabhai Bhayani, Dhaval Dadhania, Kuldip Bhesadadiya and Ozgur Tuncel, students from the Electro-Mechanical Engineering Technician - Automation and Robotics program. Here's what they created, and how they won.
The winning project
"The project was called the Automated Package Sorting system," Chirabhai explains, "like what Fed Ex and Amazon are using. It's a replica of that. It sorts the package according to bar code and area code, so we designed it for two lanes."
The Automated Package Sorting System scans packages, and places them on the correct lane of a conveyor belt, ready to pass into waiting trucks.
"We had two 24 volt motors, they turned the belt," Ozgur says, adding some technical detail. "On the belt, we had two pneumatic cylinders. On top of the conveyor belt, we had a barcode scanner read us the barcodes on the package, and send signals to the PLC (Programmable Logic Controller), which decides which pneumatic cylinder is going to activate." Those cylinders decided where the package was going to end up.
How it got made
"As we are in the last semester, we needed to make a project for our subject," Kuldip explains, "so we decided three or four topics, and we moved onto this one, because we wanted to include everything we'd learned."
"We wanted to come up with something really complex, so we could show our skills off in one project," Ozgur adds.
Winning the gold
"It was a complex project," Ozgur says, explaining why he believed they won. "It wasn't just focusing on the mechanical or the electrical or the software. It had everything, it was really well designed, and it was above the level of what we learn in the college. It shows our individual skills too."
"We were given 13 weeks to finish the project, we actually finished the project in seven weeks, because we well-planned our time," he adds, with pride.
"This project was based on a practical application," Dhaval says, "and we added some of our own stuff, and what we learned from Centennial College. So for us, this project was very useful. We learned a lot, like real-time applications, and how to put what we learned in the labs into real life."
As for the future, two of them already have jobs, and they haven't even graduated yet, while the rest of them are optimistic about their future careers.
As for what happens next, the team is going to be showing the project off at multiple fairs, and meeting industry professionals there, having already attended the Discovery event at the start of May, and the Ontario Skills Competition May 7th and 8th. While in the field, they'll get to network with industry professionals, starting their careers off on the right foot, though a couple of them have already been hired before their graduation date, another testament to the skills the Automation and Robotics program gave them.
By Anthony Geremia