QUESTIONS
P.O. Box 631 Station A
Toronto, ON, M1K 5E9
Sam Casais: How the CCSAI President Makes it Work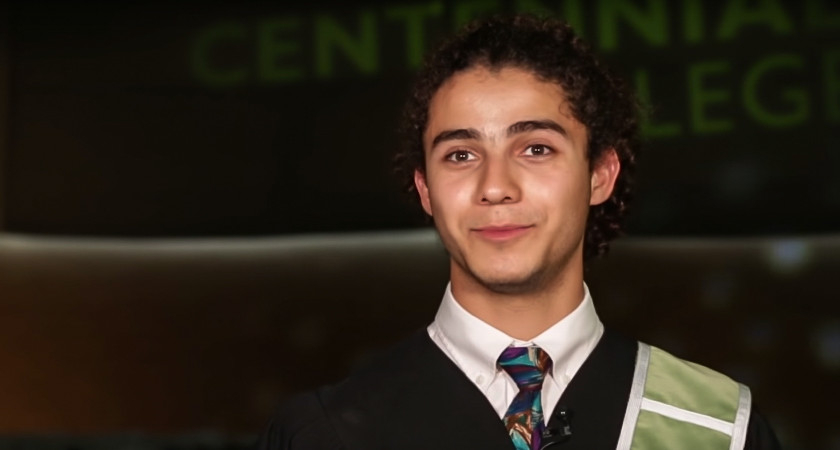 The Centennial College Student Association, or CCSAI, is an important link between Centennial College and its students, making sure your time at the college isn't just educational, but is full of personal development, too. Since it's for students, it's also run by students, like the latest president, Sam Casais. Sam came to Centennial College from Mexico to attend our two-year Recreation and Leisure Services program, and started getting involved in student government. After finishing his full-time program, he began to work full-time as the CCSAI's new president. He also re-enrolled as a part-time student. Here's the story of his long journey to the top, what it's like, and the trials and tribulations he encountered.
Getting Involved
Before entering student politics, Sam was already volunteering at the college, and sought to expand the scope of his involvement.
"I was looking for more opportunities to get involved," he explains, "and a person from the second year of my program who was part of the CCSAI board of directors told me a little bit about it. So I started looking into it, and applied to a position. I got the Athletics Representative position for one year at the CCSAI board." As Athletics Representative, he'd have his hands full.
"It involved collaborating and working with the Athletics and Recreation department, as well as our many wellness and mental health components," Sam says. "So I was a part of the Thrive Week planning committee and the Student Success and Wellness week planning. Any other wellness initiatives at the college that the CCSAI was involved with, I was also involved in."
"There's lots of advantages," he says about student politics. "Some of the top ones are 1, you're not just focusing on academics or professional growth, you're focusing on personal growth, 2, so while you're studying, you're also getting different learning experiences, different skills, not just experiential learning, but soft skills you'll be able to use throughout your career. Also you're building that network of people that will be able to support you throughout your future career and in your personal life." He'd enjoy it enough that he sought to continue his involvement after graduation.
As President
"I was graduating at the end of that term," Sam says, "and was looking into what my next step was, and decided to run for president. It was really a matter of continuing that involvement, and wanting other students to get involved as well for them to have that learning and experiential component that I had the privilege of having."
So, now that he's president, what does he do, exactly?
"I work with the entire board of directors," he explains of his role, "where I get to have the role of guidance, or providing support and contributing to the work of the 15 people that are on the board of directors, and sort of guiding the work that they do, but letting them strive and thrive in their own projects. I'm also involved in a lot of college committees, like the Policies and Procedures Committee, Health and Wellness Committee, College Council, and many others. I also represent the CCSAI externally. So I get to speak at different events, or just represent the student association in different capacities." More than that, though, he has two specific ideas about what he wants to accomplish.
"I want to set a foundation, so future years can really piggyback off that," he says "The first thing is to develop a data decision-making model. In CCSAI's history, we've never been collecting and analyzing data, or making decision based on factual information. It's always been: We think this'll be good for students, or we've been hearing this from students, so it's all anecdotal, all opinions, but you're not making decisions based on statistics, based on quantitative data that students have given."
The second one is to support the creation of a specialized one-stop space for students to get every kind of support they need at the college. "Right now the college has the CAPS network," he explains, "and that's your go-to for support. But what if that go-to for support would also be your go-to for involvement, or other things? So it's not just when I need help, or when I need to change classes, or look into co-op, but it's also when I want to volunteer, or get involved, or start a project. One place where you can find everything, and reducing the bounce-around you get when you go to one office, and are told to go to another, and so on."
"What interests me most is new experiences," he says about what he likes about the job. "I've always been into learning about leadership and empowering people. Working in this job, I get to learn from different situations that I wouldn't have been able to experience in class or from a weeklong leadership opportunity. I'm learning about people's needs, how people work differently, how to be flexible and accommodating, how you can use your team's diversity and try to be inclusive, how to reduce the biases you might have towards others, and that others might have towards each other. What's interesting to me is putting all the pieces together, and learning the big picture I could not have learned if I was not in this position."
The difficulties of the job, and how to overcome them
"I had an advantage, because my field placement was at school, and my work was at school, so everything I was doing was here, and I didn't have to travel between them," Sam says. "At the same time, I did go to a learning strategist who helped me to see what my priorities were, and help me manage my time effectively, because it was definitely something I struggled with."
"In my third semester, I ended up burning out," he admits, "and I had to recover, lay out what my priorities were, what I had to complete, what I could say no to, such as other volunteer opportunities, and focus on what I'd committed to. If it wasn't for my mentors and support network, I would not be where I am in my professional and my personal development."
"It's great to get involved and jump into stuff," he says, "but before you say yes, take a moment to lay out your calendar, your list of priorities and learning outcomes you want throughout college, and say, is this opportunity covering what I really want for my experience throughout college? Will it be more important than stuff I'm already doing and that I'm already committed to? If you already have a full schedule and you want to add something else, you're going to have to take something that is already part of your schedule and stop doing that."
"If you have to say no," he says, "don't feel guilty that you're missing out on opportunities, because in reality, you're not missing out, you're doing what you're supposed to do, what's most important to you."
What's Next
Once his term is finished in the spring, Sam wants to get further education after getting his permanent residence.
"My long-term career goal is to work with youth in different settings," Sam says, "preferably outdoor ones, where I can teach about leadership skills and encourage self-growth and personal development, like a holistic learning approach for youth, not necessarily in a traditional classroom setting."
And as for anyone else looking to get involved in student government? Do it, but take care of yourself.
"My answer has always been get involved," he says. "But recently, my answer changed. My answer is now: get involved, but take care of yourself. Get involved, but do self-care. You can get involved, and you can learn and grow as much as you want, but if you overdo it, you're going to burn out. You're going to be putting a little bit into everything instead of a lot into what's worth it. Make sure that you're sleeping enough, eating enough, going to the gym, taking care of your mind, your body, just many aspects of wellness: physical, spiritual, emotional, intellectual, just making sure that you're taking care of yourself. When you're healthy and when you're thriving, you can put all that energy into your growth and learning."