QUESTIONS
P.O. Box 631 Station A
Toronto, ON, M1K 5E9
School of Transportation adds Coast Guard helicopter to fleet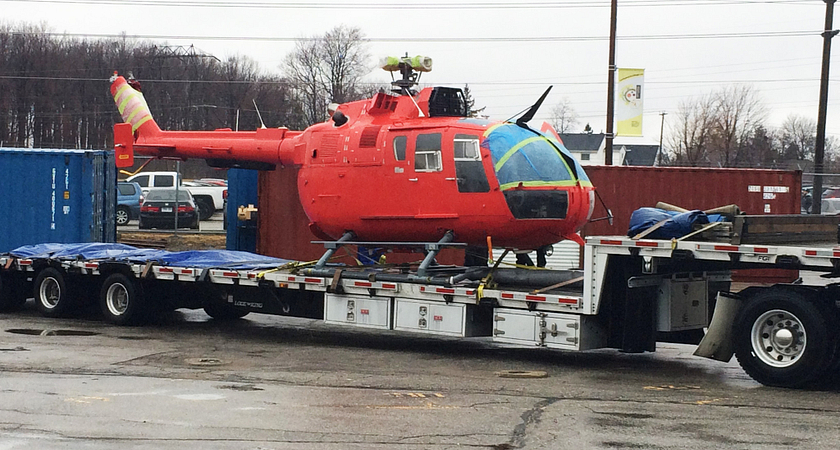 Centennial's School of Transportation has taken delivery of a donated Canadian Coast Guard helicopter, one of nine the agency has retired from service and offered to aircraft maintenance training institutions around the country.
The Messerschmitt-Bolkow-Blohm (MBB) 105 helicopter was trucked to Ashtonbee Campus at the end of March, where it will remain until the college's new Bombardier Centre for Aerospace and Aviation at Downsview Campus opens this January 2019. The bright-orange Coast Guard helicopter is fully functional and the engine runs, which makes it a valuable asset to the School's Aviation Technician programs.
"The aircraft will not be flown, but students will be able to operate the engine for testing and demonstration purposes," says Alan McClelland, Dean of the School of Transportation. The donated helicopter was delivered with spare parts and the associated ground support equipment.
The MBB helicopter is a welcome addition to the School's fleet of aircraft that students meticulously disassemble and assemble to learn the inner workings of every component. The college's current pair of turbine rotary-wing aircraft (Bell 47 and 206 helicopters) has been in use in the Ashtonbee Hangar for more than 25 years, and are rapidly reaching the end of their training life.
Centennial College has been running its Aircraft Maintenance and Avionics Technician training programs since the 1960s, when the School was located in a cramped downtown facility on Wellesley Street. The aircraft programs moved to the newly built Ashtonbee Campus in Scarborough in 1972. The School has graduated more than 4,000 aircraft technicians to date, many of them working across Canada and around the world.
Centennial is the only college in the Greater Toronto Area providing aviation maintenance-related training programs. When the $72-million Bombardier Centre for Aerospace and Aviation opens in the former de Havilland Canada headquarters at Downsview, the new campus will provide enough hangar space to accommodate expansion of the programs to meet global demand.