QUESTIONS
P.O. Box 631 Station A
Toronto, ON, M1K 5E9
Science Minister announces $2-billion investment fund at Centennial College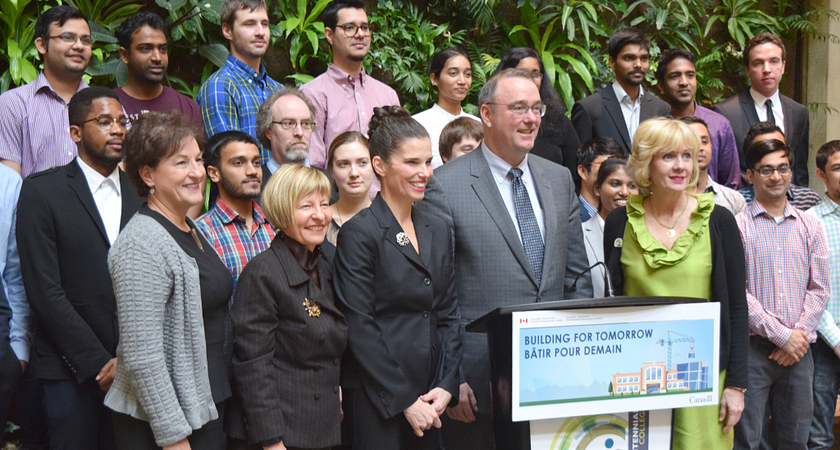 The Honourable Kirsty Duncan, Canada's Minister of Science, announced the federal government has opened the application process for a $2-billion fund that will improve research and innovation infrastructure at universities and colleges across the country.
The 16.5-metre-tall living "green wall" at Centennial College's Progress Campus formed the backdrop to the announcement, where the minister met with students and faculty from the School of Engineering Technology and Applied Science and reviewed some of the applied research projects they've worked on over the past year.
Unveiled as part of the 2016 federal budget, the Post-Secondary Institutions Strategic Investment Fund will modernize research facilities on Canadian campuses and enhance the environmental sustainability of these facilities.
"By improving our college and university facilities, we are supporting innovation, scientific research and entrepreneurship in Canada, which translates into sustainable economic growth and support for all Canadians," Duncan told the crowd of students, faculty and dignitaries assembled at the Progress Campus Library on April 6.
The investments will support economic activity across Canada and help Canada's colleges and universities develop highly skilled workers, act as engines of discovery, and collaborate on innovations that help Canadian companies compete and grow internationally.
"Colleges and universities are hubs for innovation that leads to breakthrough products, and they're catalytic in leading social innovation that transform communities," said Ann Buller, president of Centennial College. "Our graduates are being prepared to tackle solutions to some of the country's, and the world's, most pressing problems. An investment in this diverse and vibrant sector is an investment in nation building."
The federal government will cover up to 50 per cent of a project's eligible costs. The remaining funding will come from other partners, including provincial and territorial governments and the institutions themselves. Colleges and universities have until May 9 to submit their applications for funding.
Among the projects displayed by Centennial students was a solar-powered pump that moves water to higher elevation storage tanks as a form of stored energy; a two-axis motorized solar tracker that keeps solar panels in perfect alignment with the sun; and an artificial head that can mimic the impulses of the human brain to help create new medical aids.