QUESTIONS
P.O. Box 631 Station A
Toronto, ON, M1K 5E9
Science Minister takes a walk into the future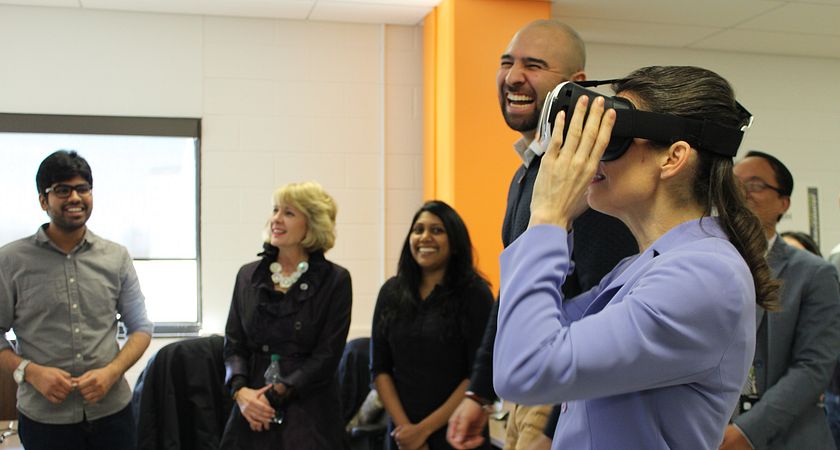 The Federal Minister of Science, the Honourable Kirsty Duncan, came to Centennial's Progress Campus on Thursday, March 16 for a campus tour that included visits to the college's Wearable, Interactive and Mobile Technologies Access Centre for Health (WIMTACH) and the Samsung Tech Institute – the first such institute established in North America by the South Korean tech giant.
Minister Duncan, who admits being a big fan of Ontario's first college, was greeted by Centennial College President Ann Buller, as well as dozens of staff, students and student researchers. She was invited to personally try out a virtual reality exercise program in the WIMTACH labs. Minister Duncan enthusiastically volunteered and was thrilled with the experience.
"For an exercise fanatic and a data fanatic, this is fantastic!" she told the crowd. Given what most people think of when they think exercise, the experience was pretty meta. The application, explained by WIMTACH Principal Investigator Dr. Pouria Tavakkoli and Research Associate José Lara, allows users to not only shed calories in a virtual environment (in this case, the cobblestone streets and thatched homes of various medieval European cities), but also to work out with a friend, who shows up as a digital avatar.
The hardware and software components, which include an ankle band and a gaming platform, work together as a form of personal trainer that adapts to an individual's workout needs offering feedback in real time, along with machine learning. The Minister was thrilled to sample the technology, as various physical performance variables were measured in her trans-Atlantic sojourn, delivered via virtual reality (VR) headset and sensors.
"Young people need a solid STEM foundation so they can take on the knowledge-based jobs of the future," she said afterwards, referring to the science, technology, engineering and mathematics (STEM) disciplines that can give students essential skills and knowledge. The education push by government and employers has implications for workforce development and future economic growth. So it's no surprise she stopped by Centennial College, where students are being prepared for future careers – some of which don't even exist yet.
Another part of the WIMTACH demonstration involved an electronic tracking tool, developed in conjunction with a Toronto-area hospital. Centennial software engineering technology students designed and developed an Android-based mobile application to educate new mothers and improve maternal and child health care with the monitor. Also demonstrated were a virtual assistant and Windows-based exercise simulator for patients, and an e-Health screening tool to streamline patient and caregiver instructions.
As part of her campus tour, Minister Duncan was shown an object-following robocar, as well as some of Centennial's outdoor research projects, including solar panels that are part of an NSERC-funded green energy project led by the college's Applied Research, Innovation and Entrepreneurship Services (ARIES) department.
Minister Duncan came away suitably impressed with growing evidence that the knowledge-based economy entails practical partnerships with industry and experiential learning for students, both of which have enthusiastically taken root at Centennial College.