QUESTIONS
P.O. Box 631 Station A
Toronto, ON, M1K 5E9
Small Business Forum 2016: a showcase for budding entrepreneurs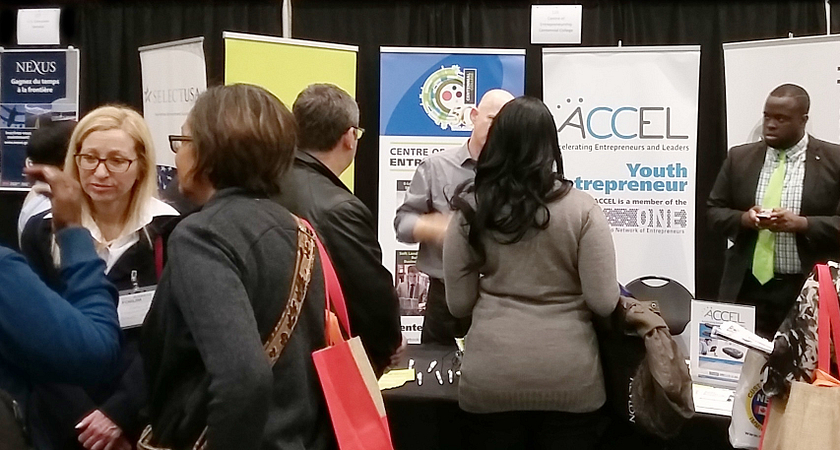 "Every big business started out as a small business." That's what Mayor John Tory reminded attendees at the Enterprise Toronto Small Business Forum on October 25. In his welcome message, he chuckled at the claustrophobic, leak-prone and lacklustre offices Rogers Communications once occupied when he worked there as a young man three decades ago, long before the company grew into the juggernaut it is today. But every company's gotta start somewhere; even iconic Canadian brands faced challenges early on.
The Small Business Forum, which drew thousands of would-be entrepreneurs to the Metro Convention Centre in downtown Toronto, featured not only exhibitors, but also panel talks and breakout sessions from industry insiders, such as PayPal Canada, the Toronto Board of Trade, and TruShield Insurance, examining issues pertinent to starting a business. Sessions included how to grow the digital workspace, generate sales leads, crowd fund, find the best small business research resources, and do business with government.
In keynote addresses, successful entrepreneurs such as Diana Goodwin, whose on-demand swim school AquaMobile has been profiled in The Globe and Mail, shared their early triumphs and hiccups. The speakers offered guidance regarding obstacles faced on the road from start-up to success.
One such barrier is lack of online engagement, an issue Mayor Tory mentioned in his address. Kristal Tanunagara is a Digital Service Squad team member of Digital Main St., a program supported by the City of Toronto and the Toronto Association of Business Improvement Areas (TABIA). The group provides small to medium-sized businesses with a "digital to-do list," a guide as to what the next steps are to growing nascent businesses in the online world. They focus on social media, e-commerce issues, advanced tracking and engagement. Digital Main St. help "narrow down the online world" for entrepreneurs, and offer advice for which social media platforms to use and why. Kristal says they see everyone from start-ups to small brick and mortar businesses.
Vanessa D. from France is starting her own brick and mortar operation. The entrepreneur is taking the next step in her small business journey, and "just finished a marketing plan for her niche hair salon business, which will feature organic products." She attended the Forum to look into what kind of mentorship or financing options were available to her.
One such resource is Centennial College, which has been in the business of entrepreneurship for nearly three decades. Centennial was an exhibitor at the Small Business Forum, showcasing its programs to help small businesses. The college's Accelerator for Centennial College Entrepreneurs and Leaders (ACCEL) program is part of the institution's Centre of Entrepreneurship. ACCEL helps youth aged 18 to 29 start or grow their own business in the GTA, and the program is available to both students and non-students. The program takes potential entrepreneurs with ideas and links them to mentors and resources locally. The ACCEL program nurtures those with an entrepreneurial bent, including qualified alumni.
Kinjal P. from Bahrain is a student in Centennial's International Business Management program and was unaware the college offered programs like ACCEL. She came to the Small Business Forum to learn more about exactly what's involved in starting her own enterprise. Kinjal says she has experience in the medical device import/export market, and while she has "nothing specific in mind" when it comes to starting her own business, she may continue in this vein when the time comes to take the leap.
The Small Business Forum offered a range of exhibitors/booths, from large iconic brands such as Microsoft Canada, Ontario Energy Board, Rogers, and Sun Life Financial, to operations such as Key West Video, a small, privately-owned professional corporate video production company located in northwest Toronto.
Whether it's to meet like-minded small business owners or get advice from organizations such as Centennial College, seek out mentors or raise capital, there's something for every budding entrepreneur at Toronto's annual Small Business Forum.