QUESTIONS
P.O. Box 631 Station A
Toronto, ON, M1K 5E9
Student Awards Night a glittering success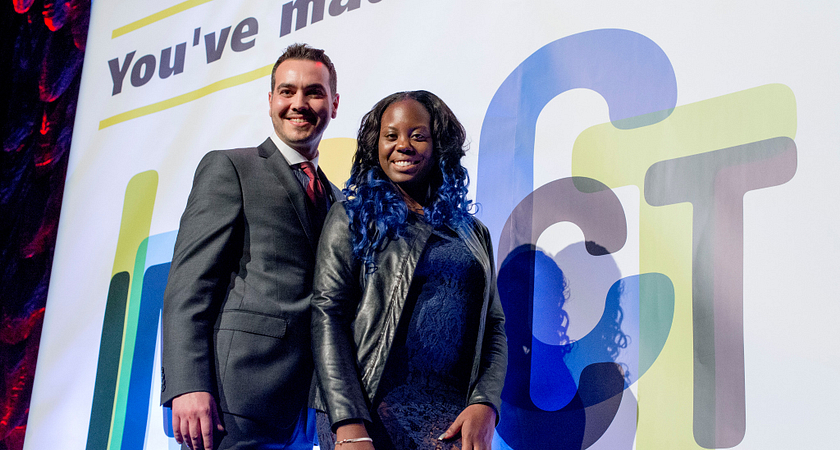 Pictured above with multiple scholarship winner Shanika Walters is Centennial graduate and donor Christopher Rowland of ShipCanada.ca.
Every March, Centennial College recognizes its scholarship recipients and the generous donors who support them with a grand dinner and presentation. On March 7 and 8, Centennial students, donors, employees and volunteers celebrated our most successful year ever for philanthropic scholarships and awards at the 2016 Student Awards Night. The gala event, hosted by CBC News Network anchor Suhana Meharchand, was so large that it was spread over two evenings in order to disburse the record 399 scholarships totalling more than $430,000.
Centennial's Impact Campaign is making its mark with strong growth year over year, given that there were 270 awards totalling $250,000 last year. The funds are a compelling incentive for students, especially for those who face endemic barriers to higher education. Among the newly established funds in 2016 are the WJ Pallett Scholarship, Samsung Electronics and the Baking Association of Canada –Ontario Region Scholarship.
On a night when every student present is a star, Shanika Walters, one of Centennial's HYPE graduates, distinguished herself by being recognized with no less than four awards: the Mary-Anne Chambers Scholarship, the Richard Johnston HYPE Scholarship, the Robert & Margaret Haden Scholarship and the ShipCanada.ca Scholarship. The HYPE program (Helping Youth Pursue Education) is a tuition-free summer learning experience that demystifies college and serves as an introduction to Centennial's programs and future career paths. HYPE has given many young people like Shanika the confidence to return to school by helping to overcome the economic and social barriers that may have interfered with school attendance in the past.
Impact is the largest ever fundraising campaign in Centennial's 50-year history. Fittingly, the fundraising goal is $50 million, which is directed to student scholarships and college capital projects. You can learn more about our Impact Campaign and how you can get involved here: www.centennialcollege.ca/impact.
For a complete list of our scholarships, the donors who funded them, and the recipients who were honoured to collect them, please see our 2016 Student Awards Night booklet.