QUESTIONS
P.O. Box 631 Station A
Toronto, ON, M1K 5E9
Student researchers contribute to aviation at Innovation Hub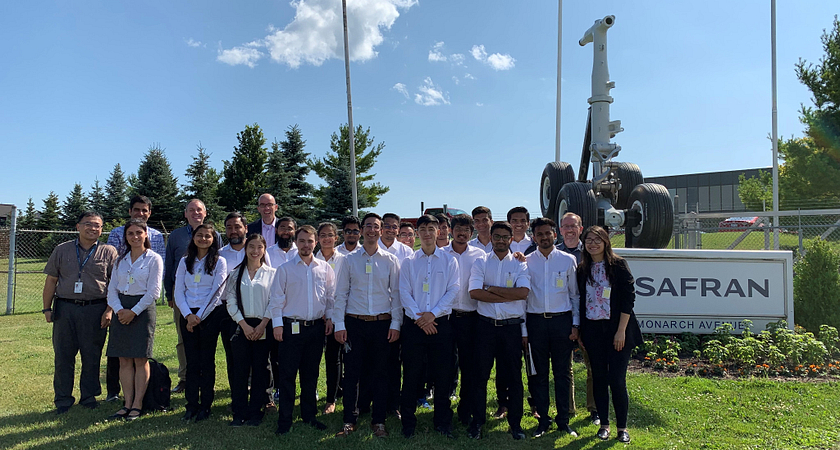 In an increasingly environmentally conscious world, aerospace manufacturers are striving to make aircraft lighter and more fuel-efficient so that aviation can reduce its carbon footprint. Towards that noble goal, student researchers at Centennial College's Applied Research and Innovation Centre have been working with manufacturers on a landing-gear project that uses electrification in place of oil hydraulics to create lighter and more efficient landing gear.
Centennial students are in the second year of a five-year research program working on specific aspects of the project involving thermal activation, landing control system design and electrification. Of utmost importance is that the new technology performs safely and reliably.
This summer, the students presented their mid-project findings to industry partners Safran Landing Systems, Bombardier, Lynch Dynamics, and Burloak Technologies. It was an opportunity for good two-way dialogue: the students present their results and receive feedback from the industry partners. It's an enriching experience for the student researchers, whose hands-on involvement, compounded with their studies, provides a comprehensive and invaluable teaching approach.
Student researchers Kishore Veeranen (thermal activation), Asif Ferduous (landing control system design), and Jagpreetsingh Taank (landing-gear electrification) spoke about what they have been working on, their presentation experience, and what they've learned during their time on the project.
What have you been working on?
"We are handling tasks from ideation to making prototypes, to running simulations on a computer, to testing, to fabrication," says Veeranen. "We handle the whole design and production cycle, we saw the end-to-end of the product's life cycle so we saw the line cycle of what an actuator could take, which involves planning, designing, manufacturing and procurement."
"Last year the project was mostly researched, this year we are putting the research into action," Ferduous says. "We need to reduce the number of chips used for the landing gear control system. The more chips, the more potential for failure. By reducing the chips we are looking to increase the reliability."
"My group is replacing the current hydraulic actuation with an electric actuation system. We are working with gears, electric lines and basically an electric drive unit that will help with the steering of the landing gear," says Taank.
How was your presentation received?
"The mid-project presentation was awesome! We believe that the industry partner appreciated our work and that our project deliverables were being met on time," says Ferduous.
"It was a chance to hear from the industry partners and really get feedback, in detail, after the presentation," says Taank. "We got an overall good experience. The main feedback was that we did a good job replacing 2D drawings with 3D components."
What have you learned since being on the project?
Taank gained a lot from participating in the project: "My three main takeaways from this experience are (1) more confidence, (2) public speaking experience, and (3) experience in project management."
Ferduous adds, "I didn't have much experience designing software. I'm learning hands-on about how a project runs. I had never been on a project of this size before and I am gained a lot of knowledge from this project."
"We received hands-on experience in 3D modelling software. We got great exposure to building and testing virtually during this project," says Veeranen. "The project management side is also a big part of what we do in this industry. Learning how to manage the project deadlines and time management is something we took away from this experience and can use after our time at Centennial."