QUESTIONS
P.O. Box 631 Station A
Toronto, ON, M1K 5E9
Student researchers get a primer in aircraft landing gear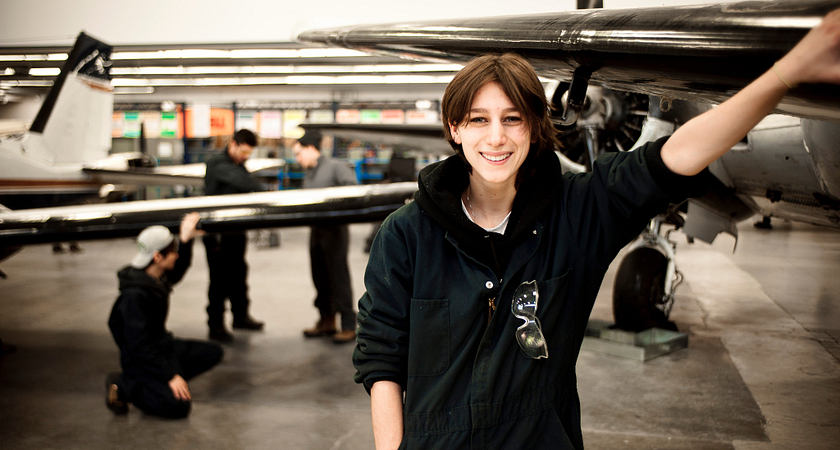 The Applied Research and Innovation Centre (ARIC) at Centennial College recently hosted the Landing Gear Training program in partnership with Safran Landing Systems. The training is supported by the $2.3 million funding received from the Natural Sciences and Engineering Research Council of Canada (NSERC) to research landing gear technology for energy-efficient aircraft.
By developing electrically actuated landing gear, which weighs less than traditional hydraulic systems, future aircraft will be lighter and more fuel-efficient, reducing the carbon footprint of commercial flights. The three-day program was attended by Centennial students and faculty from the Advanced Manufacturing and Automated Technology department, student researchers from the Applied Research, Innovation and Entrepreneurship Services (ARIES) department, as well as industry partners and engineering interns from Safran Landing Systems – the world's largest manufacturer of aircraft landing gear.
The objective of the training was to familiarize the research staff and faculty on landing gear design and technology. Kyle Schmidt, VP of New Product Development and Research and Technology Engineering at Safran Landing Systems, presented a preview of what to expect and where the focus must lie for the research process. Presentations by nine other industry experts provided an overview of landing systems, certification requirements, components, energy absorption, safety/reliability, suspension and retraction, materials, actuation, control systems and the technical aspects of landing gear technology.
One of the main goals of the program is to provide experiential learning opportunities to Centennial College students. A total of 16 students have been hired on to work on the landing gear project; these students will take what they learned at the training sessions and apply it to their research work.
"I learned so many things. I didn't know much about landing gear and (the training) helped give me a basic understanding about them," said Automation and Robotics student Krina Gandhi, who is in her Professional Training Year. "I found (the training) very helpful and it was a good learning experience for all of us."
ARIC Project Coordinator Erika Oliveira, one of the organizers for the training program, was also on hand. "The training provided a basic understanding for the students from which to build upon in their research, and further the technology for a more efficient and environmentally friendly landing gear solution," said Oliveira. "This was a unique opportunity for students to get input from industry experts and a great showcase for the Centennial College-Safran Landing Systems partnership."
The program is just one of the initiatives that ARIC has pursued to push innovation and ingenuity at Centennial College. Through the partnership with Safran Landing Systems, many students will be able to learn on the job and make a strong contribution to the research of new landing gear technology.
By Pierre Ross