QUESTIONS
P.O. Box 631 Station A
Toronto, ON, M1K 5E9
Students Research the Future: (Indoor) Strawberry Fields Forever
Centennial College works to help train and facilitate the next generation of innovators and researchers, and provide them with the resources and opportunities they need to set their ideas into motion. Biotechnology student Roman Kolomoyets is one such case. When he found out that he could conduct independent research, he and a team began growing strawberries indoors at Morningside Campus, in an attempt to research efficient ways to grow the fruit in Canada. The experience went so well that it led him and his companions to create the Centennial Research Alliance (CentRA), a hub for students to develop and pitch their own research proposals, enabling students with big ideas to put them into action. Here's how it all happened.
Coming to Centennial
Despite his current focus, Roman's career used to revolve around technology, instead of nature. "I'm an international student from the States," Roman says, "and my background, up until my decision to pursue education in Canada, was automotive technology. I started out as a mechanic for BMW, and continued working in that field for about 12 years. At that point, I saw myself hitting a bit of a ceiling in my career. I had progressed, and the next step was pretty much to open my own shop. There were a great deal of expenses involved, and a lot of personal risk, so I was at a crossroads, deciding do I take this risk, or try something else, because this is my last chance to do so."
Roman had family in Toronto who'd encourage him to come up, and think about a life in Canada. Eventually, he and his wife decided to take the plunge. While pivoting from automotive technology to horticulture seems like a strange move, it made sense to Roman, and aligned with his interests.
"Centennial had a Biotechnology program, which was pretty much what I wanted to do," Roman says. "I had a personal interest in indoor horticulture, stemming from my grandfather's roots in the Ukraine, and he was very big into agriculture, he still is. I lived near a botanical garden in the Bronx, and I volunteered my time there quite a bit in my youth and in high school, and it was something that I was always interested in."
Going indie
It was while taking part in the Biotechnology program that the seeds of his project would take root.
"We heard about this opportunity through the Biotechnology Student Society, a club over in Morningside for biotechnology students," Roman says. "We had a presentation one day from the manager of the Student Research and Innovation Fund (SRIF) at the time, and she explained to us that there is this opportunity available to Centennial students to pursue research on an independent basis, where we can create our own experiments and projects, which fascinated me."
"Within a period of about two weeks, while studying for midterm exams, I basically didn't sleep for the better part of two weeks, compiling this proposal from scratch," he says. So, what was it that he worked so hard on?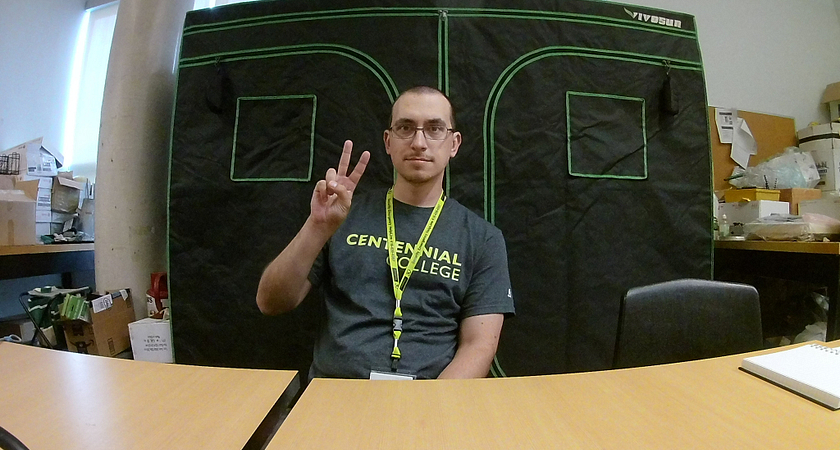 The experiment
Roman and his colleagues built an LED-equipped indoor tent to grow strawberries in, in the name of studying controlled-environment agriculture, the early stages of strawberry growth patterns, and finding an efficient way to grow them, something that would benefit Canada's struggling strawberry industry.
"We spent the whole summer watching and experimenting with methods of growing strawberries indoors," Roman explains.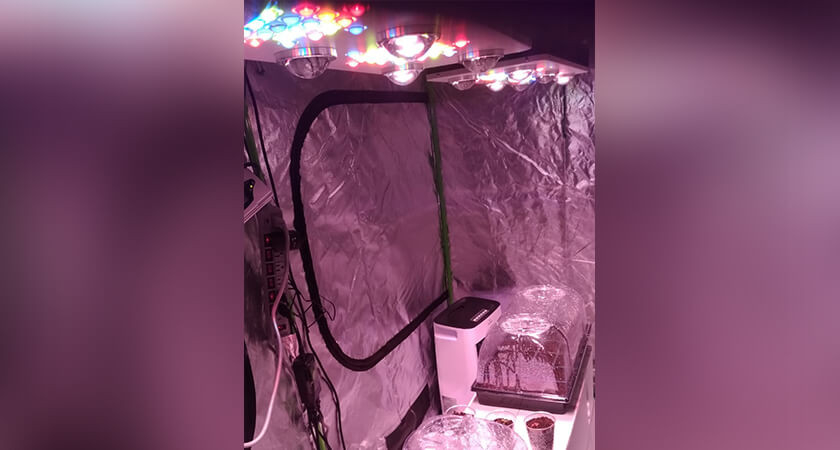 "We actually found a lot of interesting facts about the strawberry industry," Roman adds, explaining the project's value to Canadian agriculture. "It turns out that in 2013, Canada experienced a $400 million deficit for importing strawberries into this country. We found out that there's domestic production too, primarily in Quebec, British Columbia, and Ontario, since we've got the most indoor greenhouses."
"We found out that some people are allergic to strawberries too," he says, "so how can we overcome that? That's when we discovered that a specific protein, Fra A1, has been identified as the cause of allergic reaction in sensitive individuals."
Acquired from a local Ontario seed bank, they grew special white strawberries, a breed of the plant that's non-allergenic, and is usually considered quite valuable and rare.
"We got it all done, we hit all of our outcomes, we answered our research questions, and it was a success," Roman says, "so on that success, we sort of found that a lot of students had begun to show interest in the strange, big black box that was located in room 424." That interest would be the beginning of his next project, the Centennial Research Alliance.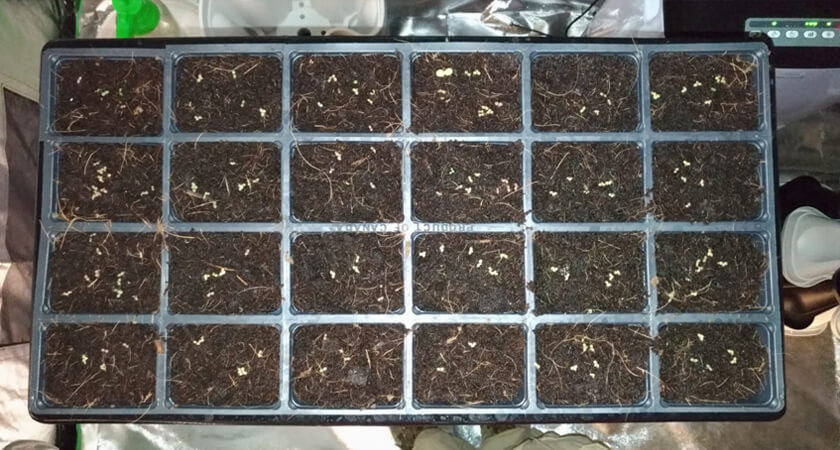 Forming a club
"By the end of the summer, I felt that I had gained a lot of experience in this type of project management," Roman says. "As the lead, I was responsible for interim and final reports, as well as all correspondence with the office and managing everyone's time on the project."
"I started casually explaining to students, we're growing strawberries, we built this, and so much interest started to organically coalesce around what we'd done, and I guess other folks had ideas of their own," Roman explains. "It was out of this response that I decided to try and engage with other students and create a team that can move forward and do more experiments. And that's where the decision came from to create a club."
The Centennial Research Alliance
"We're the only club that deals with student-led research," Roman says of the Centennial Research Alliance. "We endeavour to assist students in writing proposals, in clarifying their ideas to the point where they can become proposals, and in offering them a wide range of assistance to just make it something that's attainable while they're doing this concurrently with their studies."
Roman's currently the president, and the CentRA team have submitted six research proposals to SRIF which, if approved, will be their next projects.
"It's something that's already rewarding in the responses we're getting, and those responses tell me that we're on the right track," he continues. "My hope is that CentRA is going to continue to gain momentum as a vital part of the college. We want to make CentRA an accessible resource for all students of all programs, so that they can get mentorship and guidance in a very personal way regarding their individual project ideas, hopes, aspirations and interests, because applied research can be a variety of things, it doesn't have to be very technical, test tubes in a laboratory type of stuff. It can be social studies, or investigations into software, all kinds of things."
Have a research idea?
The Centennial Research Alliance can help you make it happen, whether it's a proof-of-concept for a business or innovation, an investigative study, or just finding an answer to a really specific question. If you want to take your studies further, CentRA can work with you to make your independent research happen. You can reach out through CCSAI.ca or directly at CC.ResearchAlliance@gmail.com.
by Anthony Geremia