QUESTIONS
P.O. Box 631 Station A
Toronto, ON, M1K 5E9
Subaru donates unique "boxer" engine to Centennial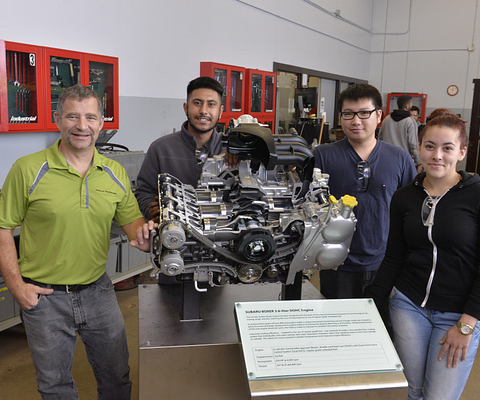 Centennial College School of Transportation professor Robert Paul (left) with students in the Motive Power Technician postsecondary program pose with a 3.6-litre Subaru "boxer" six-cylinder engine cutaway donated to an engine lab at Ashtonbee Campus.
Subaru Canada, Inc., in partnership with their parent company Fuji Heavy Industries, Ltd., made an educational donation of a 3.6-litre Subaru "boxer" six-cylinder engine display to Centennial College's School of Transportation this week. The cutaway engine will help students in the various School of Transportation programs understand the benefits and operation of a horizontally-opposed engine layout.
"It is always great to know that the underlying educational purposes of our display pieces can live on further at educational institutions, such as Centennial College," said Shiro Ohta, president and CEO of Subaru Canada, Inc. "Learning tools, such as the engine display donated, allow us as a Canadian automotive brand to give back to the postsecondary institutions that enrich aspiring automotive industry personnel."
The Subaru boxer engine combines a smooth balance with power and efficiency. Horizontally-opposed engine configurations embrace a low centre of gravity and outstanding weight distribution, which instills other benefits, such as increased passive safety and vehicle stability.
"The Subaru boxer 3.6-litre engine donation will be used in our Motive Power program to show students what a flat-six engine looks like and how it functions," said Alan McClelland, Dean, School of Transportation. "We are grateful for Subaru's kind donation and know that it will help our students gain an appreciation for different types of engine architecture."
Subaru Canada, Inc. is a wholly owned subsidiary of Fuji Heavy Industries Ltd. of Japan. Headquartered in Mississauga, Ontario, the company markets and distributes Subaru vehicles, parts and accessories through a network of 90 authorized dealers across Canada. Toronto's Centennial College operates the largest transportation technology training centre in Canada, and has enjoyed almost 50 years of support from major manufacturers. It is industry partnerships that enable Centennial's School of Transportation to continue to provide an exceptional automotive technical education to its students and apprentices.