QUESTIONS
P.O. Box 631 Station A
Toronto, ON, M1K 5E9
Svetlana Martynova an up and coming running star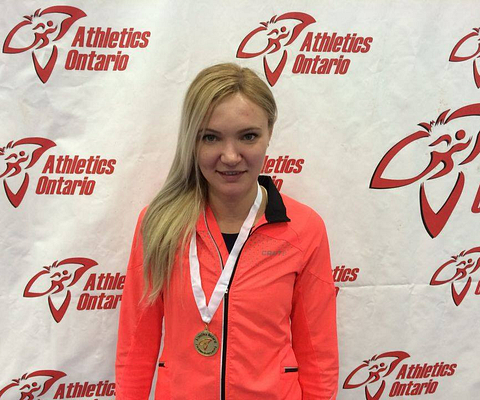 Svetlana Martynova, a rising star on Centennial's newly established running team, earned gold with a time of 2:12.86 in the 800-metre race at the Ontario Indoor Track and Field Championships held at York University on February 15. She competed in a field of formidable athletes representing universities and colleges from across the province to emerge victorious in her event.
Svetlana is a 24-year-old student originally from Russia studying Interactive Media Management at Centennial's Story Arts Centre in East York. Although she has only been at the college for a short time she has already left her mark, setting a new Ontario College indoor record for the 1000-metre event at the inaugural COLTS Invitational extramural indoor track meet held at Variety Village recently. Her time of 2:55:00 was eight seconds quicker than the previous record for the distance.
With times like these, Svetlana is the fastest female runner on the COLTS Cross Country and Indoor Track teams. Svetlana also placed well in an Invitational event at Montreal's McGill University recently. Last fall, she earned second- and third-place finishes in two Ontario College Athletic Association (OCAA) Cross Country events. Her performance at the OCAA provincials earned her a spot at the CCAA National Cross Country Championships, which took place in November. Martynova placed in the top 25.
Svetlana is set to graduate this year and is looking forward to a career in media and advertising. In addition to her running success, she performs well in the classroom, earning an Academic Athletic Scholarship with a high GPA. A journalism graduate from Moscow State University, Svetlana came to Canada in 2012 to continue her studies in the media field. Beyond running, she enjoys a healthy lifestyle by participating in many outdoor activities, including skiing, wake surfing and skydiving.
There's no question Svetlana is an athlete on the move. Come out to Scarborough's Variety Village on Saturday, March 7 to see her and her teammates race at the George Brown Invitational Extramural event. You can witness Svetlana defend her title in both the 600m and 1000m races; she is also scheduled to anchor the Women's 4 x 800m relay team. Race times begin at 1 PM.