QUESTIONS
P.O. Box 631 Station A
Toronto, ON, M1K 5E9
Talented entertainer acquires new skills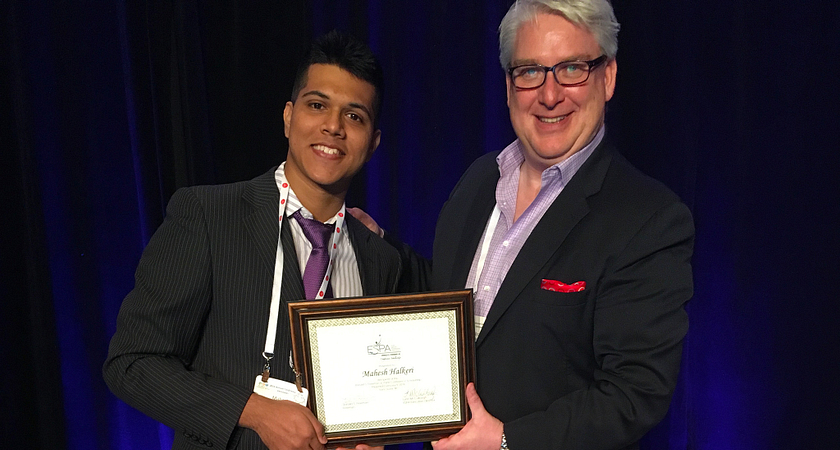 Mahesh Halkeri is an accomplished dancer and entertainer who turned to studying Event Management to hone his creative energy into a marketable skill.
He credits his parents for giving him the confidence to shine on stage – after all, his mother is a professional singer-musician and his father is an entrepreneur in the hospitality industry back home in India.
"I've had a passion for dance since I was five years old," says Halkeri, who performed in the opening and closing ceremonies of the 2010 Commonwealth Games in Delhi, among other events.
After completing high school in his native Mumbai, he did a bachelor's degree in marketing and mass media communications. He explains his choice as a way to explore the creative side of business. "I realized I enjoyed organizing large dance and entertainment events as I grew older."
"As part of my college years, I did a correspondence diploma in event management, too," he recounts. Event management is the fastest-growing category in hospitality, whose festivals and conferences bring high-value tourism to cities and regions.
"In my second year of college I got the chance to manage a major television event on India's Zee TV," he says. He worked on the season four grand finale of the popular show Dance India Dance as the front stage manager, coordinator and artist manager.
It was a huge responsibility for a young man who was barely 20 years old, yet Halkeri thrived in the high-pressure world of live television and event management. But despite his early success, he felt he needed to widen his horizon.
"By the end of my third year of college, I wanted to study the event industry abroad. Specifically in North America, where the industry is more developed than in India."
His research led him to Centennial College in Toronto.
Halkeri knew Toronto was a major business centre in North America and a crossroads for many cultures, where he could learn about diversity and how to cater to travellers from all over the world. He found a kindred spirit in Bob Dallas, the Event Management program coordinator who encouraged him to enrol at Centennial College.
Centennial's one-year graduate certificate program teaches students everything from event planning to full execution. Students get to work alongside hospitality and culinary team members to develop their skills and gain a one-of-a-kind experience in the only dedicated experiential learning site for event management in Canada.
Centennial students can join the Professional Convention Management Association (PCMA) and the International Special Events Society as student members, which opens doors for young people wishing to enter the industry.
Halkeri arrived in Toronto in the fall of 2015, and quickly discovered Canadian studies introduced a new level of engagement and practical learning he did not receive in India.
"The faculty have different skills to impart to us, it was really amazing exposure," says Halkeri. "The small class – just 22 students – allowed the faculty to connect us with professional networks outside of the college."
"I realized the importance of volunteering in the events that the faculty emphasized. I've worked 15 big events to date," says Halkeri. One volunteer opportunity turned into a part-time paid position when he was hired as a stage manager for Hidden Talent Canada.
Buoyed by his success, professor Dallas encouraged Halkeri to apply for an industry scholarship award available to American and Canadian students of events management. With the professor's endorsement, he was selected to receive the Donald S. Freeman Jr. ESPA Conference Scholarship Supporting Continued Excellence in Convention Services out of 70 highly qualified candidates from across North America.
The scholarship included an invitation to attend the annual Event Service Professionals Association (ESPA) conference, which took place in Vancouver, British Columbia, in January. It was Halkeri's opportunity to witness the inner-workings of a conference, including planner interactions, room set-ups, pre-convention meetings and more.
"I got to see the different sectors involved in event management behind the scenes," he says. "I even got to deliver a speech to 300 working professionals!"
Halkeri notes the trip brightened his resumé by demonstrating first-hand experience with onsite management of a professional conference. It also got his name circulating in the industry, which will help with future job prospects, he says.
Halkeri is getting ready to pursue his events production internship over the summer to cap off his year at Centennial. Then it's off to another school to study arts management, providing him with a closer look at the exhibitions, concerts and festivals that will broaden his skills further.
"This is my best chance to explore diversity and the different perspectives of the industry," he says of his next adventure. He underscores that his Centennial College experience has done wonders in preparing him for his career.
"Events management is a major growth industry because people like to be served," he offers by way of explanation. "Only those who are passionate about the business will thrive in it. College is the perfect platform to give you an edge to step into the industry."