QUESTIONS
P.O. Box 631 Station A
Toronto, ON, M1K 5E9
Teachers that make a difference: Amy Gaudaur wins the Wicken Award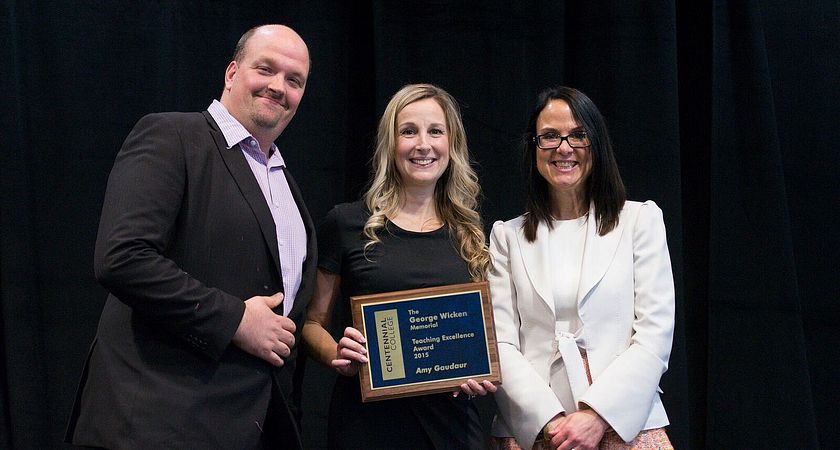 Centennial College's goal of providing students with practical, skill-based education and experience informs the instructors we get to teach our programs. They're always professionals with experience in the industry of their choice, ready to pass their life experience on to students. More than that, the college looks to recruit instructors who can go outside the mould, and challenge the barriers of education.
That's the case with Amy Gaudaur, a professor in the Child and Youth Care Program and this year's winner of the George Wicken Memorial Teaching Excellence award. It's an award chosen by students, meaning her class recognized her drive and commitment. Amy has been teaching at Centennial for the last five years, and teaches courses focusing on mental health, advocacy and law, and working with traumatized children and youth, passing on the knowledge that she learned as an industry professional.
Lifelong learning
Amy was actually a Centennial College alumni, who returned to teach a new generation after gaining experience in the field.
"I graduated from Centennial's Child and Youth Worker Program," she says. "I worked in the field at residential care facilities for kids, for the school board, and I still work in a hospital setting. I've dabbled in quite a few areas related to child and youth work, and I always supervised a CYC field placement students at my workplaces, so I stayed connected to the college."
Teaching was something she'd always wanted to get into, and she jumped at the chance to get involved with it at Centennial. "I think it's something I always had a passion for," she says. "Since I was younger I wanted to be a teacher. I worked for over a decade in the school system as a child and youth worker with teachers. I have a love of learning."
Expanding the curriculum.
One of the most important elements of Amy's philosophy toward teaching is how important it is to give students learning opportunities outside of the lecture hall, and to give them the chance to contribute to social justice along with their education. "I think students learn outside of a classroom," she says. "It's for students to see that learning isn't just confined to a textbook and notes. Centennial College really values being a global citizen, and it's something I've always valued, so I try to install that with the students."
To that end, Amy has helped her students take part in a number of extracurricular ventures, some of which she lists. "I've been on GCELE's to Kenya and Arizona/Mexico with students," she says. "They came back and screened a documentary, and I supported them. I've worked with Me to We to bring the Kenyan Boy's choir to Centennial College, I participated in Random Acts of Kindness, and I helped bring native dancers to the college."
"I love the quote, 'be the change you want to see in the world," she says of her motivations. "Bringing ideas of social justice and cultural events just makes for a richer learning experience for the students, and those are things I'm passionate about," she says. "I don't just want to be the teacher you see on Mondays at 10:30 PM. I want to be the teacher you see in the hallways, or at different events, or bringing in speakers, and just looking outside our program and engaging with the college community. When you're getting up at 5 o'clock in the morning to come here and make breakfast for a Random Act of Kindness Event, it has to be important to you," she says.
In addition to her extracurricular efforts, she embeds an assignment in every course she teaches, worth about 20 percent, that students can present any way they want, in order to respect their diverse strengths, something she wishes she had during her education. "I found that I'm a different learner," she explains, "so in school I found when I was asked to produce some assignments, they didn't speak to my strengths."
What's Next
"When I first heard that I won, I was very excited. It was a huge honour to even be nominated" Amy says. "It was really an opportunity to reflect on the last five years, and think about the next twenty. This is what I've achieved in five years, and now I'm going to set some new goals."
Those goals include her looking out for opportunities with the rest of the CYC faculty to engage and expand the Child and Youth Care program, and keep it relevant, as well as get a Master's degree part-time, in order to keep learning. "I don't like to stay still with something. I like to grow and learn and challenge myself," she says. And she'll continue to pass that learning onto her students.