QUESTIONS
P.O. Box 631 Station A
Toronto, ON, M1K 5E9
Technology Fair reveals students' bright ideas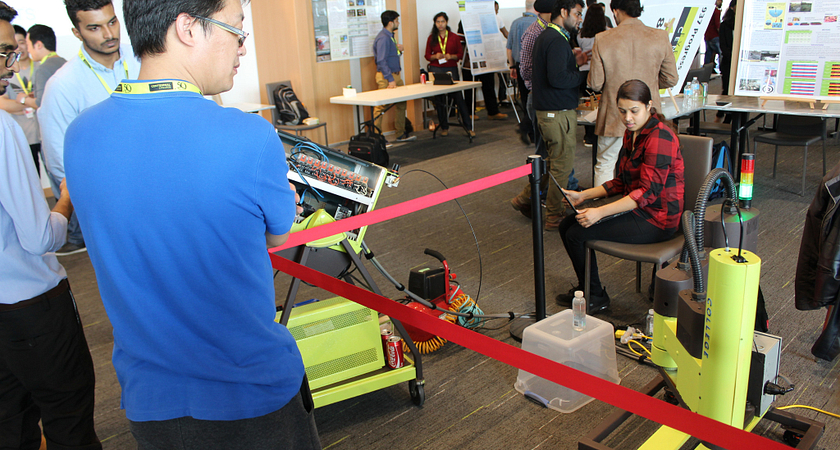 Centennial College vaulted into the Top 10 Canadian Research Colleges ranking for 2016, the first time in the college's history. There is no finer way to showcase the next generation of innovators at Centennial than with the Technology Fair put on by the School of Engineering Technology and Applied Science (SETAS). The college's 6th annual fair was held on April 11 in the Event Centre space at Progress Campus.
On display were nearly 50 "capstone" projects, which required students to solve challenging problems by designing and building their final products to demonstrate their solutions. The fair presented an opportunity to not only to show off their results, but to liaise with college staff, other students and even industry partners, including Honda Canada, the Canadian Navy, Pearson Education, Cimetrix Solutions, Balluff Canada, SMC and others on hand.
The research projects spanned a wide range of technologies, from bio-remediation of heavy metals in soil, to wave energy capture devices, toothbrush sterilization solutions, remote video-sensing robots, flywheel energy storage devices, floating forest design concepts, remote-controlled lawnmowers, flour disinfectants and E. coli studies of beach sand. Staff members from Centennial's Applied Research Innovation and Entrepreneurship Services (ARIES) department were among the judges. As ARIES Executive Director Dr. Deepak Gupta noted, "I'm continually amazed by what the students come up with."
Dr. Patrick Kelly, Dean of SETAS, congratulated participants and presented the 2017 Dean's Award to Deesha Daswani and Anushree Ranade for their project, "Quantitative and Qualitative Assay of Toothbrush Dwelling Microorganisms." The pair had compared fungal content of toothbrushes with silica gel absorption caps, versus those without. What drew the students to the investigation? "You start and end your day with a toothbrush!" remarked Daswani.
Nidul Rathod and Sharon George were the Innovation Award winners for their research project, which examined the safety of Toronto beaches using the microbial load metric. "During the summer, we spend a lot of time at the beach, and we wanted to know just how safe it is. Sand is monitored for E. coli in the U.S., but not here," George explained. The team found pathogen levels at the three east-end Toronto beaches tested (Woodbine, Scarborough Bluffs and Rouge) failed to comply with Health Canada standards. Rathod reported that the results are "alarming," and they want to expand their research to test public beaches in the west end of the city.
The ICET's Chair Award (for electronics) went to Arlina Ramrattan, Kevin Burnside, Omid Khataee, Aaron Fernandes and Neil Reading for their Keanu project; the AMAT Chair Award (for automation) went to Ziren Tang, Feng Luan, and Cui Kai for their Solar Pest Lamp; and the ABES Chair Award (for environmental) went to Jelani Bartlett for Breaking Point Condominiums.
Philip Weekes (of the Enactus Centennial club) is part of a team that won the Applied Degree Award, along with Ibrahim Khalid, Eric Desrochers, Neel Shah, Patrick Cumayas, and Umair Warsi. They were responsible for developing the Cyber X Store, "a student exchange platform which allows students to buy and sell textbooks." Weekes said that unlike Kijiji, which has a limited geographic filter, their store can segment sales markets into campuses, so users don't have to travel far to procure learning materials.
Daniel Kerr-Cresswell showed off a security system his team built, complete with a motion sensor, that when tripped, sends a video or picture to the registered owner. Their team is developing "room mapping software, where a sensor gets coordinates back to scan a room, and you can import that into a 3D modelling program, and create a model from it."
The student projects garnered considerable attention from companies. Greg Soden, Industry Manager at Balluff Canada, had a booth set up at the fair and has hired Centennial graduates, as well. Balluff makes sensing and automation technologies, such as conductive, photoelectric, laser, RFID, pressure and linear transducers, used in manufacturing. Soden wants to "increase their visibility to students, so they could have a better idea of what technologies are important to Canadian manufacturers."
Judging by the amount of interest in the School of Engineering Technology and Applied Science Technology Fair and the stellar results showcased this year, this ongoing initiative is destined to further strengthen the connection between engineering technology students, institutions and industry.