QUESTIONS
P.O. Box 631 Station A
Toronto, ON, M1K 5E9
Telling Stories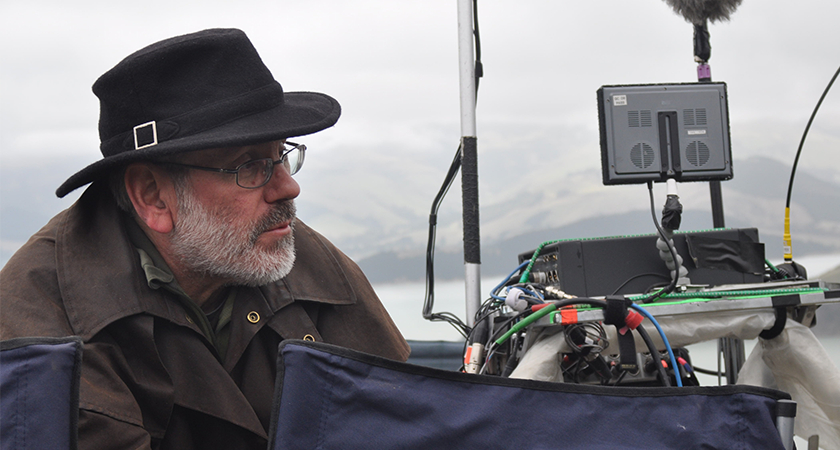 Canada has long been known for producing innovative and internationally successful children's entertainment. Today, hundreds of television programs, websites, games, books, toys and educational DVDs are produced across the country.
"In my opinion, it's much harder to create quality programs for children than it is for adults, and it's really hard to do it for adults," says award-winning producer and writer Lawrence Mirkin. "It's harder because for many children, what you make may be their first experience of the dramatic arts, so there's an added responsibility right there. You need to tell a good story well and artfully, but you are also educating in some way. And you also need to be mindful of child development so that the work also is true to the developmental stage of your audience."
Larry is the Former Chair of the Professional Advisory Committee for the Children's Media Program at Centennial College, a post-graduate program he and other industry professionals and educators helped develop. The program not only allows students to learn about various traditional and new media, it hones their storytelling talents, business skills and production management abilities.
Since 2008, the Committee has guided the program to reflect industry and societal changes. Larry also teaches A Survey of Children's Entertainment, an introduction to classic works for children in many forms, including books, films and television.
"Centennial's Children's Media Program took two years to develop and I'm proud of the work we've done," he says. "The program attracts incredibly talented students and a good mix of instructors … from wizened veterans like me to younger professionals."
Larry isn't wizened but he's certainly got an impressive resume. He's produced more than 200 television programs for adults and children, including Fraggle Rock and the Jim Henson Hour, and has worked on many more as writer or executive story editor. He's also acted as consultant for dozens of projects, including the feature films Labyrinth and The Witches. His productions have appeared on CBC, Showcase Television, CTV, APTN, and TVO in Canada, and NBC, PBS, and HBO in the United States, as well as internationally. Larry has won or been nominated for many honours, including the Emmy, the Gemini, the Ace, the Youth Media Alliance Award, and the International Emmy.
But Canadian children's television was the furthest thing on Larry's mind when he graduated with a Masters in Fine Art from the Yale School of Drama. It was theatre. And it was while working as the literary manager of the Mark Taper Forum in Los Angeles in the mid-70s that he met John Hirsch, the legendary Canadian director who was then Head of CBC Drama.
"He invited me to come to Toronto and join CBC Drama as a story editor," says Larry. "I knew nothing about Canada or about television, but John was a real artist, so I came to learn from him. He literally changed my life."
Larry soon became a CBC Drama producer and over the next few years he steered a number of award-winning programs. However, his career took another turn in 1983 when Jim Henson asked him to work on a program that had been shot, but not yet aired. Something called Fraggle Rock.
"Twelve episodes had been shot, but they were looking for a producer who was good at developing screenplays." he says. "Jim Henson had heard that I knew how to work well with writers so he brought me in. That was the start of a long and wonderful relationship."
Larry became the show's producer and, as he told the Toronto Star in 2015, "As much fun as you would think it was doing the show, it was more fun."
After Fraggle Rock and The Jim Henson Hour, Larry continued developing and producing a variety of theatre dramas and television programs for all ages. Then, in 2007, he was contacted by Centennial College to join an advisory committee that was developing a children's entertainment program (now called Children's Media).
"I already knew Joan Lambur who was the first Chair of the Professional Advisory Committee and she introduced me to Nate Horowitz, Centennial's Dean of Communications Media and Design," he says. "The original committee had some of the top people in the industry from both Canada and elsewhere, and we all felt that if we did this correctly, the program would be well received by the industry. It was … and the industry has responded with many field placement and networking opportunities for our students. In a very short period of time we had many graduates working throughout the industry. I'm very proud of our alumni and their contribution to the lives of children."
In addition to his continued involvement with Centennial, Larry remains one of Canada's busiest television writers and produces. After more than 40 years in the entertainment industry, he has no intention of slowing down. After recently producing the second season of Hi, Opie! a series about the joys and challenges of kindergarten from a child's perspective for marblemedia, The Jim Henson Company, TVO and other networks, he is currently producing the third season of The Cat in the Hat Knows a Lot About That for Portfolio Entertainment and PBS.
"I still enjoy what I do," he says. "Any form of children's media must be infused with a sense of joy and beauty, laughter and meaning and I love the challenge of doing that. It's why I do it and why my students do it. We get to carry that sense of joy, beauty, laughter and meaning with us and celebrate the kid still inside us."