QUESTIONS
P.O. Box 631 Station A
Toronto, ON, M1K 5E9
Testing photovoltaic reliability for a brighter future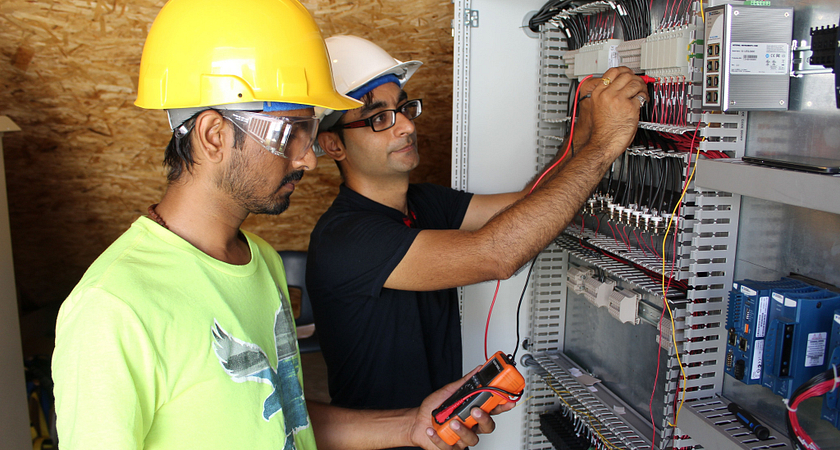 Centennial College has been working on a solar module reliability project in tandem with electronics manufacturing giant Celestica, giving students a chance to get a more robust understanding of photovoltaic (PV) panel reliability. The initiative, funded by the Natural Sciences and Engineering Research Council of Canada (NSERC), involves collecting real-time data to build models that better predict electrical performance.
A photovoltaic system uses solar panels comprised of solar cells, which generate electricity when exposed to the sun. PV systems allow for the direct conversion of photons (contained in sunlight) into electricity without any moving parts, a no-pollution energy solution that's in high demand. The working partnership between Celestica and Centennial allows students to gain access to real PV models and data, expanding upon information that's been gleaned from the classroom.
To remain competitive in the solar space, PV modules need to be built to withstand adverse outdoor conditions, especially in Canada, as efficiency typically degrades by a few percentage points every year, depending on the manufacturer. To test Celestica's PV modules, Centennial researchers are installing an array of measuring devices at the college's Progress Campus.
Student researcher Gaurang Alaiya, who earned an Advance Diploma in Energy System Engineering Technology at Centennial, cites his Centennial Primary Investigators' "passion about the project" as inspiration, saying his experience working on it has been terrific.
Gaurang, who is part of a one-year co-op work term, tells us the team has developed a system to record different weather variables such as pressure, irradiance, temperature and humidity. These data points are collected throughout the day, on four different locations on the modules.
Charge controller, wiring and battery efficiency are being investigated as well, using voltage and current censors. All of this has taken place under the helpful guidance of Celestica, which has been involved in making sure the installations have been up to industry standard. Celestica engineers were impressed with the quality of the installation, and Gaurang tells us that going forward, there are even opportunities to connect the PV system to Centennial's electrical grid.
Principal investigator Mihail Plesca, says polycrystalline PV panels were procured from Canadian Solar in Guelph, as well as Celestica, and that the latter is looking forward to analyzing future data once the grid connection is made. He tells us that there are opportunities for developing further opportunities with Bluewater Energy, which is involved in building energy-independent mobile offices and modular homes.
Having this kind of technology on campus provides a wealth of opportunity for collecting real-world performance data on new module designs for fixed-angle applications, information that is extremely critical to Celestica's customer reliability and potentially beneficial to Centennial as well. Data will prove useful when evaluating new experimental innovations.
The PV solar module reliability project shows the benefits of connecting college students with employers doing real-world product research, and allowing them to network with engineers and other professionals. And the work is blossoming: Centennial College was named one of Canada's top 10 research colleges in 2016 by Research Infosource Inc.