QUESTIONS
P.O. Box 631 Station A
Toronto, ON, M1K 5E9
The Business School Professor Delivers PPE to the Scarborough Health Network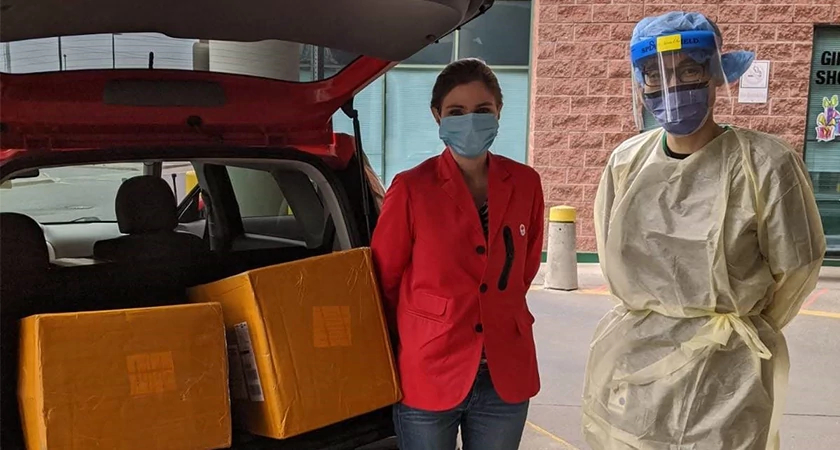 In these unique times, the staff and students of Centennial College have been using the skills they have to help give back to the people and organizations that need it. Ana Caracaleanu is a professor at The Business School, teaching classes like Digital Marketing and Web Analytics, as well as classes in the Fashion Business and Management program, including e-commerce platforms and fashion in a digital world. When her own business shut down, Ana was able to use her international supply-chain contacts to source much-needed personal protection equipment (PPE) for frontline workers in Scarborough's local hospitals. Ana managed to get 400 face shields expedited to Toronto, then loaded up the boxes in her car to deliver to the Scarborough Health Network, which consists of the Scarborough General, Centenary and Birchmount hospitals. Here's how she made it happen.
Reaching out
"I have a business I work on part-time that I've been running for the last four years," Ana explains. "We design and sell sunglasses, and I manufacture the glasses in China." Like many businesses, COVID-19 has effectively forced it to shut down, which wound up turning into an opportunity.
"On a Friday night, my factory reached out to me and said, we've ceased production, would you like to place another order?" Ana explains. "I said no, because we're not going to be selling any more, all the stores I was selling to closed down, and they said, well, we do PPE now. So I was interested in that."
"What I did that Friday night was I reached out," Ana continues. "There's a couple websites out there that are created by volunteers representing hospitals. I reached out to those, and the person I connected with was Dr. Vela, an emergency room doctor for the Scarborough Health Network."
Creating the donation
Since they were constructed from similar materials to her sunglasses Ana would get her suppliers to instead manufacture plastic face shields, though the pivot was not without its challenges.
"The biggest challenge was me figuring out the environment in which I could bring these in, because I knew there were certain requirements," Ana says. "Sunglasses are also considered PPE, so they also have to pass certain tests, like pressure tests and UV blocking tests, but this is a PPE used by healthcare workers. So, that's what stressed me out a lot. I couldn't sleep for a few days. Plus I was working on China's time zones, so that was very stressful, making sure that was I was bringing in could be used because it's properly certified and up to code with the Canadian Border Services and Health Canada."
"When I had certainty that I was doing it right, the logistical part wasn't that difficult," Ana says. She'd wind up acquiring 400 plastic shields in the span of a week, ready to donate.
The big drop-off
"I got it in one week, and personally delivered it to the hospital," Ana says. "Dr. Shu, who's a head surgeon in the ER in Scarborough General, he helped me unload my car, and that was it."
"I was very emotional when I brought them into the hospital," Ana says. "I didn't think it was going to be that personal. Having direct contact (six feet apart, mind you) with the doctor, and actually walking to the ER, and seeing how it was very quiet over there (because hospital ERs are seeing a low number of patients right now because everyone is staying home), everyone was very emotional. And after I took the boxes in and got into the car, that's when I was overwhelmed by emotions."
An opportunity and a challenge
"I think there's opportunity in chaos and in a crisis to do something good," Ana says, recalling the experience. "I kind of went with my gut feeling, and reacted to a tiny, little email that came from my suppliers. The first reactions I got when I reached out to people was, oh, don't do it, the government's taking care of this, don't get involved, the government has money, hospitals have money, we don't. I'm not a millionaire, and my company's very small, but I saw something very easy, simple and small I could do in the face of the chaos and crisis that was happening that could have an impact."
"So I want to implore the students and everybody else who has a small business to just look through the chaos and say, okay, here's one small thing I can do, and multiply that by tens of thousands, and we're going to get out of this, and it's going to be okay."