QUESTIONS
P.O. Box 631 Station A
Toronto, ON, M1K 5E9
The dollars and cents of success: How Centennial students won big at the Canadian Institute of Financial Planning competition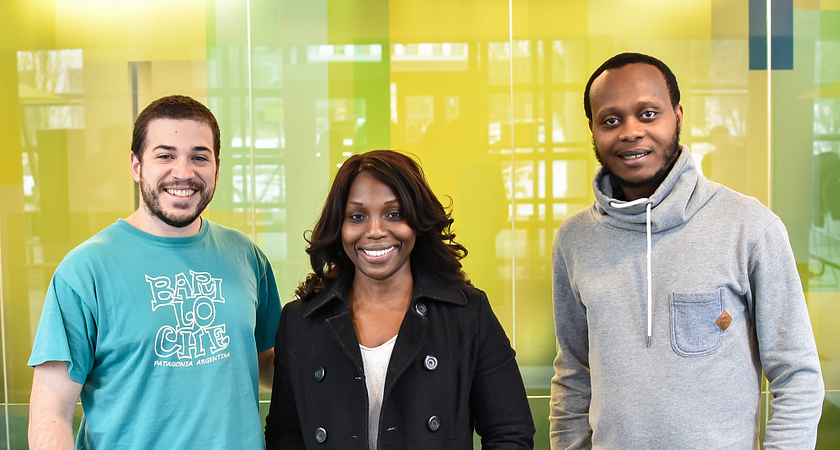 Centennial College is all about teaching its students real, practical skills. Students Simone Hudson Bernard, Augusto Barbosa Arreas and Stanley Emenike of Centennial College's Financial Planning program got to show off those skills, using them to win a gold medal at the Canadian Institute of Financial Planning (CIFP) annual competition for the Eastern Region on April 7, beating out seven other college teams. Here's how they made it happen.
Why they came to Centennial
Centennial College's one-year graduate certificate Financial Planning program offers a balance of theory and hands-on training that allows for effective interaction. Students receive most of the educational requirements to challenge the Certified Financial Planner (CFP) exam that's a pathway to the Canadian Securities Course (CSC) credential. Taking the program was no small decision for all three students, considering they're all international students who came to Canada from abroad as part of that choice.
"I have a background in finance," Simone says of her decision to join the program. "When I decided that I wanted to come to Canada, I was looking for a program that would complement or enhance my career aspirations, so it had to be something in financial planning. I did my research and screening based on location, what the programs had to offer, and the curriculum. Centennial was the best."
"My background was also in finance," Stanley says of himself, "and what I decided to do was come to Canada to study as well. I realized that Centennial was the only college in Toronto that had the opportunity to take a CSC-approved course."
"I was already working as an investment advisor in Brazil," Augusto adds. "I love finance, I wanted to move here with my wife, and Centennial College gave me the opportunity to do it."
Taking part in the competition
Each of the three team members had to volunteer to take part in the competition, and each did so for their own reasons, even if it took a few of them awhile to decide.
"I'm always looking for ways in which I can network, and improve on my knowledge," Simone says. "I thought that the case competition was an avenue through which I could put what I was learning in my courses together and into practice."
"Initially, I didn't want to partake, because I was thinking about the workload," Stanley admits. "I applied for the competition the last day because I felt I was going to learn something from it. Since my program's coming to an end, I felt that it would give me an opportunity to put all my courses together."
"I actually applied three minutes before the deadline!" Augusto says. "If I have to study for myself, I won't do it. I need a stick poking at me to run after things, and the competition was a good way to do that."
How the program prepared them for the competition
Once the three of them decided to compete, they found themselves practicing and refining the skills they'd need to win, skills that the Financial Planning program had already taught them.
"The technical skills required for the competition, all the disciplines that would be necessary for you to make a financial plan are taught in the program." Simone says.
"There are a lot of teachers in the program who are industry professionals," Augusto says, "so they taught us how to talk to clients, how to approach them, how to make conversation or break the ice at the beginning of an interaction and not just deliver technicalities."
The competition, and how they won
For the competition itself, each team was given a case study and told to create a financial plan for them, which they then had to present to the judges.
"We had to interact with the judges as though they were the clients," Augusto says. "We were given a case with a family who had a small child and were about to have a second one. The woman was pregnant, the guy didn't have a good financial structure."
"He did not have a lot of money, and he was approaching retirement," Simone says. "Because of that constraint, we had to make a recommendation as to whether or not to delay retirement and continue working, or what the other options available to him were, given that he had limited financial resources at the time, and he needed to retire soon."
"There were other elements as well," she continues. "There was an education planning objective, because they had a child, and another on the way, so we had to present solutions for that. There was also tax planning, financial planning, and asset management elements that we had to address."
"We advised him to delay retirement until he could build up sufficient capital to provide comfortable income during this phase of his life," she concludes. "We also recommended that they open a family RESP, and when the second child is born, add that child to the plan." They also recommended selling their properties and included estate planning solutions.
"I think it's just the right combination of the technical and soft skills that set us apart," she says about the win.
"They told us that we did really well in establishing a connection with the judges," Augusto adds, "and were able to deliver without just being really technical and strict. We even cracked a few jokes, and tried to make them loosen up."
What this victory means for them
"It's definitely something that can enhance our resume. I have already put it on mine," Simone says, to everyone's agreement. "It can help us to establish our name in the industry because it proves that we know our stuff and can apply it in the real world. It proves that we can build rapport with people and help them achieve whatever goals they've set out to accomplish."
"We need some Canadian experience in our field before finding a job here," Augusto adds, "so this is a good first leg."
In the near future, though, the three of them will be moving on to the next level of the competition, in the 2018 CIFP Case Challenge National event in Halifax, Nova Scotia, June 10 to 13.
Advice for future competitors
If you're in Financial Planning and have an opportunity to take part in this competition, Simone recommends it, because, to her, you really can't lose. "What's the worst thing that could happen to you?" Simone asks. "You don't win. And if you don't win, you would have still gained all the knowledge and experience from the practice leading up to the competition, which would still benefit you in the long run."