QUESTIONS
P.O. Box 631 Station A
Toronto, ON, M1K 5E9
The Gift of Song: How a Centennial Grad Made His Musical Dreams Come True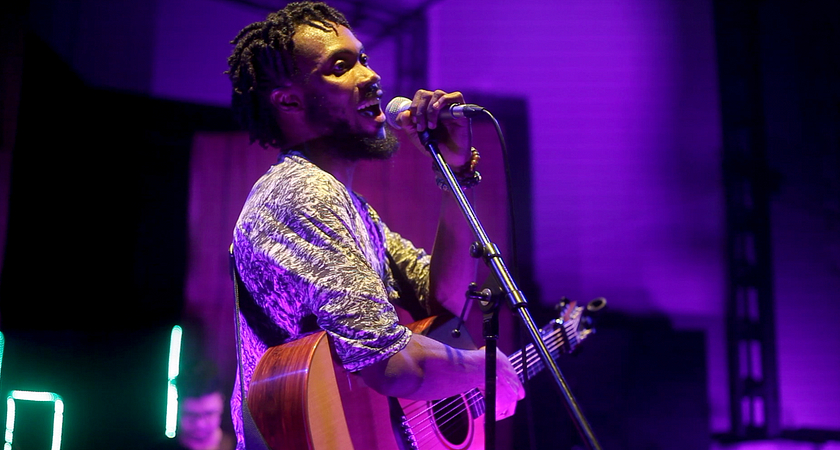 We all have songs inside of us, but only some of us get to put those songs out into the world. At Centennial College, we give you the tools to make a musical career happen with our Music Industry Arts and Performance (MIAP) program. Even if you have a limited musical background, we'll teach you to turn a passion for music into a career, thanks to mentoring by professional musicians, courses that nurture music and creativity on top of business and entrepreneurial skills, and plenty of practical time spent performing, including opportunity for live performances. If you went to any events with our music students performing (and there were a lot of them), you probably heard Kunle perform. Kunle came to Canada from Nigeria, with only a bit of musical knowledge, but with a desire to express his musical ideas. Since attending Centennial's MIAP program, he's gone on tour, made an EP, used his music to help newly-landed refugees, and continues on a path to success. Here's his story.
Pursuing his dream
Kunle actually had an active career in the engineering sector, but made the decision to change tracks in life, and get into music as a way to put what was on his mind out into the world.
"I'd be always thinking about how to express what was in my head," Kunle says, "but I'd started a career in engineering, and I'd never had professional training in music."
Kunle decided to change that, and eventually make the journey to Canada, taking Centennial College's Music Industry Arts and Performance Program.
"I didn't want to go into a jazz program or a classical program," he says. "I wanted to go into a program that would let me express who I wanted to be. Centennial College had that vibe."
What he learned
"The first thing Centennial College did was help us to understand what playing music to a Canadian audience is like," Kunle says of his time in the MIAP program, "through picking up gigs around the school, and getting other students to collaborate with me. My lead guitarist who I've been travelling all around the world with, I met there as well."
"The business classes helped me to be a bit more organized, and that's frequently the problem with musicians," he adds. "The entrepreneurial classes gave me a proper understanding of value of your art. And the composition and orchestration classes definitely gave me the ability to put down the music I had in my head into language that everyone else could understand, because I did not know how to do that. I had an idea, but it was not as easy."
"It gave me a sense of drive," he says, "waking up every morning to go to school and meet other people. The joy of just watching other people play, it made me feel like I made a good choice for this career I chose to quit engineering for."
Making the EP
Before graduation, Kunle was already getting invited to play in festivals, but still needed a body of work, which led to the creation of his EP, Ami N Rele, which was recorded in Berlin. Currently, you can listen to it here, and purchase it here.
"I reached out, and this producer in Germany was like, come in, and I will work on it," he says. "He took time off from other projects, worked on my EP, and I found interest in how quickly I was able to do the five tracks." It turned out that the skills he'd picked up at Centennial made the process go a lot smoother.
"In two weeks, it was mixed and everything," he says. "It was because I understood how microphones worked better, I understood mike control dynamics and how all the production software works, I understood my range, and how to work as a team. I also understood how to make a compromise between being an artist and understanding the consumer's mind."
Christie Refugee Wellness Centre
While in school, Kunle also offered his time to the Christie Refugee Wellness Centre, running a special music program to help children express themselves, and ease their transition into Canada.
"I got the job through a teacher, Bob Wiseman," Kunle says. "He's the founding member of Blue Rodeo, he was a composition and writing teacher." The teacher said it would be a good opportunity for him.
"We have a good relationship," Kunle says of Bob. "He taught me a lot of things with his criticisms of my work, he'd commend my work in a way that makes me proud but at the same time point out things that would make it better."
"That program was challenging when I was getting started," he admits, "balancing it with my tour, because I was travelling in 2018, and being able to handle change constantly."
He'd do well enough that the CBC would actually make a mini-documentary about it.
"It was while I was there that my program coordinator called me and said hey, Kunle, it's totally up to you, but the program that you're in caught the attention of the CBC, and they're running a documentary series currently, on community programs in Toronto. Would you like to share the documentary?"
The full minidoc can be viewed here.
ADEKUNLE
Speaking of documentaries, another one's been made about Kunle's life. ADEKUNLE (a trailer for which can be seen here) is a short documentary about growing up in a place where artistic expression generally took a backseat to financial stability, and how he moved away from engineering into music, heading to Ghana to pursue his dream, finding it to be a difficult road, and coming to Canada to study music. It's currently being entered into film festivals, in order to find broader release.
The Freedom Project
"I'm working currently on my new project, called Freedom," he says. "Coming to Canada for me was a new thing, it was the first country where I felt like a minority." An eight-track album, he's aiming to release it this year, and is his biggest project yet.
"Coming here, I had my first encounters with the police," he explains. "That spikes my aggravation, but also my interest in what it means to be free, so I started putting these songs together."
"I was free to let go of my career as an engineer," he says as an example, "and pursue my career in music."
"I'm still in the idea development stage," Kunle says. "Although I've played notable festivals in Ontario, on the east coast of Canada, and other showcase events, I have a pedigree already, but I've been working on it since last year."
"That's one of the major things I'll be doing this year," he says, "taking a step back just to finish this work, and I'll be headlining a festival in Germany again this year. I'm definitely on the production road."
On making your own breaks
Kunle is still working on his musical success, but has a few ideas about the motivation others following in his footsteps should have, namely to be proactive, and to forge social connections.
"You have to take what you're given, and make good use of it," Kunle says. "There's this whole idea that after college, there's this big break. There is no big break. It's a succession of small breaks, like being able to produce your single, being able to mess it up the first time and do it over again, get yourself bigger gigs, from $50 gigs to $2,000 gigs to being paid to fly out of the country. It all happens little by little. All you have to do is keep working at it, and understand how to respond and connect to people."
"Making music is more than just music," he continues. "If you've chosen it as a career, it also has to do with relationships. You have to work really smart. If you spend eight hours a day making music, you should spend eight hours a day making connections with people."
By Anthony Geremia