QUESTIONS
P.O. Box 631 Station A
Toronto, ON, M1K 5E9
The Great Escape author wows American audience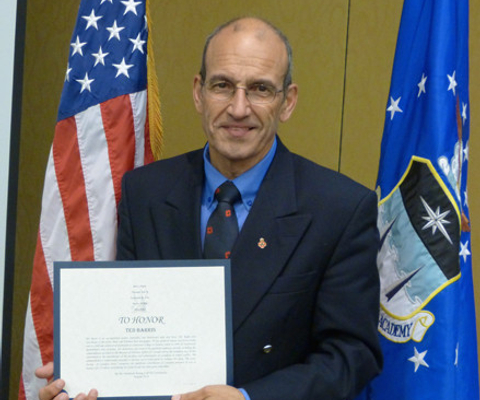 Renowned author and Centennial College professor Ted Barris recently returned from a speaking trip in the U.S., where he had the opportunity to highlight his retelling of the Great Escape story, captivating his American audience as much as it had Canadians last fall when his book The Great Escape: A Canadian Story was released.
His travels had taken him to Colorado Springs, Colorado, home of the U.S. Air Force Academy, where American members of the Stalag Luft III Prisoners of War Association gather for their annual reunion in late August. The three-day event featured screenings, panels and presentations recounting the infamous Stalag Luft III POW compound near Zagan, Poland. Professor Barris was asked to deliver the keynote presentation, based on his bestselling book.
It was from the Stalag Luft III prisoners of war camp that Allied aircrews conceived their great escape, made popular by the 1963 Hollywood film that portrayed the American inmates as heroes. But thanks to Barris's extensive research and interviews with WWII veterans, he was able to determine that the celebrated escape was engineered by a number of Canadians, which included the tunnel planner, three of the four principal excavators, the chief of security, one of the intelligence chiefs, one of the forgery chiefs, the organizers of the sand disposal team, the duty pilot and the custodian of the secret shortwave radio.
At the formal banquet that closed the reunion, organizers presented Certificates of Honor for what the association called service above and beyond. They chose to recognize five civilians, including Mary Elizabeth Ruwell, an archivist at the U.S. Air Force Academy; Ben van Drogenbroek, a Dutch researcher; Val Burgess, an American oral historian; Marek Lazarz, the director of the Stalag Luft III Museum in Poland – and our own Ted Barris.
"It was my first-ever participation in veteran commemorative activities in the U.S. and the recognition was startling and humbling," he said of the experience. His hosts were delighted with his book, which has brought valuable and renewed attention to the Stalag Luft III story. Barris received a copy of his certificate to take home, while the original will be housed permanently at the U.S. Air Force Academy archives in Colorado Springs.
Ted Barris teaches journalism at Centennial's Story Arts Centre in East York.