QUESTIONS
P.O. Box 631 Station A
Toronto, ON, M1K 5E9
The Olympic sized success story of Peter Bambridge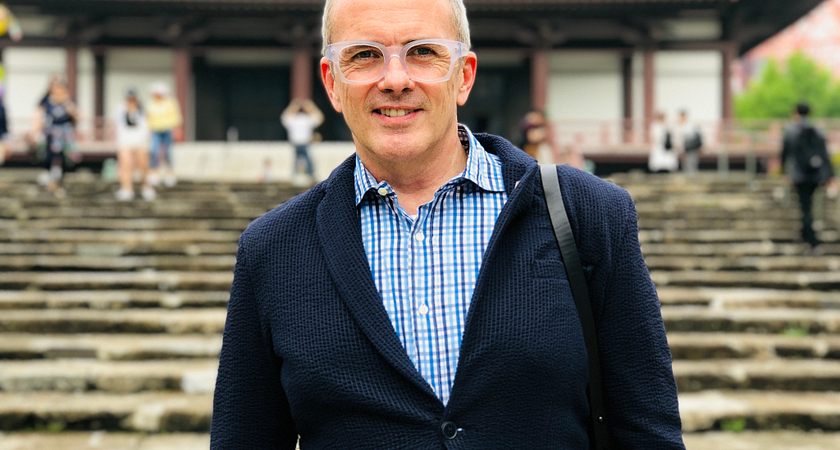 Whether it's hosting an Olympic Games enthusiast who wants an extra special experience while watching Canada take on the world in hockey or a corporation with multiple stakeholders, Peter Bambridge understands what it takes to deliver the highest quality hospitality experiences. Since 1988, when he was involved in the Seoul Games, Bambridge has become a staple on the Olympics hospitality scene. Throughout his illustrious career, he continuously dips into a toolbox that contains not only past work experience but also skills Bambridge acquired at Centennial College's Hospitality and Tourism Administration program.
"I look back on those days really fondly," says Bambridge, who graduated in 1985. "The faculty was just remarkable and so committed to giving us the best education, guiding us and helping us to understand the potential out there. If I had gone elsewhere, I don't think I would've had that."
Centennial's faculty, says Bambridge, was not only attentive but also brought into the classroom years of real-world experience. This differentiator, he says, allowed for meaningful in-class dialogue. Combined with practical experience through a mandatory field placement — that saw Bambridge get his first taste of international hospitality when he travelled to Jamaica with the company at which he was placed — and a focus on presentations, he says the knowledge he gained 34 years ago is still relevant.
"One thing I never thought about prior to Centennial was how important it is to get up in front people to give a presentation, make a sales pitch or train others," he says. "We got a lot of experience in that so I got a great understanding of how, if you want your voice to be heard and points to be considered, you have to be a good speaker. As I was graduating, I thought it would pay dividends."
It has done just that. In 1986 Bambridge started working at Carlson Marketing Group, where he remained until 2002. During those years, he had the opportunity to travel the world to acquire clients and work directly on the logistics and operations of Olympics hospitality. One such international opportunity saw Bambridge fly to Sydney, Australia to complete a sales pitch. When he realized the company was considering other agencies, Bambridge says he reached into his creative toolbox.
"I went and brought a hardhat and had a florist build a floral arrangement inside," he says. "I sent it to the business leader I met with and won our company that business. I was relocated to Sydney and at one point, the business leader mentioned we were up against two other companies but they went with us because she wanted to work with, 'the guy who sent flowers in such a creative way because I knew that kind of guy would do remarkable things for us.'"
This is just one example of how Bambridge has made himself stand out in a competitive industry with the backing of a Centennial College education. With hospitality management experience at eight Olympic Games, seven Olympic Winter Games, three World Cup Soccer tournaments, two Commonwealth Games and two Special Olympics, today Bambridge is the vice president of client services at Jet Set Sports, which provides clients with Olympic games hospitality experiences. His current role entails executive leadership, master planning, hospitality and strategic marketing activation. Unlike Bambridge's multifaceted role, however, his advice for Hospitality and Tourism Administration students is simple.
"You only have one opportunity to make a good impression," he says. "Hone your speaking skills and become an articulate presenter because you have to make a human connection with people, no matter where in the world your career takes you."
Written by: Izabela Szydlo