QUESTIONS
P.O. Box 631 Station A
Toronto, ON, M1K 5E9
The secret to a healthy career in the Pharmacy world with Vincent Le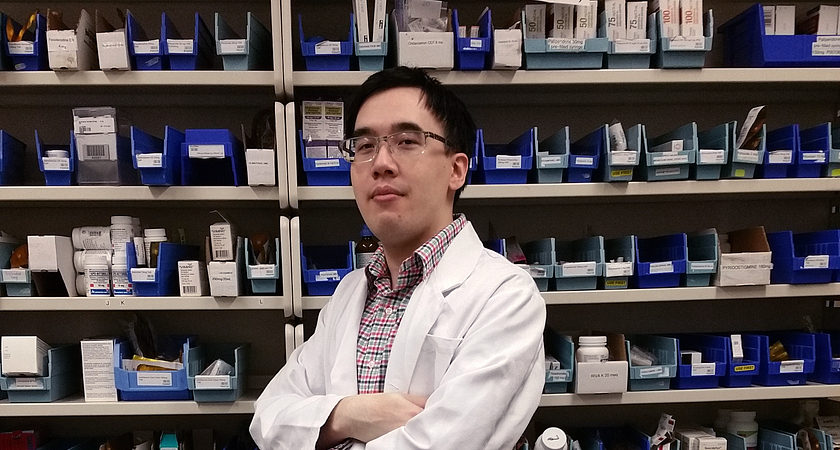 At Centennial College, we make it easy for driven students to find success in their careers, and we provide the tools for them to achieve the career they want. Vincent Le was one such student in our Pharmacy Technician program, who'd go on to ace both his federal and provincial licencing exams and become an active member of the Program Advisory Committee, shaping the future of the Pharmacy Technician program and the generations of students to come. He's now practicing his profession at both St. Michael's Hospital and the Centre for Addiction and Mental Health (CAMH). And he achieved this all in a space of only three years, thanks to his determination and the Pharmacy Program's dynamic curriculum that adapts and evolves to new standards, providing students with the most current practices, experience and opportunities to excel in the profession. Here's what Vincent accomplished, and how you can follow in his footsteps.
Choosing a path
"Before I picked this program, I didn't really know what I wanted to do. I was working as a pharmacy assistant at a Loblaws Pharmacy before I came to Centennial," Vincent says. "What made me pick Centennial was that it had its Global Citizenship and Equity Program, and I thought that was kind of interesting. Having that skillset incorporated into Centennial's programs was something I felt was beneficial."
He'd later find out that he picked a career with a real need for qualified professionals as well, making it easier to find many opportunities after graduation.
"Right now, there's a shortage of technicians," he says about the pharmacy industry. "We have many graduates, but few are actively pursuing licencing. I think in the pharmacy profession there is around 16,000 pharmacists in Ontario, but only about 4,000 technicians."
"Currently many of us can work multiple jobs just because of this shortage," he continues.
"There is plenty of opportunities in this evolving profession for new graduates."
A program full of experience
"In the pharmacy program, you have to be well-rounded," Vincent says of his time at Centennial. "You can't focus on just one aspect of the profession as you must be able to deal with various situations and practices within your scope of practice. Centennial has faculty members coming from different elements of the profession, some work in a community setting and deal more with patient interactions. Others get expertise in an institutional setting such as a hospital and interact with other healthcare professionals such as nurses. Myself and many students reap the experiences instructors bring to the classroom and we take it forward when pursuing registration."
Aside from the experience of the faculty, Vincent also enjoyed the program's many opportunities for industry experience through field placements and connections, which would directly lead him to employment.
The road to employment
During the program, Vincent was placed at a major hospital in downtown Toronto.
"St. Michael's Hospital was running a summer Pharmacy Technician student intake in support of Centennial's program and developing the future Pharmacy Technicians graduates," Vincent says. "Many Centennial graduates end up being kept on through this summer program or hired after their field placement. I got an interview with St. Michael's, along with two other Centennial students, and all three of us were hired for the summer and remained at St. Michael's since."
"During fourth semester," he continues, "we went out on our field placements, which includes an institution pharmacy site for a month, and a month in a community pharmacy. That's when I went to CAMH, and after a month there, they were really impressed by how I quickly learnt and adapted to their policies and procedures as a student. They'd offer me a position with the condition that I was to pursue licencing after graduation."
Since graduating, Vincent continues to work at St. Michael's to complete his Structured Practical Training (SPT) while preparing for his licencing exams to complete his professional registration.
"Centennial prepares and provides you with the skills and expertise for your licencing exams," he says. "From graduation to being registered with the Ontario College of Pharmacists, took me about eight months. I remained at St. Michael's Hospital as a Certified Regulated Pharmacy Technician and pursued other opportunities of employment to embrace the philosophy of lifelong learning. I reconnected with CAMH and inquired if they had any openings and was offered a casual position which I gladly accepted."
Since his licencing, Vincent has been a regulated technician for about seven months. But that's not all he's been up to.
Giving back
While he was still a student, Vincent began influencing the future of the Pharmacy program by being part of the College's Program Advisory Committee (PAC). "The Program Advisory Committee are external experts that sit down with faculty and college members to provide information such as industry practices, requirements and standards," he says. "We provide guidance and help evaluate the College programs to reflect what is currently happening in the industry keeping the curriculum relevant to industry needs."
"I wanted to join the PAC," he says, "because having work experience prior and during the program I wanted to voice my opinion on how the students would fare in the industry and what changes would benefit the progression of the Pharmacy Technician program at Centennial for future students." Vincent continues to remain on the committee as an industry advisor.
"They've asked me to stay on as a full member," he says, "and I decided to stay as I continue to explore my profession and learn to give back to the program."
Looking to the future
"When I was studying, we had an open lab where students could attend and ask questions to instructors, work with students on projects, or practice their sterile preparation techniques," Vincent says. Despite his two jobs, he's also now supervising that open lab time, for a very specific reason.
"The reason I wanted to become an open lab teaching assistant or supervisor, is because I want to pursue an instructor's position in the future," he says, "because I feel like I can pass on my knowledge and positively influence the next generation of students."
While he seems incredibly busy, Vincent says it's possible for a determined student to follow in his footsteps.
"My advice is to start early," Vincent says, "and always keep striving forward, even though there could be some setbacks. There were days where it felt like there were too many tests and assignments, not to mention the stress of, after graduation, I need to complete the set of licencing exams, then its all done."
"The most important thing is to start early, right now. If you wait, the same opportunities that I accomplished may dwindle as more Pharmacy Technicians enter the profession."
By Anthony Geremia